Proud friends, family and fans gathered at 2320 Jack Breault Dr. and on Facebook Live on Tuesday, April 26, for the groundbreaking of Croix Valley Foods' new 20,000 square foot facility. 
What started as the Holter family's beloved homemade steak sauce from their small Northwoods Wisconsin steakhouse kitchen has turned into an internationally sought product. 
Croix Valley Foods has been producing steak sauce, marinades, barbecue sauces, dry rubs, Bloody Mary seasonings and more for market since 2009. The recipe, however, has been perfected since 1996.
Bold flavor and bold statements are the business of Croix Valley Foods. Instead of breaking ground with a few handheld shovels, a scoop of land was taken up with a brand new excavator.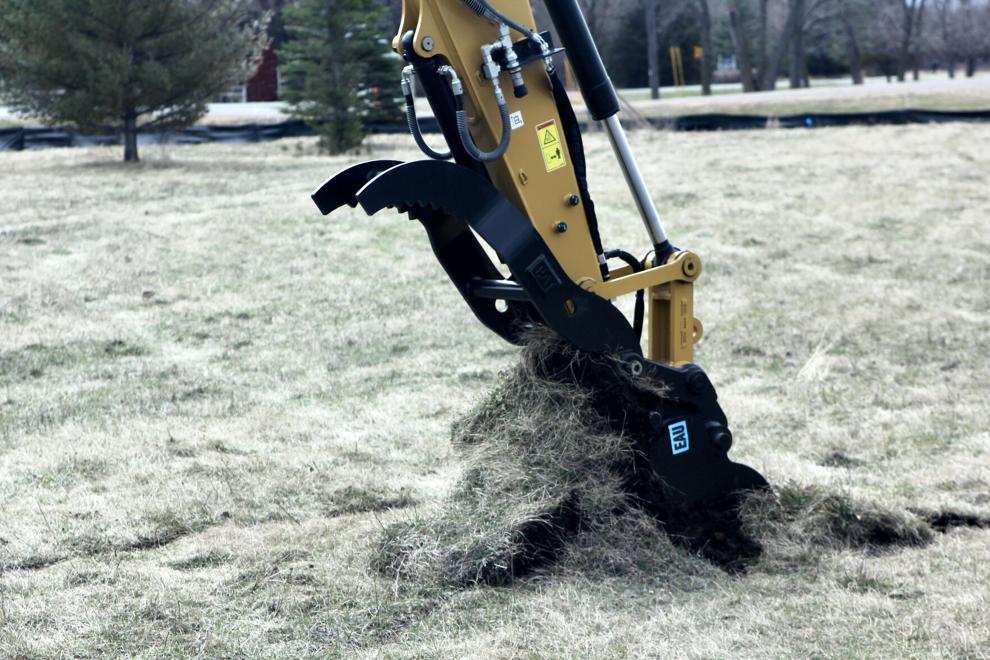 This came after an emotional intro from Damon Holter, president of Croix Valley Foods. 
Damon recounted the story to the crowd of supports how he told Lu, his wife, about his idea to start what is now Croix Valley Foods. Lu's response was that he was crazy if he thought he could make a living bottling steak sauce. 
13 years later and the two stood on the ground of where their international headquarters will be located – a building they will own after over a decade of renting.
Attendees cheered as they huddled around small fires, making their way to the food line. What kind of groundbreaking would it be if they didn't serve lunch with their famed sauces and glasses of champagne in celebration?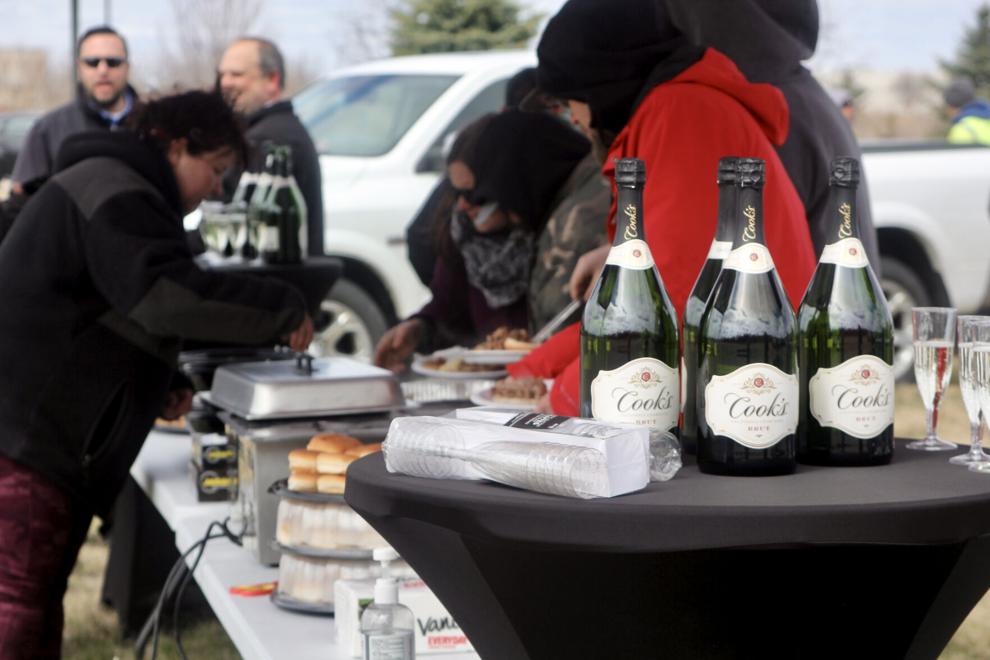 Fear not – you don't need to be at the groundbreaking to try the famed steak sauce and other various products from Croix Valley Foods.
RJ's Meats was the first retailer that sold Croix Valley Foods products. In the last four years, the company has grown exponentially, stepping into markets in Canada, Europe, Australia, New Zealand, Japan and soon, in Central America. 
"To be honest, the pandemic was a real boom for our business because people were staying home and they're learning how to cook for the first time," Damon said. "They're looking for flavors that want to up their game, not only in the grill, but just you know, for home meals, and we really capitalized on that." 
When the Holters began to pack their product, they operated out of a tiny, leased space in the back of a meat market in town. Damon and Lu have six children and their contributions have helped in the growth and success of Croix Valley Foods. 
"​​It really is a family affair," Damon said. 
Currently, Croix Valley Foods has eight full time and three part time employees. With the new facility, the number of employed staff will double. 
This has been a local project from start to finish and the Hotlers are thankful. Brooke Dusk from Westconsin Credit Union helped secure the financing for the project; Julie Heifner with Lakes Area Realty helped negotiate the sale of the land; and Ryan Sherley with A and K Construction is the builder on the project. 
"It's really emotional, honestly, to be at the point where we are right now," Damon said. "It was a labor of love." The support from the family, friends and customers of the Holters and Croix Valley Foods all contributed to the success. Again, the Holters expressed their sincere gratitude. 
Croix Valley Foods had one employee when it began in its rented, 100 square foot facility – Damon. Now, landing in its fourth production facility, Croix Valley Foods is in the position to build a brand new space from the ground up.
"It just makes me wonder what we have in store for the next 10 to 12 years," Damon said. "It's exciting." 
Croix Valley Food products can be found in plenty of locations. To find one near you, visit the website.