The hallways of Willow River Elementary School did not always hold the shuffling feet of 11 year olds. In 1965, it was the high school where Richard Fina graduated -- the only Hudson resident to die in the Vietnam War.
On Veterans Day, fifth graders at Willow River Elementary gathered, with the help of fifth-grade teacher Christopher Reckinger and his parents, Herb and Nancy Reckinger, to honor Fina with a presentation, including the donation of a plaque to honor his legacy and life, donated by Nancy and Herb Reckinger. It will hang in the hallways of the elementary school.
Herb Reckinger has been a volunteer picture gatherer for the virtual Vietnam War Wall of Faces since 2014. A few years back he noticed a World War II memorial plaque in the auditorium, sparking the idea that there should be a plaque for Hudson's only casualty of the Vietnam War, Richard Fina.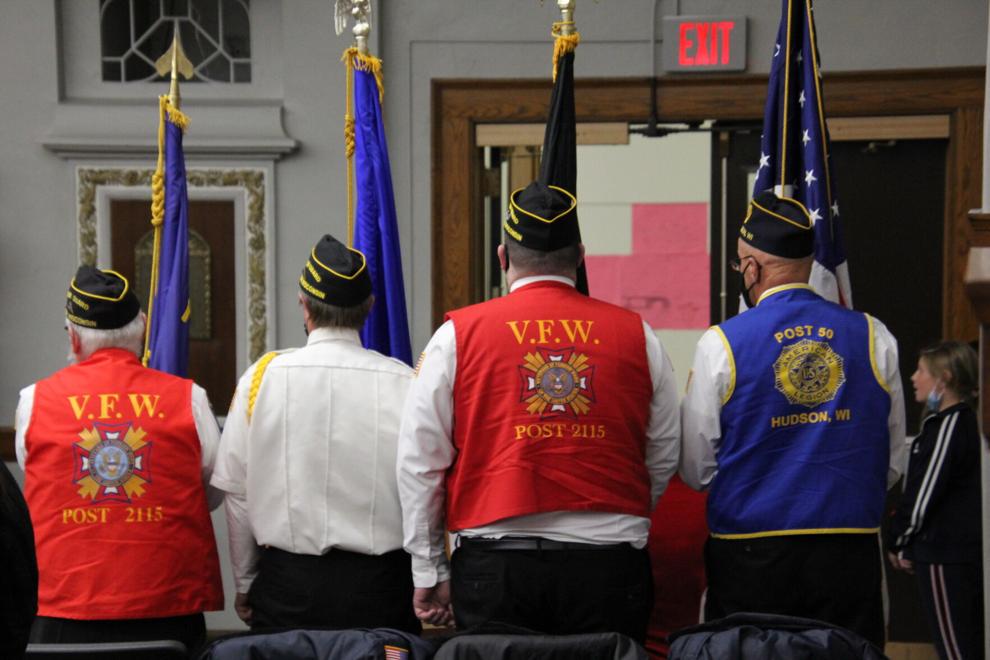 Along with donating the plaque, Herb wrote much of the script for the fifth graders to present.
They shared with their fellow classmates the story of Fina and the importance of his sacrifice, citing research from stories from Arlin Albrecht, a newspaper writer from Red Wing, Minnesota, who spent six weeks in Vietnam seeking out local soldiers and interviewing them.
Fina was born near Baltimore, Maryland, to Edward and Helen Fina in 1947. Fina, his two brothers and three sisters all went through the Hudson school system. 
Fina served as a  U.S. Navy hospital corpsman, tending to injured Marines. In a letter to Albrecht, Fina said that his 51-man platoon had recently been whittled down to 13 men. He had about nine and a half months before he would return home. 
He never made it.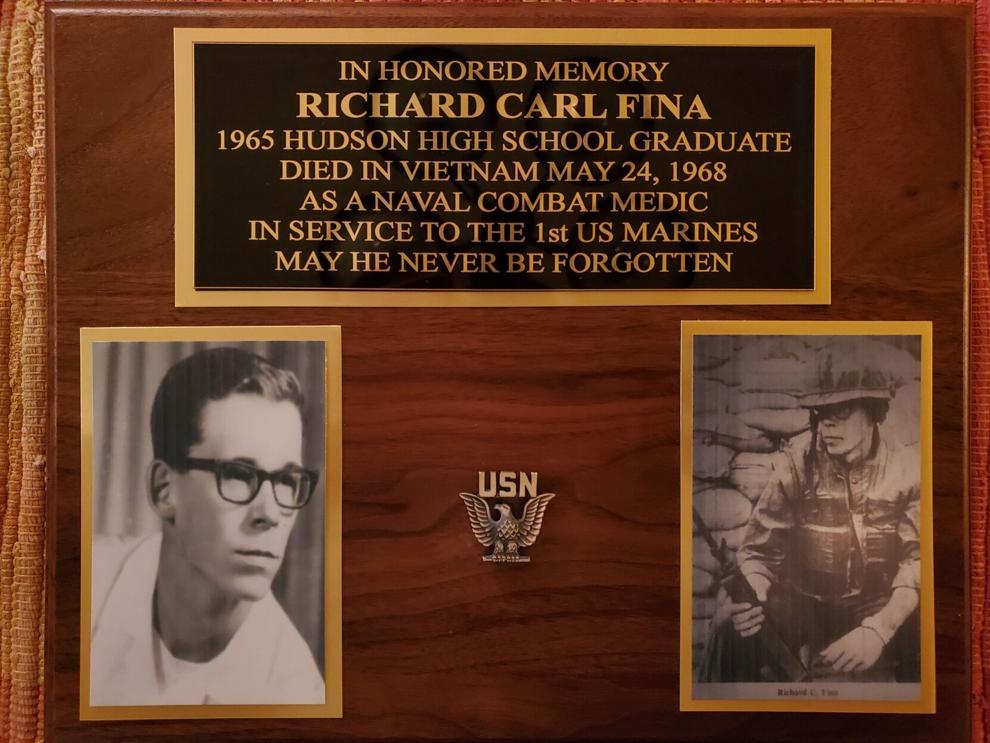 In his last letter home to his family in 1968, he wrote, 
We are going out on an operation (3 or more companies [will] go into an area that has excessive Viet Cong activities and attempt to completely clear the area!) which will take from 4 days to a month or so, so I don't know when I will be able to write you next.
We have to travel light so I can't take anything except my combat gear. I'll write you first thing when I get a chance but I can't say when it will be. I get to spend my 21st birthday in combat. I spent my 19th in Balboa hospital with tonsillitis, my 20th standing duty, and now my 21st in Vietnam. Usually they try to let men have a day off for their birthday but corpsmen are scarce so I 'gotta go' with.
They found a battalion of [the enemy] on the island south of us so we are going in after them. Hopefully we will completely overrun them all. I hope so! At least now we can shoot back at the enemy. You can't fight against mines and foot traps but you can shoot the V.C.! This is our chance to make a "pay-back" for our men they hurt or killed with mines in our area.
Don't worry about me. I'm a devout coward and I'm not going to make any heroic plays.  
Less than two weeks later, Fina was killed by sniper fire while attempting to aid four injured  Marines. 
"With this new plaque we hope to be reminded every day about the sacrifice of our brave and former classmate, Richard Fina, who gave his life in Vietnam," one of the last presenting fifth graders said. "We are proud to know that as the rest of you walk out of here today, and as we come to school every day, that we are privileged to walk the same hallways that Richard did over 50 years ago." 
Assisting the fifth graders in honoring Fina were Lyle Fridlund, John Helgeson, Richard Byers and Mark Schiltgen of the American Legion color guard. 
Richard's sister, Jacqueline Smith; her husband, Philip Smith; Richard's brother, Robbin Fina; and Robbin's son, Cameron Fina attended the program.