Blake Buchholz and Alex Ewig have been practicing entrepreneurship planning for years during their high school careers in Hudson. As co-presidents of Hudson's DECA, a global program for emerging leaders and entrepreneurs in marketing, finance, hospitality and management, starting a business is right in their wheelhouse. 
As Hudson High School 2022 graduates, they're already putting those skills into action to "try the real thing," Ewig said. 
On Monday, July 25, just a few days after the Beach House construction concluded, the pair opened the St. Croix Snack Shack.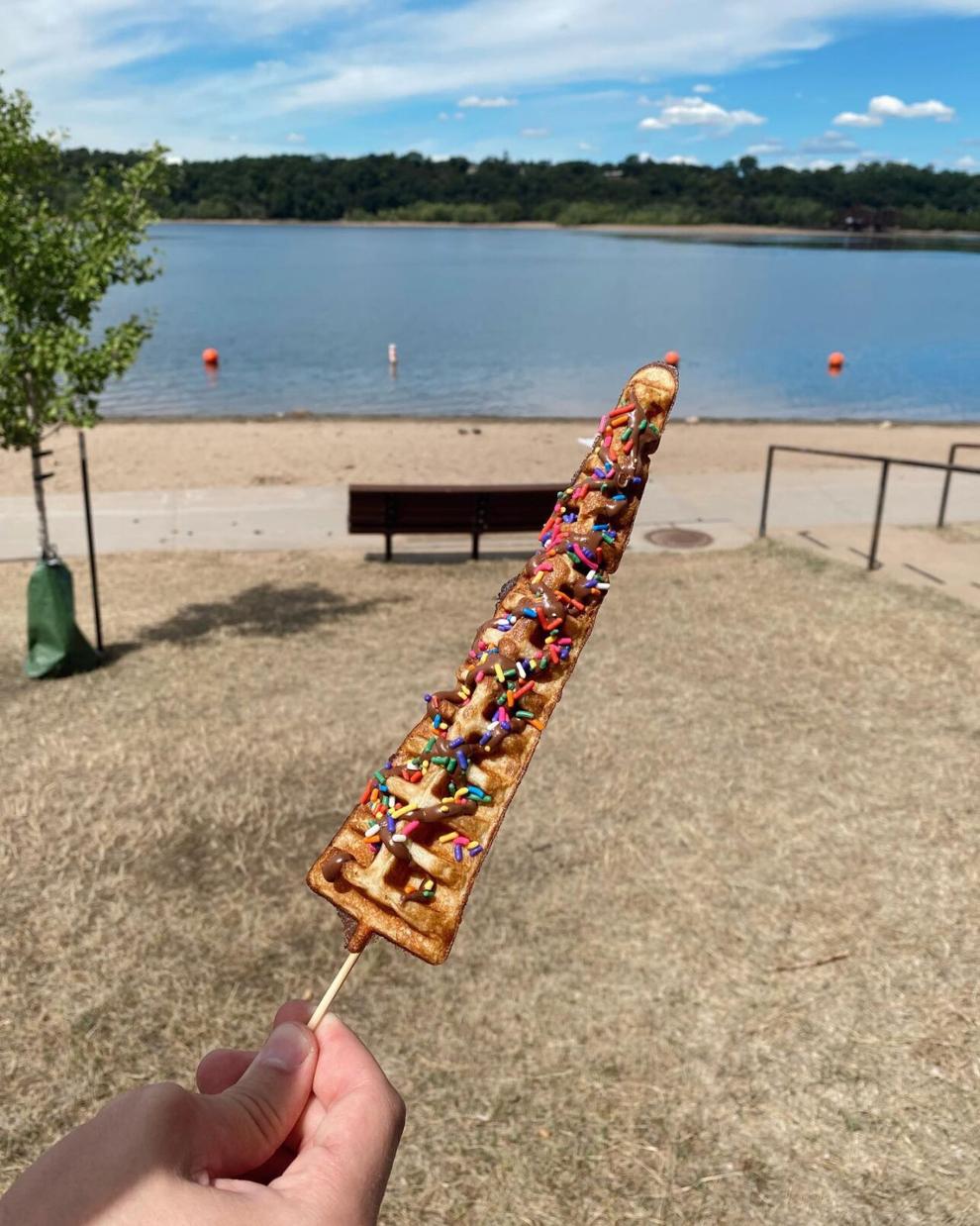 With classic concessions like ice cream sandwiches, Skittles, chips and beverages, the Snack Shack also serves a waffle on a stick, cold brew and more. 
These offerings all come after a long six-plus months of planning. 
Buchholz and Ewig, who grew up using the Hudson parks and who grew into young entrepreneurs, were looking for viable business opportunities. 
Their first proposal to the Hudson Parks Board was similar to a coffee shop, but set up at the Hudson Dog Park. 
Though intrigued by their drive to supply a need in the Hudson community, the board had a better idea. 
The St. Croix Snack Shack currently sits in the beach house, suggested by the board, that faces the water at the Lakefront Park beach. When Buchholz and Ewig gathered friends and family to start setting up, they had cobwebs and dust to get rid of first. But the place shaped up quickly, equipment moved in and doors opened. 
The hard work on the front end, as well as the hours Buchholz and Ewig put in daily, pays off in a lot of ways. One of which is the spectacular sunset view as they near closing.
Monday through Sunday, noon to 9 p.m., the Snack Shack is open for orders.
Right now, the mentality is that of learning, Buchholz explained. As this is the first business endeavor they've executed, they're constantly open and looking for suggestions from the community, as well as other local business owners. 
The St. Croix Snack Shack has plans to partner with Wolfy's, a craft butcher shop and deli in downtown Hudson, to sell some of their sandwiches. Not only was this a great way to collaborate with other local business owners, Buchholz and Ewig are grateful for the wisdom other entrepreneurs have been able to provide as they dive head first into a start-up of their own. 
Despite the grueling challenge of getting off the ground, like health inspections, paperwork and city approvals, Buchholz and Ewig are already thinking about what's next for the St. Croix Snack Shack. 
Might they partner with more local businesses? With rights to sell down the dike and around Lakefront Park, will they expand into cart locations along the waterfront? 
This summer, working a job much different than many of their peers, is what the boys called "proof of concept." 
Though it's only been a week, the two have every intention of reopening next summer and summers following. 
The two will be heading into their first semester's of college this fall – Buchholz at University of Southern California and Ewig at University of Wisconsin-La Crosse, both with business interests. What they learn in the classroom, they have every intention of applying to the St. Croix Snack Shack business model.