NEW RICHMOND – In 2015, Patrick Olson walked into a 5-year-old building that was the product of the biggest school construction referendum ever passed in Wisconsin. Seven years later he is leaving, having skillfully navigated a historic pandemic, having overseen the completion of a new football stadium and having shouldered the emotional and spiritual toll taken by the tragic loss of 10 students in those seven years.
Monday night, a standing-room-only audience of family members, friends and colleagues at the New Richmond School Board meeting paid tribute to his accomplishments and wished him well on his next venture teaching and coaching in the Glenwood City school system.
New Richmond Police Chief Craig Yehlik, a friend and fellow founding member of the Living Well Together community health initiative, paid tribute to Olson's selflessness, tenacity and leadership.
"There's been so much adversity. Significant threats against our school, significant assaults, car accidents and even a homicide of one of the students … then COVID. Masks, no masks. Open schools, close schools. Vaccination clinic, no vaccination clinic. During it all what we saw was clear, accurate communication, communication that said we are putting our students first," Yehlik said.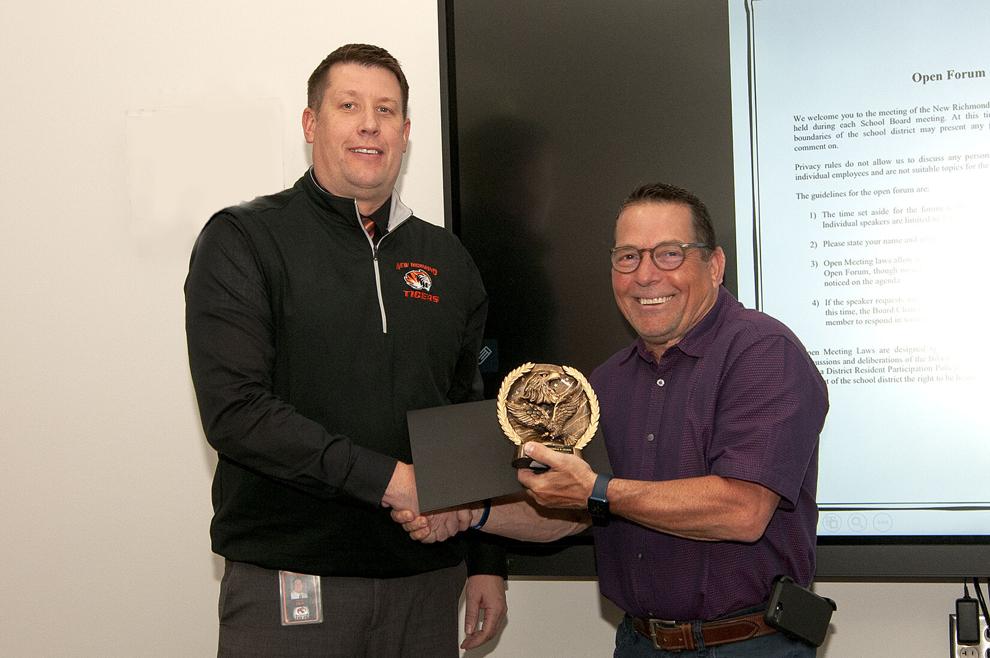 During the first 18 months of the pandemic, Olson volunteered on the Community Emergency Response Team where he provided invaluable input from the school district's perspective.
Olson was a proponent of a strong relationship with law enforcement helping to initiate the district's first school resource officer.
"From a law enforcement perspective, I, along with Sheriff Knudson and others, respect Patrick's willingness to work with law enforcement on specific issues. He supported and helped implement our school's first resource officer and was influential in setting up a program that parent's, staff and students have been able to rally behind finding the underlying issues and working tirelessly to solve those issues to the benefit of the student," Yehlik said.
In 2018, along with Yehlik, Marie Gremore, Brandie Hart, Mary Haley and Jo Wrich, Olson was a founding member of Living Well Together, one of New Richmond's most forward-thinking community health initiatives.
"Patrick's willingness to have difficult conversations, think outside the box and connect district services with the issues our community faces is second to none. He was a champion of bringing in folks like Alison Feigh, Terrence Tally and most recently Reggie Dabbs. Patrick would be the first to offer facilities for difficult topics such as civilian response to active shooter, make it okay and most recently Stomp the Stigma," Yehlik said.
With a tremble in his voice and on behalf of a grateful community, Yehlik thanked Olson and wished him all the best. 
"Patrick, you will be missed on so many levels. We wish you the best and you must know the impact you have had on this community is far reaching and will not soon be forgotten. Many of us are better because of you, so thank you," Yehlik said.
Board President Bryan Schafer admitted the chief had stolen most of his thunder then went on to thank Olson on behalf of the board for his tireless dedication to the district.
"Patrick is tireless, probably to a fault. He worked himself to death to keep this district operating and that is a sacrifice that will never be forgotten," Schafer said.
Collaboration was a common theme in the accolades Olson received Monday night.
"Patrick was recognized on June 13 by a City Council resolution recognizing the partnerships and cohesion that he has built with the city unlike any that we've ever had before as evidenced by hopefully moving ahead with our new library and use of the old library as another educational  facility for the students in this district," Schafer added.
"I just want to say thank you. I look around and I just see how much you guys mean to me. For seven years I've been very fortunate to be a part of this district. I do get choked up because we couldn't do what we do without you. Yes we've had our trying times, maybe times that are not really seen by school districts, but this isn't me, this is us. I've been so blessed to have Bryan and Jess and Kathy and now Holly join us. I could go on and on and on. The Living Well group, they're like family. I know what it's like to grow up without a family. To have you guys and gals here means a lot … I'm going to miss this place. You will always have a special place in my heart," Olson said.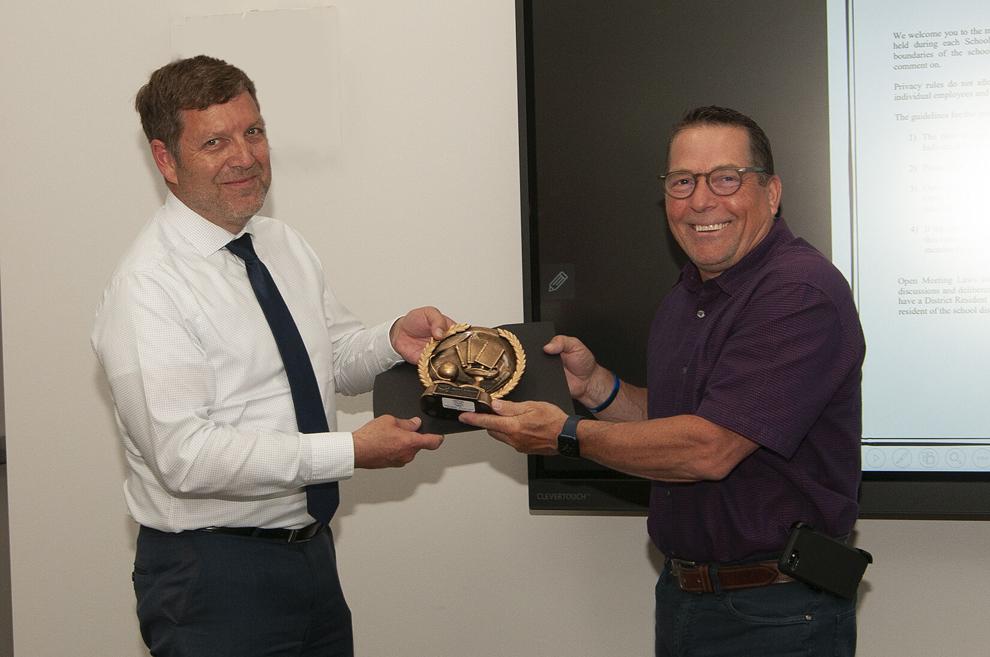 Brian Johnston retires
Brian Johnston began his service to the district as director of fiscal and building operations on Nov. 2, 1992. His tenure will come to an end on June 30, the same day as Olson's last day.
"Brian you've done a phenomenal job for this district with your financial guidance and especially how this district responded during the referendum. Our refinancing bonds and the savings that generated have all been passed along to the taxpayer. You've done this district proud. I can't thank you enough for your service," Schafer said.