Election season is nearly over, but both Democrats and Republicans are making final stops in the battleground region of St. Croix County to sway swing voters to their side.
Based on the outcome both parties will ask themselves the question: "Did we do enough?"
The last two weeks have seen a flurry of activity. The area saw visits from candidates in the deadlocked senate and governor races.
The first was Lt. Gov Mandela Barnes who visited Hudson on Oct. 26. His opponent Ron Johnson visited the city a week later on Nov. 2.
Governor candidate Tim Michels visited New Richmond on Nov. 1. Gov. Tony Evers visited Hudson on Nov. 4, just days before the election.
Both parties know undecided voters in the region could swing the election. The Senate election has nationwide appeal as the result could decide who has control of Congress.
Johnson and Evers are running different races but had the same theme at their rallies; attack their opponents.
Johnson
Johnson used his rally to attack Barnes' character, economic policy, Democrats and the media. Evers used his rally to attack Michels' education plan, health care policy and personal ideas. 
When they were not attacking their opponents both candidates used their speeches to discuss different issues.
Johnson used his rally to talk about inflation, crime and immigration. Evers used his rally to talk about education, health care and women's rights.
Both candidates held rallies for supporters rather than undecided voters. It was evident when both supporters received cheers upon their arrival.
Johnson fired up his supporters by attacking Barnes' crime policy.
"He lies about defunding the police. He uses words like 'reallocate.' We all know what he wants to do," Johnson said.
Johnson moved his speech to attack Barnes' stances on inflation. He blamed current Democratic leaders for "out of control" spending.
Johnson took time to defend his stance on his budget plan. He included his plan to save social security.
Johnson shifted his speech to attack Democrat leaders including Barack Obama, Joe Biden and Nancy Pelosi. He jeered Democratic leaders who have endorsed Barnes. 
Johnson called Democrats "liars" that "use the same playbook" to defend their ideas.
His comments culminated in an attack about nationwide energy prices.
"Democrats drove up the price of gasoline and energy. They are forcing you to buy electric vehicles so it can fit their clean energy and Green New Deal agenda," he said. 
Johnson concluded his speech by attacking the media. He claimed Democrats "have no problem lying" and the media amplifies it. He said the media support for Barnes has put his campaign at a disadvantage.
"The news media won't help us. They'll only help Barnes who is a radical leftist," Johnson said. "We need a free press, but it needs to be fair."
Johnson made his final remarks advocating his supporters to vote on Election Day. He encouraged his supporters to talk to people before heading to voting stations.
"Our young people are being indoctrinated. We have to get out and vote. This is a fight for freedom," he said.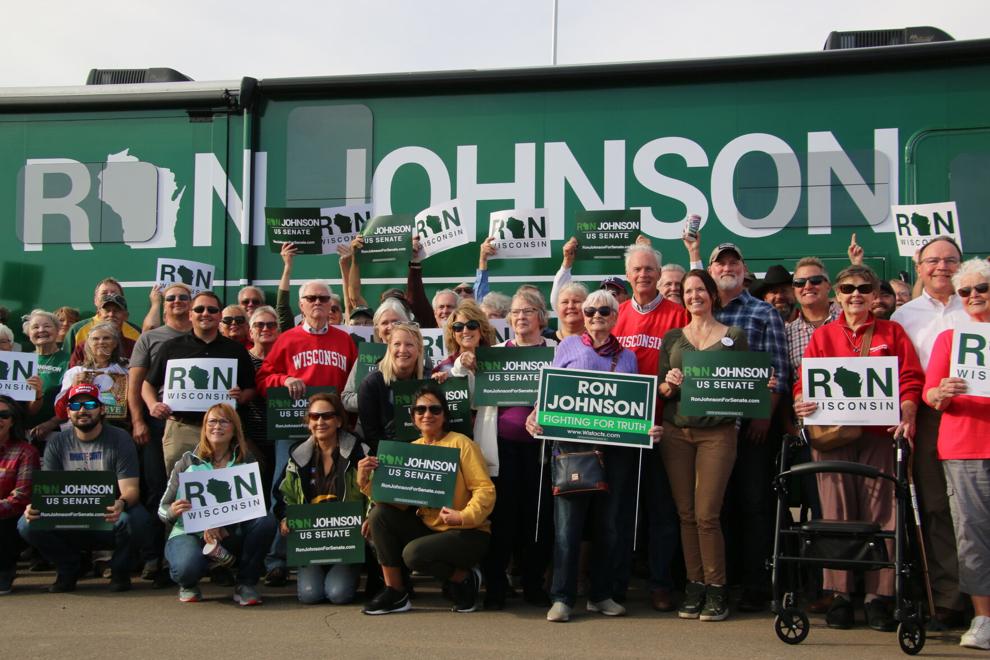 Evers
Gov. Tony Evers' speech talked about education, the economy and reproductive rights. He started with recapping his administration's accomplishments including cutting taxes, repairing roads and improving infrastructure.
Evers then began attacking Michels. His first attack centered around Michels' plan to reduce school funding.
"Michels wants to reduce public education funding by 40%. No way that happens under me," Evers said.
Evers claimed Michels is a climate change denier. He added his views about climate change "go against Wisconsin values."
Evers blasted Michels for his reproductive rights agenda including his support for an 1849 abortion ban.
"I believe women should have reproductive rights, not Tim Michels and Republicans," he said.
Evers concluded his rally by encouraging people to vote. He advocated voters to start conversations about politics.
"Our democracy stays healthy when we vote. That's how democracy works," he said.
Evers said his focus to gain support from swing voters in the region was to inform people about everyday issues. He said the area has strong candidates with the same campaign philosophies.
Evers is aware of the swing voters in the region. He called the region "important" for the state, adding his campaign knows Republicans have regularly won Pierce and St. Croix counties in the past.
"We've made four or five trips to this area. We know how important it is and we feel confident," Evers said.