The Monday, July 18, the Hudson City Council meeting saw a large crowd. Between swearing in the new fire chief, presenting officers with meritorious awards and hearing concept proposals for a new ballpark in town, residents shuffled in and out of the small city hall chambers between agenda items to allow for all to be present. 
Ballpark and brewery
About four years ago, the St Croix Meadows Planned Commercial District proposed the development of a ballpark and brewery at the former dog track site in Hudson. 
These two plans moved forward with formal review from the council on Monday, where they heard the plans which include the proposed building concept of Lift Bridge Brewery, a ballpark, drainage and utility easement, survey map and development agreement. 
The conceptual development plan for Lift Bridge outlines a 33,000 square foot, two story building with a proposed future expansion. 
The brewery currently has taprooms in both New Richmond and Stillwater, Minnesota. 
"This is very exciting stuff for Lift Bridge," a representative from the company said. "For us, it's a real community thing." 
The space would include a main floor taphouse and restaurant, with an upstairs banquet hall, employing about 20 people to start. An additional 20 employees are expected to be hired in a later phase of the project. Outside will include 210 parking spaces and a beer garden, which would be multiuse and coordinated with the ballpark. 
The "Hudson Ballpark," being built for the primary purpose of servicing an expansion in the Northwoods Baseball League, is also planned to be two stories, with a 20,000 square foot concourse level, concessions, bar options, table seating and more. The lower level of approximately 20,000 square feet of space will include things like the field, game operations, field maintenance and team rooms. 
1,400 seats are anticipated, 200 of which would be club level seats. This stadium size is fairly standard in comparison to others in the league. 
The council accepted these preliminary plans, but final development plans will need to be approved by Plan Commission and council when they are completed. 
Down the line, this development site anticipates returning to council with a request to pursue an expansion of single family housing options and a city park, on the St. Croix Meadows site. 
This proposal was met with excitement from council and the mayor, as the project has been in the works for a while. 
"Man oh man we've come a long way," Mayor Rich O'Connor said. 
Meritorious Conduct Awards
Chief of the Hudson Police Department, Geoff Willems commended the work of Hudson, North Hudson and St. Croix County officers who responded to an incident on Tuesday, May 17, with Meritorious Conduct Awards.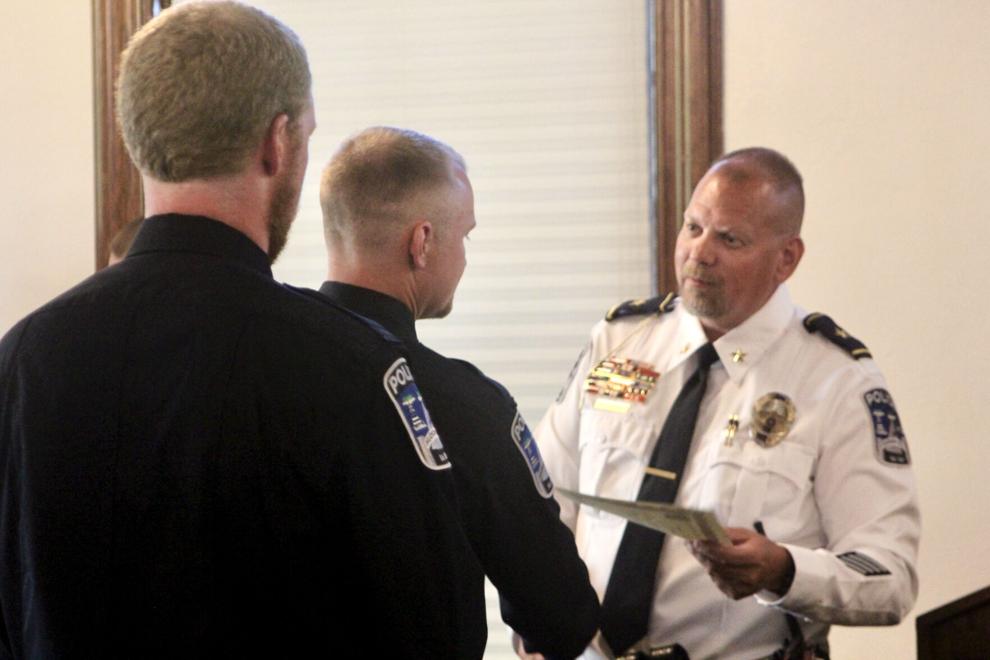 Over the course of a few hours, Sgt. Brent Ellwanger, officers Eli Schendel, Luke Radke, Andrew Traeger and Holden Timm contributed to the deescalation of a mental health emergency, where an individual was actively threatening self harm, suicide as well as the lives of the officers. 
"In times past, this situation would have been dealt with more aggressive and likely justifiable lethal force," Willems wrote in his memorandum to council. "All officers on scene displayed the highest degree of restraint and care in using only the amount of force that was absolutely necessary to stop the threat and effect the arrest. The subject was treated with commendable dignity and respect for the duration of the incident." 
Willems thanked the council for approving the purchasing of the non-lethal pepper ball, deployed during this situation, which made all the difference. 
Speedy neighbors
The Public Safety Committee explored installing speed humps to reduce speeding in town. The Public Works Committee reviewed the effectiveness of the speed humps while also exploring other options that culminated into a traffic calming policy, identifying various ways to reduce speeding under various circumstances. 
"The goal of this policy would be to take a universal look at traffic calming measures to reduce the number of speeding problems within the city and not just settle on one solution. In essence, staff would create a toolbox of ways to mitigate speed related problems based on collected traffic data," the memorandum states.
Public Works and Parks Director Mike Mroz said "every situation is different," depending on the areas in conversation – residential, downtown, traffic signals, etc., all impact what will be the most effective form of mitigation efforts.
The plan includes three points: 
Education: work with residents of neighborhoods to correct driving behaviors using information and neighborhood awareness.  

Enforcement: increase the level of police presence and speed monitoring to encourage corrected behavior. 

Engineering: add structural changes in the right-of-way, like raised crosswalks, medians, traffic circles, raised intersections, etc., to adjust the driving experience and encourage slower speeds.  
"I wish there was a magic answer, but I think it starts with enforcement," Alderperson Randy Morrissette said.  
Council voted to move forward. A policy tool box will be put together and then revisited. 
"I think it's important to have more discussion," Alderperson Joy Knudson said. 
Quick hits
Drew Spielman was sworn in as the new chief of the Hudson Fire Department. He comes to Hudson from a lengthy career in fire protection and a long line of firemen in his family. 

A public hearing was held for the 2022 sidewalk and curb project, and the Third Street and Laurel Avenue bluff area reconstruction project. Both projects were bid at higher costs than expected. The sidewalk and curb project was approved. Council voted to rebid the Third and Laurel project, delaying construction until 2023. This decision was based on the higher than anticipated cost, as well as an opportunity to revisit safety concerns of residents. 

Council approved moving forward with demolition of the old fire station and addition of parking spots. 

With over 4,000 registered voters, the original paper copies of registration maintained by the city clerk's office have become cumbersome to store and locate individual registrations when needed. Council voted to move to upload digital scans as the medium for record keeping and more efficient access.