The rains held off while below a solemn sea of blue and gray and brown filled first the gymnasium and then the parking lot outside Hudson High School Friday afternoon as more than 1,000 members of law enforcement from across the Midwest participated in the memorial service for St. Croix County Sheriff's Deputy Kaitie Leising.
Leising, 29, was killed in the line of duty outside Glenwood City, just one week ago on May 6, while investigating a vehicle in the ditch with a possible impaired driver. She left behind her wife Courtney and 3-month-old-son, Syler.
St. Croix County Sheriff's Office Chaplain Larry Szyman opened the service by acknowledging the toll Leising's tragic death had taken on her family, her fellow officers and the community as a whole. He cautioned law enforcement and community members against surrendering to the cynicism so easily embraced during times of despair. Instead he cited Leising's sincere compassion and encouraged the community as a whole to embrace "the righteous resolve that seeks the welfare of all."
Along with pastors Julie Scheibe and Rob Pilant, officers from the St. Croix County Sheriff's Office took turns at the podium reading letters from Leising's family members and friends and sharing their own tributes to their fallen comrade.
Pastor Scheibe painted a picture of "Bug," as a beloved daughter, cherished partner, respected colleague and thankful parent. She described Leising as a dedicated, compassionate and courageous officer, a hero.
"A hero stands in the gaps so that we can live the lives that God has given us," Scheibe said.
"She gave everything."
St. Croix County Sheriff's Deputy Aaron Boldt read from a letter by Kaitie's father Roger.
"She always wanted to be in law enforcement. She pursued that profession with the same zest she had for life. Her career moves were tough on mom and I, only soothed by the realization that she was doing what she loved to do with the person she loved, Courtney," he wrote. "You arrived earlier in my life than expected and then left entirely too soon. God needed a hero more than I did. It's not goodbye I'm saying, it's see you later. With love to my hero, Dad. P.S. the secret chili ingredient was brown sugar not cinnamon."
St. Croix County Sheriff's Deputy Fred Mangine shared from a letter written by Leising's mother Kris.
"We ask that in the midst of our shattered lives, that we live the way she did," she wrote. "Be kind, compassionate, take time to really see people. You never know where your next blessing will be, how your kindness will impact someone else."
Leising's wife Courtney put into words the greatest loss in the wake of Kaitie's death.
"I am completely heartbroken that [Syler] will grow up without Katie by his side but, thankful he'll have the greatest guardian angel looking over him." 
Mangine recognized that Leising had a specific sense of confidence, the kind that "isn't taught or trained, it just is."
That confidence served Leising well as both an officer and new parent.
Kaitie never complained once about getting up at 3 a.m., switching back over to mom mode, and regularly missing most of her sleep before putting her badge and gun back on and hitting the streets with us to do it all over again. It's just what she did. She was loving. She was a warrior. That was Kaitie," Mangine said.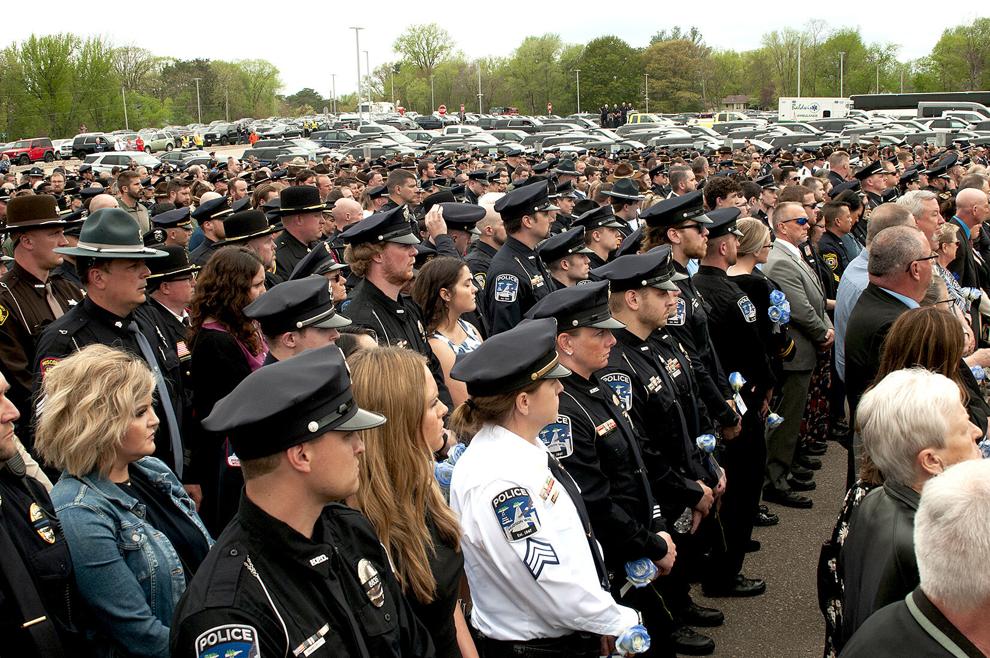 Mangine took a moment to address his fellow officers about the doubt and second-guessing that inevitably arises when a fellow officer and friend is killed in the line of duty. He suggested they write down all of the reasons why not to be a cop, why not to put your family through all the challenges of being a cop and then throw the list away and go back to work.
"Now more than ever our communities need good cops. They need protectors, they need warriors to go out to the trenches everyday and hold that line between good and evil," Mangine said. "We need you. They need you …Every single one of you are the heroes that we need. Kaitie will always be one of us. She was a hero through and through."
St. Croix County Sheriff Scott Knudson echoed Mangine's sentiments.
"You have a servant's heart when you take up this profession," Knudson said.
He urged every officer to follow Leising's example and "treat everyone with dignity and respect." 
Knudson expressed his department's sincere gratitude to the countless other jurisdictions that have helped out over the last week filling in and assisting where necessary to allow his officers to deal with their grief and the loss of Leising. 
What would Kaitie have thought of all the pomp and circumstance orchestrated in her name Friday at the high school?
She most certainly would have loved the children, hidden behind the wall of uniforms, their small hands holding tightly to their parents', wholly innocent of the tragedy betrayed by their tears.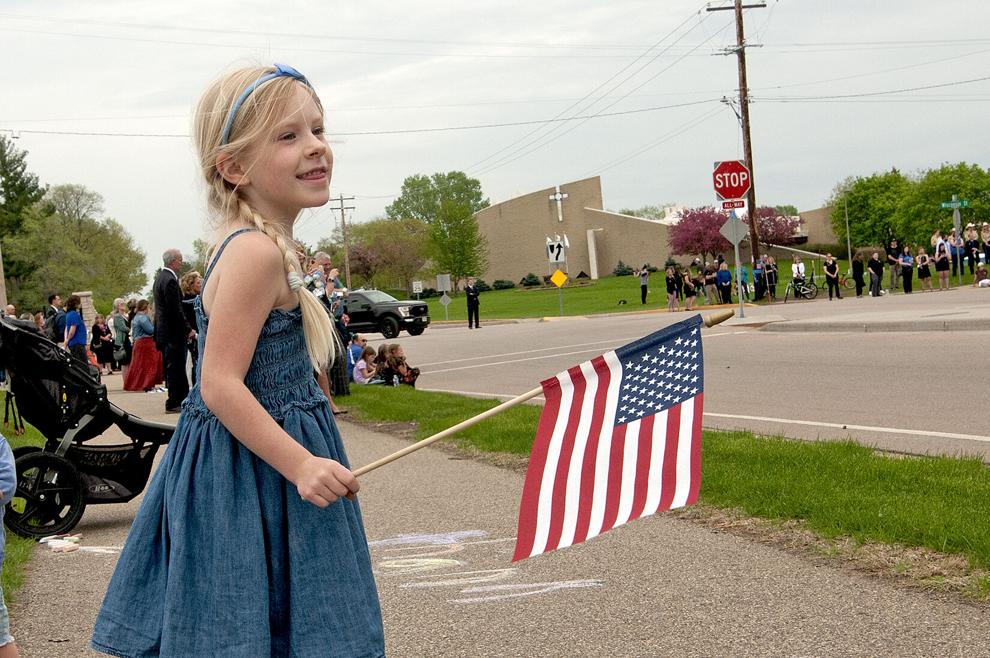 To her family in uniform, she would have been humbled beyond words, lifted up by their thoughts and prayers and strengthened by their resolve and respect. But most of all, she would want them to be safe, to do their jobs with confidence and compassion, but to remember in the end it is about coming home safely to be there for your loved ones. 
Kaitie would have smiled and taken in all those "Thank yous" shouted by the people she swore to serve and protect and who now lined the same streets she patrolled by the hundreds to pay their respects as she passed by one last time.
To the gentlemen with his hand over his heart and the veteran saluting from his porch, she would have tipped her cap understanding that respect is earned but that it is more powerful when it is shared.
End of Watch
Dispatch 8835
Dispatch 8835
Dispatch 8835
Dispatch to all units, 8835 is 1042.
Kaitie, you have served your community with honor and bravery.
Our time with you will be forever cherished.
You are gone, but you will never be forgotten.
Courtney and Syler, you will always be a part of our law enforcement family.
Kaitie we wish you Godspeed as you report to your final assignment.
May you rest in peace.
End of watch May 6, 2023.