Hudson School District was presented with the "Best Community for Music Education" award from the National Association of Music Merchants for the 12th year in a row. 
"We recognize innovative and resourceful music education in the United States," a National Association of Music Merchants representative said. 
With this award, Hudson was placed in the top 5% of the 14,000 school districts considered. 
The Hudson School Board met on Monday, June 13, discussing, at length, projected enrollment for the coming years and proposals to begin reimagining the elementary school layout in Hudson. 
Enrollment projections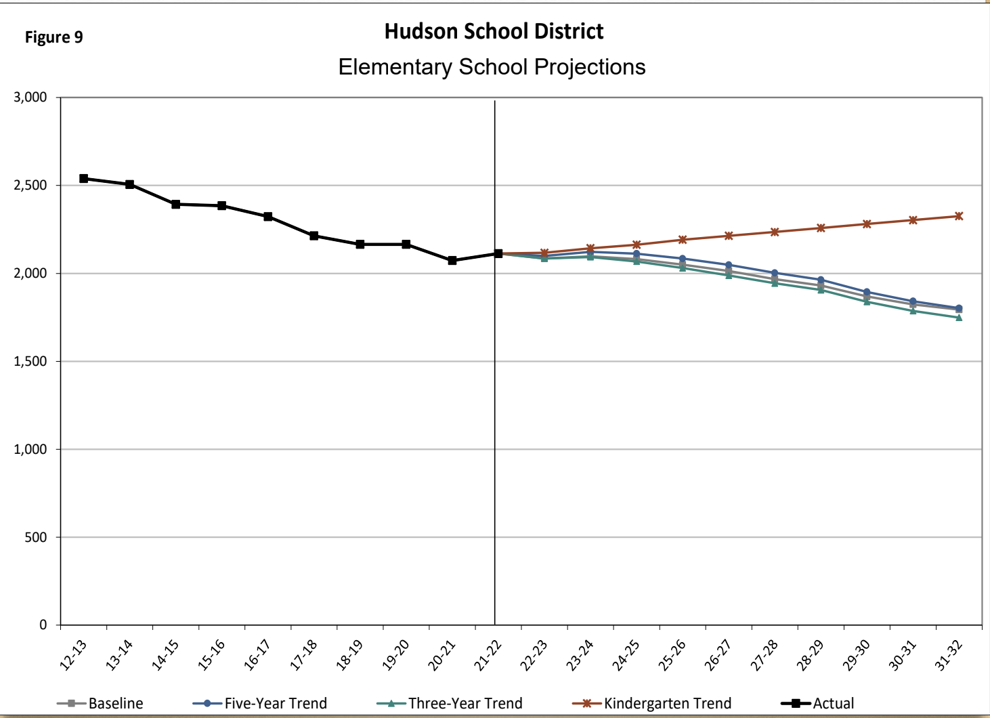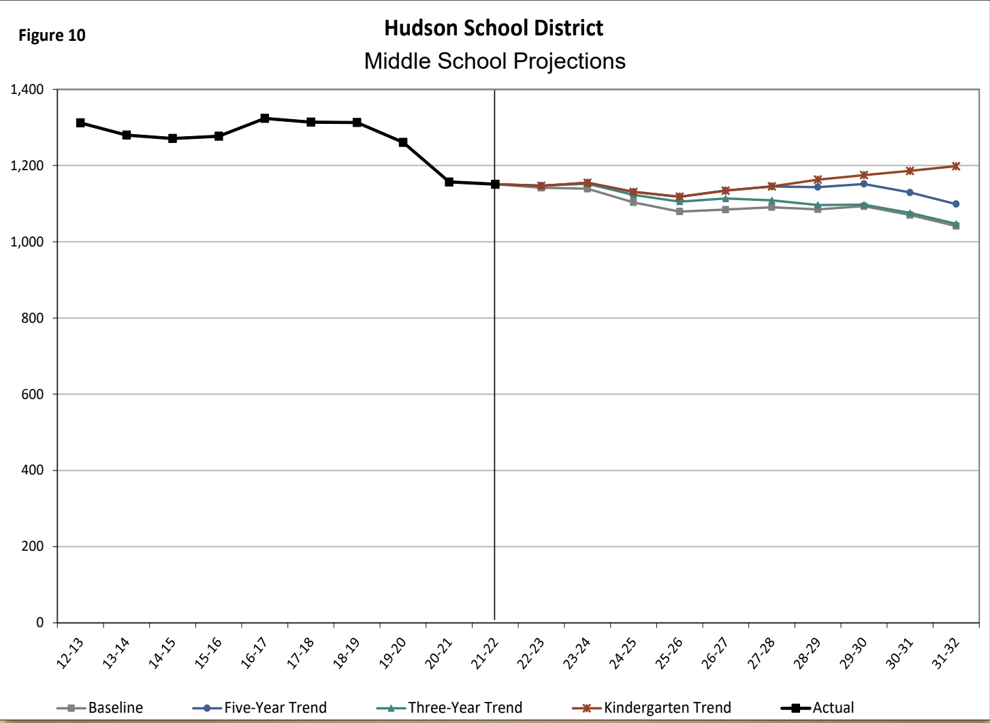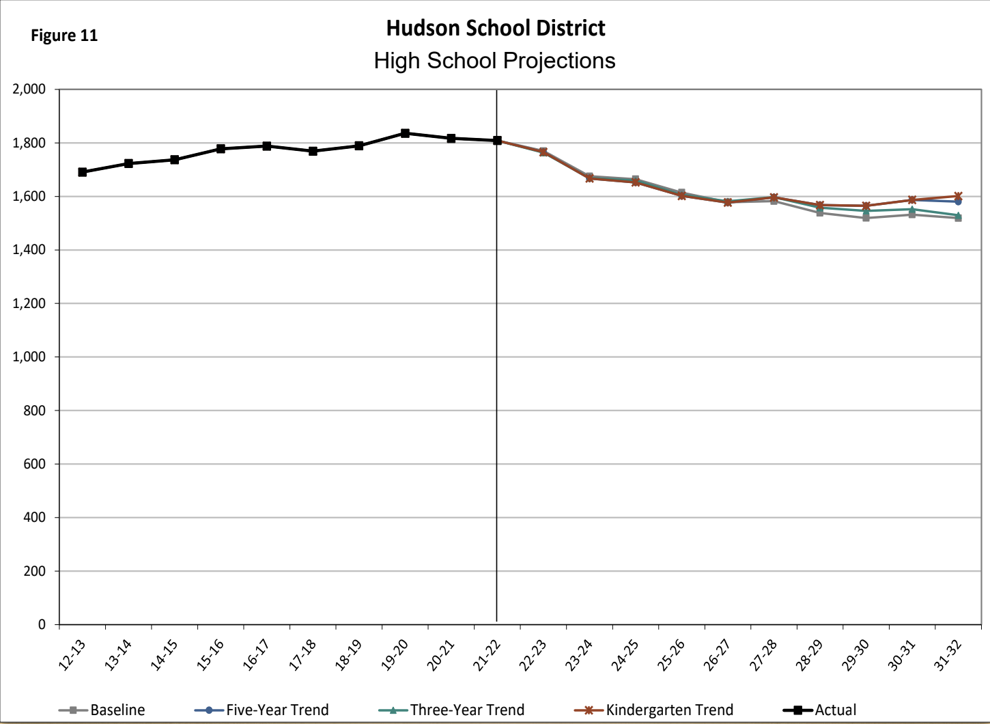 The school district employed the Applied Population Laboratory at the University of Wisconsin-Madison to take a look at enrollment projections for coming years. 
By looking at the history of student enrollment, municipal births, age structure, new housing types and more, researcher Sarah Kemp provided the district with some estimates. 
"Districtwide enrollment will lose as many as 191 to 440 students, averaging a 6.6% decrease," Kemp said in her presentation to the board. 
The middle school is looking at a steady to slow decline in enrollment of about 3 percent over the next few years. The high school is looking at a 12.7 percent decline. 
Depending on the model used to estimate, kindergarten through fifth grade may gain as many as 101 students or lose as many as 125. 
"It's pretty rare," Kemp said to see a drastic change in the model projections. "We usually see around 2-3 percent error rate with most districts that are steadily increasing or steadily declining." 
The first five years worth of projections are the most reliable. 
"Everybody has basically said the same thing," Superintendent Nick Ouellette said. Each third party the district has previously employed, has suggested that the district will not see growth in the near future. 
Elementary planning
In 2019, the board began the process of addressing elementary school capacity planning, comparing current and projected student enrollments. With an anticipated decline in students, the current landscape of elementary schools will take a creative approach to manage. Looking ahead, future revenue projections won't support six schools in their current state. 
COVID-19 delayed that track, but the board has taken the conversation back up. 
"We have a track record in this community of working hard to take care of what needs to get done," Vice President Bob Baumann said. 
The board approved moving forward with a partnership with Bray Architects, who the district has previously worked with on the high school and middle school, to begin looking at long term solutions to managing the space at elementary schools in the district.  
"We are assuming that the community will not pay more to keep six schools open," Treasurer Heather Logelin said. She wants to approach the community with intention, offering them a real opportunity to provide feedback on how they'd like to move forward. 
Bray will begin the process by using community input sessions and parent collaboration strategies to "continue to educate them on the 'why' behind the proposed right sizing while also getting their input on the proposed solutions." 
The first phase of the process would include proposed conceptual site and floor plans in the first phase of this plan with costs associated. 
"I've heard that in the past the accusation has been kind of the board had already made their mind up before they went to have conversation with the community," Logelin said. She admits she's found herself thinking that the district needs to close a school but realizes this is an assumption. 
It is going to cost more to keep the current number of schools in Hudson open with their current student distributions.
"We need to put some things out there for people to respond to, to engage with," Ouellette said. That is one of the things he anticipates Bray will do over the next few months  
Quick hits
Multiple district schools and departments offered reports to the board as the school year came to a close. Here are some of the highlights: 
62.5% of kindergarten through fifth graders at EP Rock Elementary School made average literacy growth from fall 2021 to spring 2022. The school also reduced waste by 57% through composting, recycling and encouraging students to only take items they intend to eat.

Facilities and grounds reported that at the beginning of November 2021 they had nine open staff positions. Six of those positions have been filled. 

As a result of the district's strong financial condition, the school board was able to set aside an additional $7.4 million in committed fund balance for facility projects in the future.

76% of Willow River students will reach the end of year benchmark on the Benchmark Assessment System.

The Hudson Community 4K program, offering children equal access to preschool education, will expand to two new school site classes in the 2022-23, including EP Rock and North Hudson. 

Nutrition services continued to serve breakfast and lunch at the high school while operating between four and eleven open positions throughout the school. They operated at over 100 meals per labor hour, while the industry standard is 12-17 meals. 

Students at Hudson Prairie spent eight weeks of the 2021-22 school year making 32 blankets for children in Lviv, Ukraine Children's Hospital  during lunch and recess. The students received a $600 grant from Rotary along with $240 in donations from Rotarians. 

The IT department collaborated with the mental health advisory committee and the Hudson Police Department to host sessions covering topics like internet safety, cyber security and data privacy during the 2021-22 school year. 

This past school year, student services implemented a Social Emotional Learning screening for grades six through twelve. 

Of the seventh grade students at the middle school who completed a survey providing education on Suicide Awareness and Prevention, 90% showed they have an understanding of what to do if or when they have a peer who is having suicidal ideations. 92% are able to identify at least one adult they could go to if they were worried about a peer having suicidal ideations.