The Hudson Common Council returned to the city hall chambers after a holiday hiatus on Tuesday, Jan. 3, for their first regular meeting of 2023. 
One of the first orders of business was to ensure the return of the St. Croix Snack Shack in the summer of 2023. 
Two Hudson High School graduates, Blake Buchholz and Alex Ewig, began serving concessions at the Lakefront Park Beach House prior to taking off for their first years of college. 
When Buchholz started at the University of Southern California and Ewig at University of Wisconsin-La Crosse, the both had business interests and every intention of applying new knowledge to the St. Croix Snack Shack business model. Council approved their request to continue serving for the upcoming summer season. 
Workforce housing proposal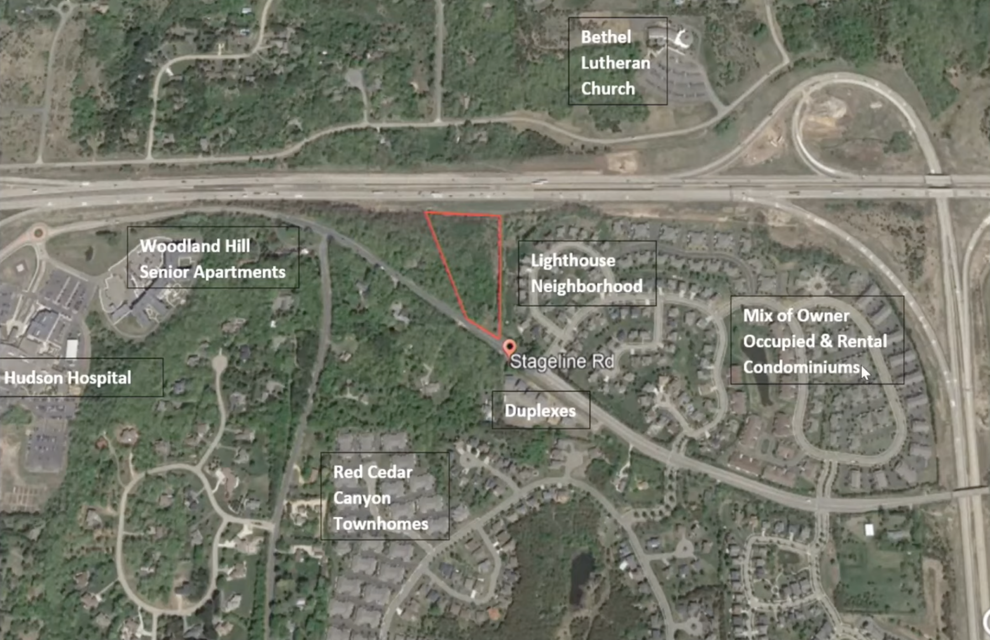 Council approved Lincoln Avenue Capital's proposal to rezone a recently annexed 5.57 acre property from the town of Hudson to the city, which was zoned as agricultural residential. 
The proposal, however, was to rezone to accommodate multi-family residential units. This requires a comprehensive plan amendment, as the land was originally platted as general commercial. This comes in preparation for a development plan application to construct a workforce housing, multi-family structure comprising 38 dwelling units. 
Lincoln Avenue Capital has built more than 20,000 units across the country with a focus on affordable, workforce housing. Their proposal was not met with welcoming or excitement from neighbors of the potential development site, however. 
Eight homeowners from the Stageline Road area shared direct concerns with the zoning changes, leaning into a back and forth conversation with council and the Lincoln Avenue Capital representative. Much of the concern was about traffic, lack of communication with all area homeowners, direct impact on home value as well as landscape changes around private properties.  
"As we've talked to people, no one has been interested in having this in their backyard," one neighborhood member said. "This community is saying 'please oppose.'" 
Alderperson Randy Morrissette continued the conversation of the safety of Stageline Road and vocalized his interest in more information on the impact on traffic and safety should this become a multifamily housing development. 
Part of the issue is that the opposite side of the road remains in the jurisdiction of the town of Hudson and is not under the control of the city. 
"What does it take for us to get the rest of the road," Morrissette asked. 
An intergovernmental agreement was the short answer from City Administrator Aaron Reeves Reeves. With the goal of making the road safer, he hopes the town would be cooperative. 
Moving forward with rezoning could be contingent on what the council deems necessary, but they voted to approve the rezoning with the goal of holding themselves accountable for upping the safety and usability of the Stageline Road area, from the roundabout to Highway 35.  
Public hearings
Three public hearings were held, two of which did not receive comments. 
Approved: St. Croix Meadows, a development company revitalizing the lot that once held the dog track, submitted a request for the city to vacate a 3,784 square feet portion of Sharon Lane right-of-way. St Croix Meadows owns the property to the east and north of the proposed right-of-way discontinuance with the intention of adding an additional single family residence to their plans. 

Approved: Team Johnson from Edina Realty submitted a rezoning application for 1531 and 1535 Namekagon Street. No amendments were proposed to the existing land use of medium density residential with the intention of developing the properties as a zero-lot line twin home. The applicant hosted a neighborhood meeting regarding their application in September, but no neighboring property owners attended or made comments. 
Public works facility in the works
The common council approved its 2023-2027 Capital Improvement Plan in November, part of which included plans for a new public works facility. Staff contacted public works directors in western Wisconsin and the Twin Cities area that have built new facilities within the last 10
years to compile a list of firms that performed design services. 
Requests for proposals were sent out and two companies responded with estimates between $400,000 and $480,000. 
Council approved the proposal from Cedar Corporations for just over $400,000, for assistance in planning the new facility. 
The November 2020 study completed by Cedar Corporation identified a 7.35 acre site on Hanley Road for the potential location of the new facility. Based on the long term needs of the city, it projected a long-term solution that includes 72,000 square feet, comprising 5,100 square feet of office space, 39,000 square feet of garage space, 17,500 square feet of workshop and 11,000 square feet of salt storage. The project cost in 2020 was estimated to be $12.0 million, including land acquisition, building and site construction, furniture and equipment, and soft cost.
However, to meet budget needs the city has requested this cost be reduced to $10 million. Scaling back the new facility, the city also intends on maintaining its Ward Avenue facility, offsetting some of the space needs. 
Based on these budget needs, Cedar Corporation anticipates a building size of between 50,000 and 60,000 square feet with construction estimated to start in 2024.
Future of road repairs 
Another part of the Capital Improvement Plan included direction for the next five years toward infrastructure and street projects that are too big to include in the regular operating budget. The plan is that there is an incremental increase in funding to make sure, in the next five years, to make a number of improvements. 
"We're going to get caught up with street maintenance for the first time ever after this year. We've never been that far along before. So we're making incremental progress," Reeves said. 
Public Parks and Works Director Mike Mroz presented council with a tentative plan, up for discussion, about which projects to start this year and next year. 
There were lots of questions as to why some streets weren't on the list and others were, despite the years of ongoing need. 
Alderperson Joyce Hall made a motion to revisit street and infrastructure priorities at a later meeting. The consensus on the council was that more time needed to be invested into determining the order in which projects would be completed. This motion was passed at the end of the council's three hour meeting. 
Recovery funds
Nearly $1.5 million in COVID-19 recovery funds were received by the city. $443,000 of the funds have already been approved for public safety, but about $325,000 remained unallocated. 
Prior approved allocations included: 
Fire department turn out gear and other equipment - $144,000. 

Emergency siren relocation from old fire hall to Lakefront Park - $23,000. 

Traffic cameras-$276,000. 
Staff requested funding for the following projects at the Jan. 3 meeting, equalling $707,000, which were approved by council. One of those projects is the long awaited splash pad. 
"We've been kicking it down the road," Alderperson Mike Kennedy said about the splash pad. Kennedy, prior to his election to council, had been sitting on the parks board for years during preliminary discussions of this new city feature. It's always been in the plans for Weitkamp Park and overall, it has a very minimal impact on the park's budget. 
Weitkamp Park Splash Pad - $400,000

New servers for the IT department - $150,000. 

Emergency Back-up System for IT - $57,000. 

Managed services system with three year phase into levy - $70,000. 

Senior and handicap supplemental transit service for 2023 - $30,000. 
Staff added the supplemental ride service as a use for part of the funds. Over the last year, council and staff have been working toward establishing a transit service for the community, however state funding opportunities pushed the start of that back a year to 2024. With $30,000, Reeves said that staff estimates that a year of supplemental ride services for elderly people and people with disabilities can be provided. 
St. Croix County offers a transit service to those populations, however many requests for rides are outside of their hours of operation, Reeves said. He said that while the city works to set up a permanent, full functioning transportation service, the goal for 2023 would be to supplement the hours that the county does not offer services. 
They've worked out the details with a third party service, which will offer services at a cost based on need and the number of rides, similar to how the county operates. 
Overall, the approved projects presented by staff cover $1.15 of the about $1.47 million provided to the city in recovery funding. 
The library was brought up by Alderperson Sarah Bruch as a possible use for remaining $325,000, however Reeves was skeptical about using this one time funding for an ongoing issue of the library. He and others are working on a longer term solution. 
Bruch's follow up was, "If you're asking for council opinion and feedback, I would definitely like to see this go to our roads, then." 
Staff will come back to council for final approval on the remaining funding allocations. 
Quick hits
Sergeant Peter Schultz will be retiring from the Hudson Police Department after 32 years of service to the city. His last day will be Jan. 30. Schultz served the department as a patrol officer, school resource officer, detective sergeant and patrol sergeant for the department during his tenure. 

The Hudson School District electronic message display sign has been in operation since winter of 2021. Due to its size, the sign was subjected to a conditional use permit, which was formally reviewed in April 2022. It was requested by the Plan Commission to have a second six month follow-up review due to neighborhood concerns that were received during that meeting. A follow-up public hearing was hosted by the plan commission in November. Public comment was received in favor of the electronic message display sign without future reviews. The council approved the continued use without scheduled follow up. 

As part of the 2023-2024 bonding requests, the Hudson Fire Department requested 10 new portable radios in 2023 and 14 new portable radios in 2024. The first 10 Motorola portable radios are estimated to cost $60,000. 

Kudos, 209 Dominion Drive, received approval for a secondhand article and jewelry dealer licenses through the end of the year.