HUDSON — The Hudson Senior Center has found a new home. 
The center, run by St. Croix County's Aging and Disability Resource Center, opened at St. Paul's Episcopal Church on Monday, Aug. 16. 
The site is currently offering to-go dining options for area seniors, and will offer full dining in and other services at a later date. 
The ADRC began searching for a new home in Hudson this past spring. It reviewed and toured all locations that reached out, and found St. Paul's to be the best fit. 
The size of the space allows for comfortable dining and social events. It also includes a kitchen and space to host other programs such as card groups. The space is already accessible and user friendly, the ADRC team said. 
Now that a new home has been found, the location will begin providing the same meals offered by the eight other sites throughout the county. 
"The mission of the nine senior centers is to promote the physical, emotional and economic well-being of older adults and encourage participation in all aspects of community life," said ADRC Nutrition Program Supervisor Randi Hanson.
In addition to on-site and home-delivered meals, the centers also provide social opportunities like cards, bingo, exercise groups, coffees and outings. 
After being closed during much of the pandemic, the centers are now open again to offer both nutritional and social needs to seniors. 
"It's wonderful to be up and running again," Hanson and the ADRC team said. "The participants were happy to get back at their home away from home and were excited to be able to volunteer again."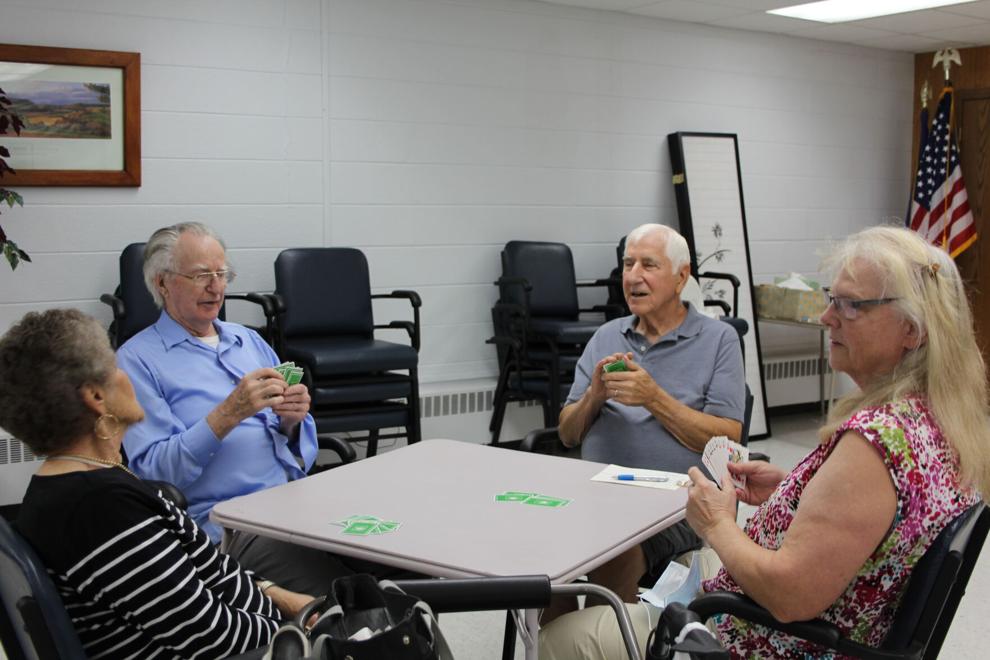 John Brunner, Shirley Bestler and Trisha and Donald Olson were happy to be back at the New Richmond Senior Center. The four had a round of cards going on Monday after enjoying their meal. 
"We want our senior center to be active again," Brunner said.
Those who are not yet ready to return can still access grab-n-goal meals. 
"We are here for them when they are ready," Hanson said. 
The centers are available to all those over the age of 60. 
"It is wonderful when folks finally graduate into our programs," Hanson said. 
To access senior center services, people can call senior centers 24 hours in advance to reserve a meal. Those looking for home delivered meals can call the county ADRC. 
The Hudson Senior Center is open from 9 a.m. to 2 p.m. Monday through Friday. Transportation to and from the center and shopping at local stores is available on Tuesdays and Thursdays for $2.Contact the center at 715-386-8709.  
Seniors can pre-register for special outings. 
The ADRC is also always looking for volunteers, those interested can contact ADRC or the local senior centers.