HUDSON -- The city is looking to be prepared for any federal money it might receive as part of the infrastructure bill. 
Staff presented five projects that the city could have "shovel-ready" if and when the bill goes through. That means having the design plans done and ready for construction, City Engineer Dean Chamberlain said. 
"All that's needed is funding," he said. 
The council approved letters of engagement with Bolton and Menk for necessary topographical studies estimated at a cost of $50,000. That funding could come from the leftover funds from the Highway 35 project, or could potentially be part of federal funding as part of the COVID relief bill, Chamberlain said. 
The plans focus on needed maintenance, rather than expansions, Chamberlain said. All of the projects are ones the city would need to do in the near future anyway. If federal funding doesn't pan out, Chamberlain said being prepared allows the city to apply for other grant funding, or to undertake the work itself. 
The projects are: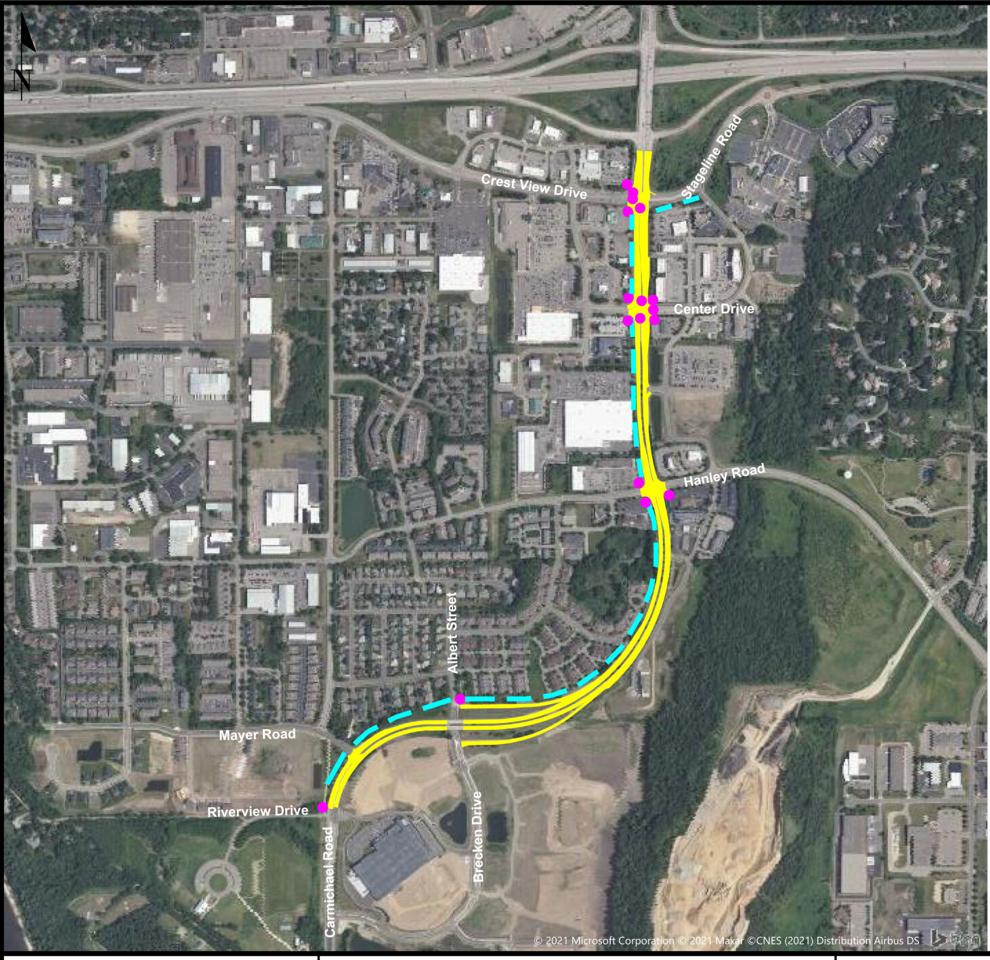 1. Carmichael Road from I-94 to Riverview Drive 
Work on Carmichael would include mill, underseal and overlay of the pavement. It would replace pedestrian ramps, and replace and fill in missing pieces of the trail. Work would replace spot curb and catch basin settlements, as well as signing and pavement markings. Estimated cost: $2 million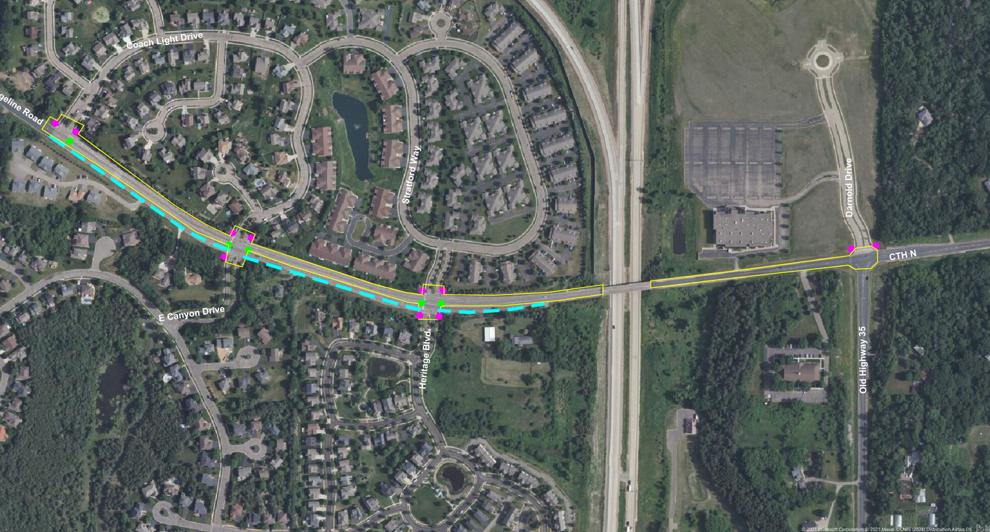 2. Stageline Road from Coach Light Drive to Darnold Drive 
Work on Stageline would include removal of one through lane in each direction in the five-lane section. It would include replacement of pedestrian ramps, replacement of curb on the south side of the road and the addition of pedestrian refuge islands to help people cross the street. A trail on the south side of the street would also be added. The project would also include mill and overlay of the remaining pavement. Estimated cost: $1 million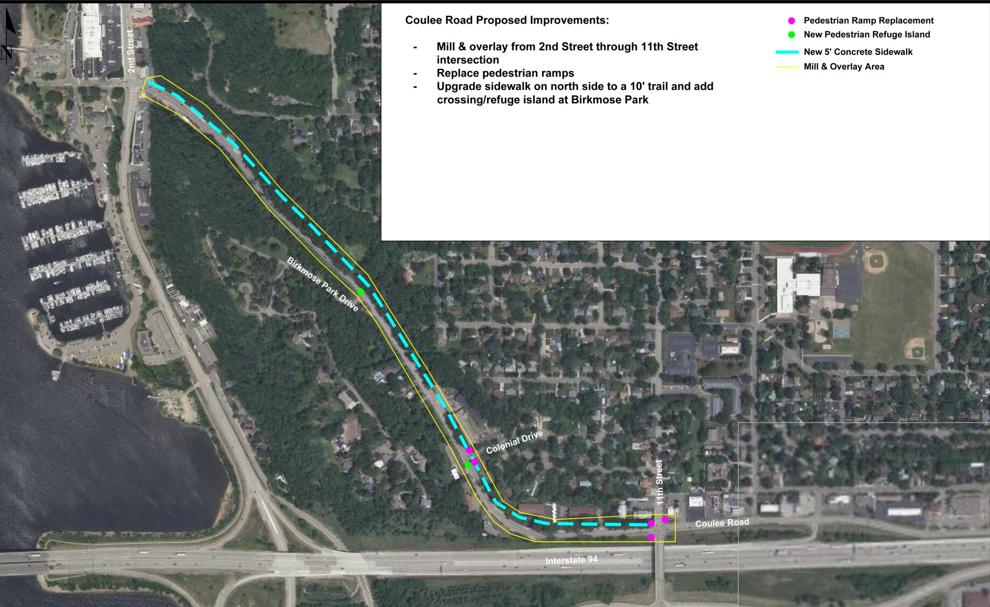 3. Coulee Road from Second Street to 11th Street
The Coulee Road project would include mill and overlay of the pavement. The sidewalk would be upgraded to a 10-foot trail and pedestrians ramps would be replaced. A pedestrian crossing to Birkmose Park Road would also be added. Estimated cost: $1 million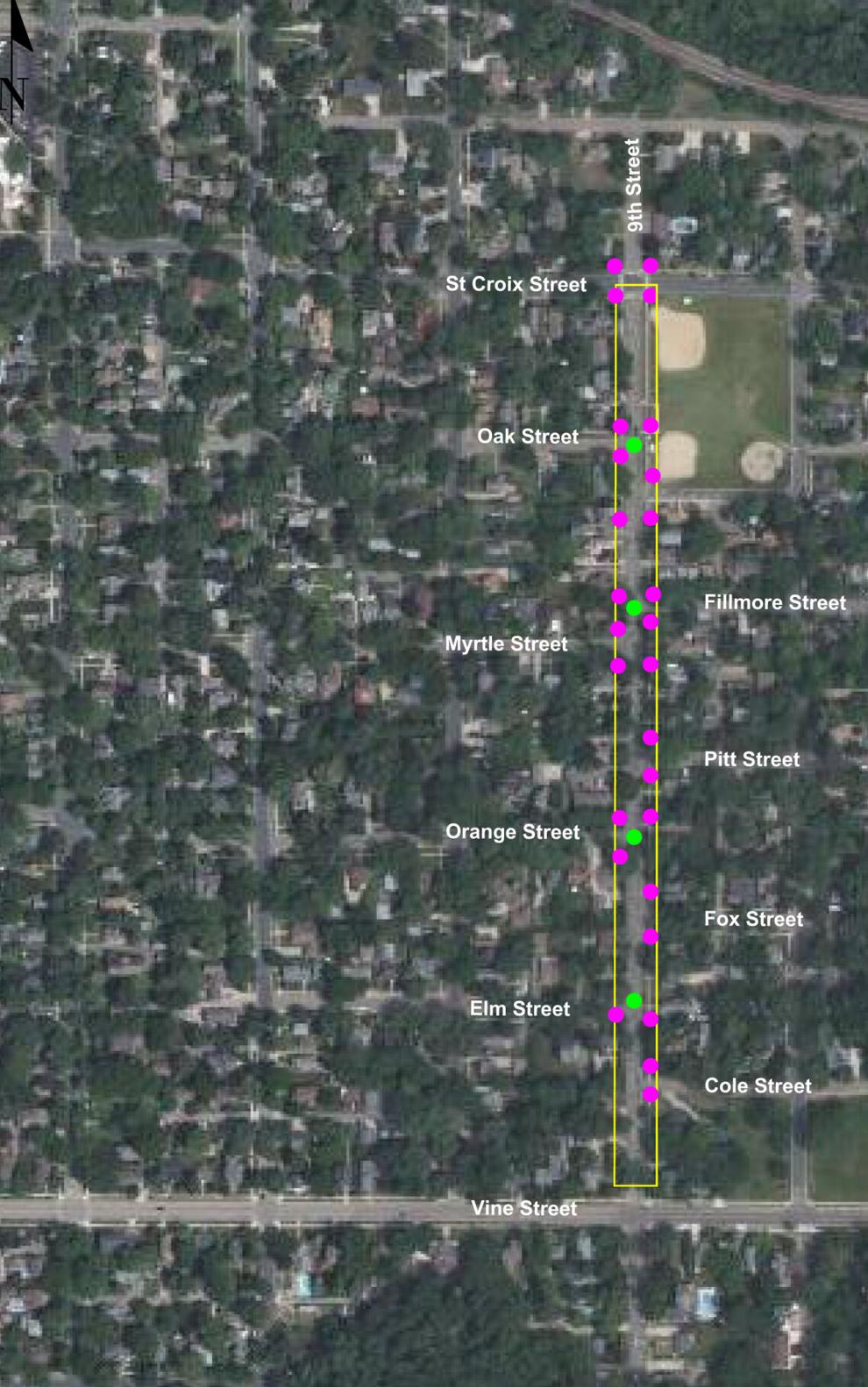 4. Ninth Street from St. Croix Street to Vine Street.
The Ninth Street project would include pavement reclamation, pedestrian ramp replacement and an addition of permanent speed calming measures. Estimated cost: $600,000

5. Vine Street from Wisconsin Street to east of Diamond Drive
This span is the last link of Vine Street that hasn't been addressed in the last few years. The project would include mill and overlay of pavement and replacement of pedestrian ramps. It would add pedestrian median refuge islands to improve crossing safety and speed control. It would also replace the trail and pull it away from the curb where possible. Estimated cost: $750,000.