HUDSON — Lu Holter grew up in the era of microwaves and boxed dinners, but even as a child, she wasn't satisfied with the easy cooking options. 
She started exploring cookbooks and teaching herself to cook. Her mother, though she was a fan of those boxed dinners, encouraged Holter and let her experiment. 
"I just grew up loving cooking and then I discovered grilling and cooking outside, and that was just mind-blown," she said. 
Now, Holter runs a food company and has competed in several food competitions. This year, she's on the new season of Food Network's "BBQ Brawl." 
The show features well-known chefs serving as mentors and team leaders to 12 barbecue competitors as they face various challenges throughout the season. 
Holter and her husband, Damon, own Croix Valley Foods in Hudson, which manufactures sauces and dry rubs. They started the company back in 2008, after deciding they wanted to build something together.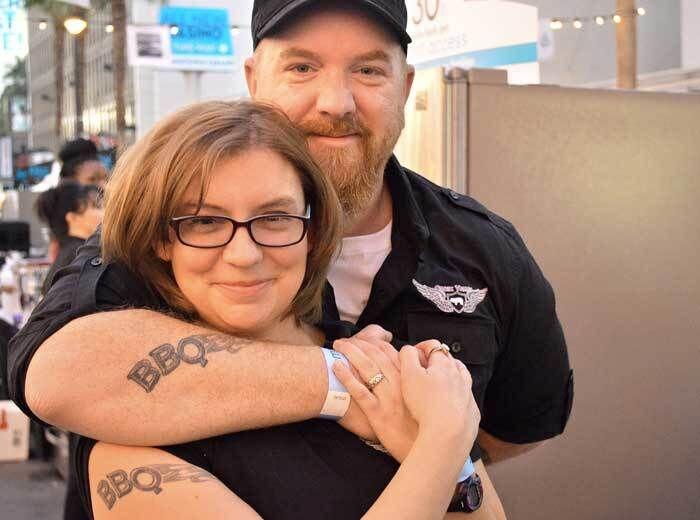 "He looked at me one day over a steak dinner and said, 'I know what we're going to do, we're going to make sauce for a living," she said. 
From that, Croix Valley Foods was born. While looking for a fun way to manufacture products, they stumbled upon a rib competition at the local Lions Club. After that, they were hooked. Holter has been competing for more than 10 years now. 
"We started seeking out every other thing we could do, and it has become quite the obsession," she said. 
That obsession led her to two earlier Food Network competitions — "Guy's Grocery Games" and "Family Food Showdown."
Her newest competition "BBQ Brawl" premieres on June 14. 
What interested you about "BBQ Brawl"?
I just love being in front of the camera and competing. I love traveling and meeting new people, so hearing about there's going to be another season of "BBQ Brawl" I was like, "Oh my gosh, that's right up my alley."
What was the competition like? 
It was a lot of fun. It was set up in teams with three different mentors. You have Michael Symon and Bobby Flay and now Eddie Jackson. So everybody kind of got schoolyard picked on teams. So that was a lot of fun. And then it was a little different than last year because last year everyone was competing individually. So it was neat to be on the teams and have the team dynamic, work not only with the mentor, but work with your teammates too. 
How do you think the experience went? 
It was awesome. It was so well run. The competitors were picked so well. It was just a blast from beginning to end, the whole thing. I couldn't have had more fun.
What do you enjoy about the competitive aspect?
It's always fun to challenge yourself to get better every time. So I really, really like that. And the meeting of people, it becomes kind of almost the food sports family. I have friends from all over the world. It's just because of doing food sports that I know if I was stranded in Italy, all I'd have to do is send out a call to arms on social media and someone from food sport would be there to help me really quickly. 
What can people expect from the June 14 premiere? 
It should just be packed full with lots of fun, high-energy things. I'm just so excited to see it. I can't wait. It feels like it was years and years ago that I filmed even though it wasn't. I think they're really going to enjoy not only the mentors and the contenders, I think people are really going to get a kick out of the judges too. It's just an awesome mix of people.