When Wisconsin Senator Ron Johnson got out of his bus at Total Excavating in River Falls, he was greeted by dozens of supporters. Those who came to see him had already made up their mind of who they would be voting for on Nov. 8.
Johnson made his River Falls stop on Nov. 2, just six days before the midterm election. He also held a rally at Paddy Ryan's in Hudson.
The goal of both visits was to rally supporters for the midterm election. His stops in the two cities are a part of his "Get Out The Vote" campaign where he will travel to 60 cities around the state.
"It's great to be back in this part of the state," Johnson said at his River Falls rally.
Johnson was joined by other Republican politicians at his River Falls rally. Prominent supporters included Tom Tiffany, Shannon Zimmerman, Derrick Van Orden and Dave Estenson.
Johnson gave the same speech at both rallies. His speech did not offer policies, solutions or achievements his administration has accomplished.
Johnson instead used his speech to blast opponent Mandela Barnes and other prominent Democrats.
"He lies about defunding the police. He uses words like 'reallocate.' We all know what he wants to do," Johnson said, referring to Barnes' crime policy.
Johnson continued to attack Barnes' character. He called out Barnes for controversial racial statements he made in the past.
"Barnes said Wisconsin racism is worse than southern racism," Johnson said. "I don't think we are a racist state. We are better than that."
Johnson moved his speech to attack Barnes' stances on inflation. He blamed current Democratic leaders for "out of control" spending.
Johnson then took time to defend his stance on his budget plan. He specifically argued his plans to save social security.
"I want to save social security, not cut it," he said.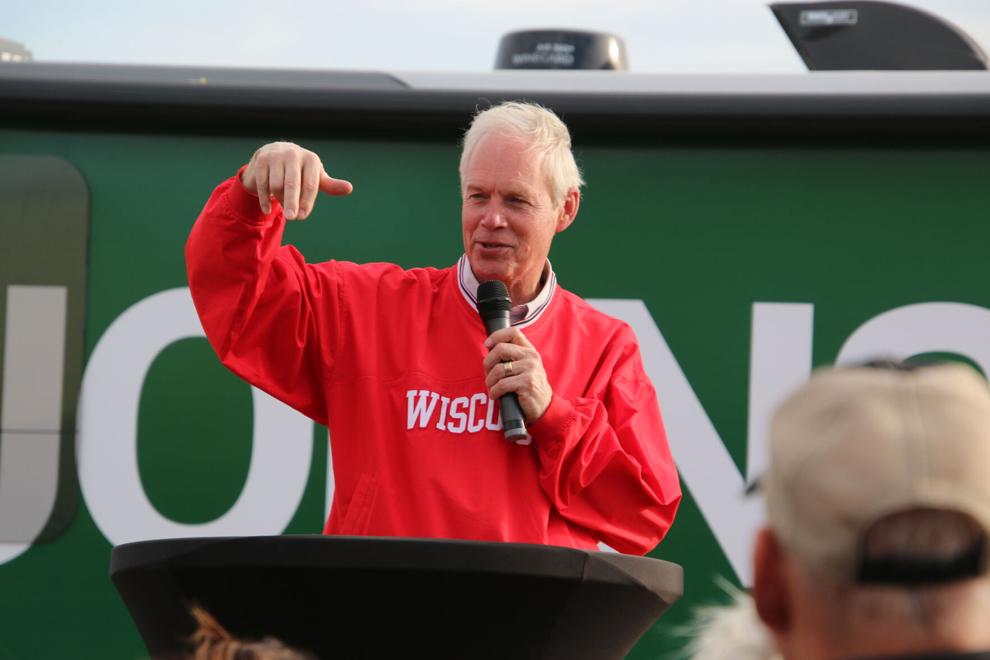 Johnson shifted his speech to attack Democrat leaders including Barack Obama, Joe Biden and Nancy Pelosi. He specifically called out Obama for an attack ad.
"I saw it online the other day and I was disgusted. He attacked my children which was uncalled for. It shows how out of touch Obama and other Democrats are," Johnson said. 
Johnson continued to antagonize Democratic leaders who have endorsed Barnes. He called Democrats "liars" and said their policies have failed. He added Democrats "use the same playbook" to defend their ideas.
It culminated in an attack about nationwide energy prices.
"Democrats drove up the price of gasoline and energy. They are forcing you to buy electric vehicles so it can fit their clean energy and Green New Deal agenda," he said. 
Johnson concluded his speech by attacking the media. He claimed Democrats "have no problem lying" and the media amplifies it. He said the media support for Barnes has put his campaign at a disadvantage.
"The news media won't help us. They'll only help Barnes who is a radical Leftist," Johnson said. "We need a free press but it needs to be fair."
Johnson made his final remarks advocating his supporters to vote on Election Day. He encouraged his supporters to talk to people before heading to voting stations.
"Our young people are being indoctrinated. We have to get out and vote. This is a fight for freedom," he said.
Current polls show Johnson is leading the race with less than a week until the election. He acknowledged polls can be misleading during his speech. He said his campaign has numbers showing the race is virtually tied. 
The race has a national following since the result will impact who has control of the U.S. Senate.