HUDSON -- The Willow River and Kinnickinnic state parks will feature new mountain bike trails, thanks to an ongoing effort by community-based volunteers. 
A total of 25 miles will be installed at Willow River State Park, and 15 miles at Kinnickinnic State Park. 
The first portions of the trails will be constructed this year, starting with six miles at each park. An additional six miles will be added each year to reach the final totals.  
The Friends of the Willow River and Kinnickinnic State Parks has been interested in mountain bike trails for years, but they were prohibited in state park master plans. The group was looking at variances, when the Department of Natural Resources changed its philosophies, Treasurer Dave Thofern said. 
Then a study in 2012, 2013 showed one of the highest growing areas of interest was mountain biking, Willow-Kinni Mountain Bike Club President Ben Swenka said. 
The Friends came together with the newly formed Willow-Kinni Mountain Bike Club to begin working on a mountain biking trail plan. 
"The question was how much land is available? What can we do in these parks for the trail?" Swenka said.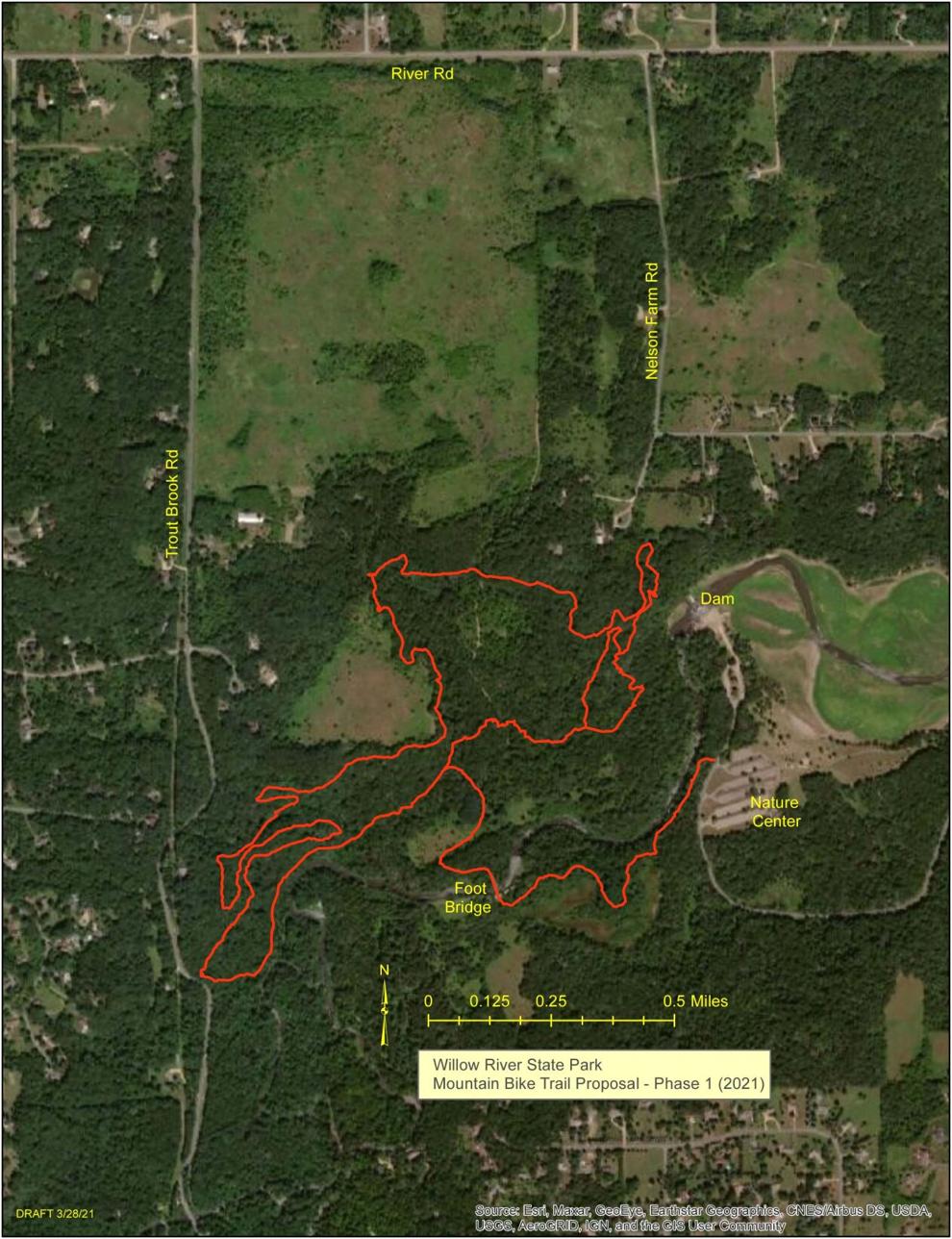 The groups worked closely with the park management to carve out areas to build trails. They found enough acreage for the planned 25 miles at Willow River and 15 miles at Kinnickinnic. 
The first pieces of trail have already been constructed at Kinnickinnic, to be used for snowshoeing, hiking and skiing before mountain biking was allowed. 
Work is underway at Willow River and Kinnickinnic to complete the first phase. 
All of the trail construction is being completed by volunteers. Typically construction of a trail would cost between $20-40,000 with a hired crew, Swenka said. 
Funding has come from a combination of donations, fundraising and grants. 
The mountain biking trails will feature a mix of difficulty levels, including green beginner trails, blue intermediate trails and black expert trails. About half of the trails will be intermediate, with the remainder of trails split between the beginner and expert level. 
The beginner trails will be designed closer to the entrance, so those who are starting out can do a shorter loop, and the intermediate or expert can go further, Swenka said. 
"The idea is that you can kind of bite off as much as you'd like," he said. 
The mountain bike trails will be new trails, separate from existing hiking trails. 
"They're going to be in areas of the park that have been underutilized," Thofern said. 
When mountain biking first came up, the Friends wanted to be involved to address people's possible concerns and have input on any user-conflict issues, Thofern said. He quickly learned that today's mountain bike trails are different from what he envisioned. 
The trails are sustainable, with erosion, maintenance and user costs minimized, Thofern said. 
State Parks have seen an increase in traffic over the last year. 
"The need for park resources has dramatically increased in a short amount of time," Swenka said. 
The trails will provide more recreation opportunities in the area, and use underutilized resources. 
"It couldn't be a better use of the areas in that we have a huge demand, we have unused land and we have a great partnership with the Friends group and this new mountain bike trail group," Swenka said. "We have the momentum to build the trails so it's I think all happening at a really good time." 
The additional recreation activities will be available for local residents, and also the broader community, bringing people in from the Twin Cities and the Midwest, Thofern said.