At a time when public sentiment is divided over the direction of law enforcement and recruitment for many first responder roles including firefighters is challenging, the City of New Richmond celebrated the strong relationship between its citizens and police and fire departments at a swearing-in ceremony Wednesday, Nov. 9, at the Civic Center.
New Richmond Mayor Jim Zajkowski explained volunteering to become a firefighter means more than hopping on a truck.  
"It doesn't work that way. For other groups you may volunteer for a day or two, but here this is 365 days a year. Many, many years of training starts right away and it's continuous. You can be at home having a meal or out eating somewhere, you get that call, you leave. This is volunteerism at its best," Zajkowski said.
The Mayor went on to say, people do not often appreciate all of the training that goes into being a capable firefighter. 
To the newest member of the police department, Zajkowski noted he was joining an accomplished department led by a great chief where every officer on and off duty is the face of the department in the community.
"When he is on the beat out there, this is what the people see, this is what they see as our New Richmond Police Department … When you're out there and you give respect, you get respect back," Zajkowski said.
Police Chaplain Kevin Morris offered up a prayer for members of each department and encouraged the new recruits to make use of the mental health resources available to them to help cope with the difficult circumstances sure to come with the job before turning over the mic to Police Chief Craig Yehlik.
Chief Yehlik started by noting how appreciated the community's "unwavering" support of both departments is before welcoming officer Alex Colbeth to his new family represented that evening by more than half of its members in attendance even though they were off duty.
Chief Yehlik took a moment to make sure officer Colbeth understood the "why," why he chose to put on the uniform everyday and why he chose this line of work.
"I trust that you're here to do what police officers do everyday, preserve life. In talking with you it's become blatantly clear that you want to  make a difference in this community. I sense that you are here for all the right reasons. And a lot of those reasons are standing in the back of the room right now in support of you," Yehlik said.
Yehlik challenged his newest officer to keep learning and remember the important things.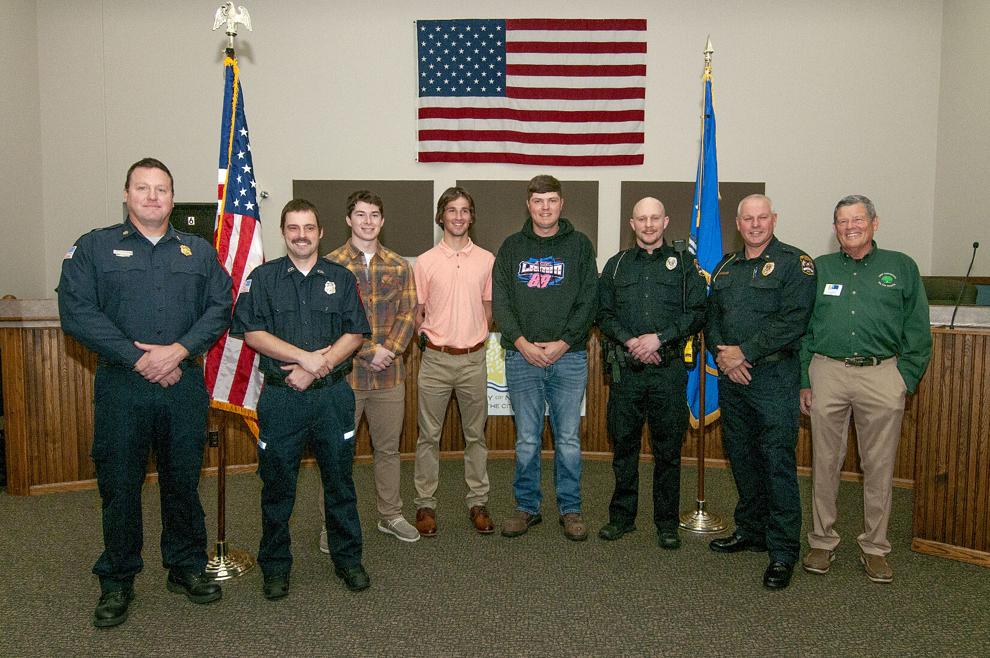 "Family, your friends, and your life outside of law enforcement. There has to be a balance. As you take care of others, take care of yourself," Yehlik advised.
Yehlik finished by acknowl;eding the good fortune of his department.
"In a time when recruitment in law enforcement is difficult to say the least, we feel we have found another perfect fit for our agency. We certainly did not settle. The City of New Richmond is fortunate to have our new officer Alex Colbeth within its ranks."