NEW RICHMOND -- On Wednesday, Jan. 6, 2021, millions of Americans found themselves transfixed before their television screens as they watched a violent mob storm the United States Capitol injuring more than 130 law enforcement officers and killing Capitol Police officer Brian Sicknick.
Watching the events unfold in real time, people saw rioters dressed in military fatigues, wearing body armour, helmets and communication gear was alarming. They looked like soldiers. 
Paramilitary groups, militia, organizations that employ military gear and mimic actual military tactics have been increasingly in the headlines. The unsuccessful plot to kidnap Michigan Gov. Gretchen Whitmer allegedly traces back to the militia group the Wolverine Watchmen. A number of the suspects from the Jan 6 assault have been tied to the Oath Keepers and Three Percenters.
Are soldiers more distrustful of the government and therefore more susceptible to conspiracy theories? How fearful should we be that disgruntled, highly trained, soldiers are behind attacks like the Jan. 6 insurrection? Can we trust soldiers?
The Vietnam War divided a generation of Americans against itself. 
The first flag-draped coffins began arriving back at Air Force bases across the country in 1959 and they kept coming until 58,318 soldier's names were engraved into twomassivewalls of polished black granite. 
Missing from The Wall are the names of more than 300,000 soldiers wounded in combat during the Vietnam War.
If there were a generation of soldiers justified in their distrust and resentment of the government and the public, it would be Vietnam veterans.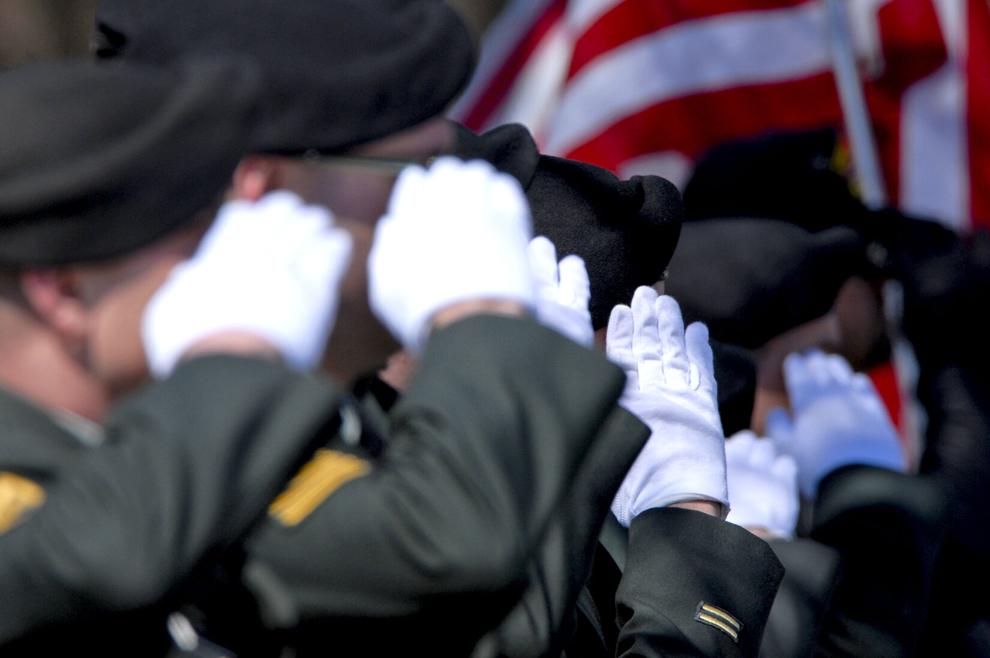 Veteran's politics vary as widely as the communities' at large. However, the oath soldiers swear to protect and defend the Constitution survives long after their service ends. That oath, their training and their service and sacrifice under fire distinguish them from all of us including the militia that stormed the Capitol on Jan. 6, 2021.
'Doc T'
"Doc T" graduated from Osceola High School in 1960 and enlisted in the Navy. He was trained as a Corpsman and attached to the Marines in Vietnam.
Medics and corpsmen, stopped bleeding, managed pain, resuscitated and did whatever else was necessary to keep troops alive in the heat of battle until they could be evacuated.
Jan. 6
"I was embarrassed as hell. Embarrassed for our country, embarrassed that anybody else should see the bad side of what's going on in this country. I still think we have a good country, it's just elements of it that radically need to change. And this whole thing whether it was Democratic or Republican, military or non-military, or other groups whatever, it was a total embarrassment. I was not proud at all."
"I think you could fall into that mindset rather easily, especially if you've been tromped on a few times. It would be pretty easy. But if you're trying to believe in the good of everything, you just have to ignore some of that."
"I'm 72 years old. I have two grandchildren, 11 and 7 years old. I pray that they will have a better environment to live in than we live in right now."
Dave Sharretts
Roberts native Dave Sharretts was drafted into the Army's 25th Infantry Division when he was 20. He celebrated his 21st birthday during a night ambush of his platoon in the jungle south of the Vietcong stronghold known as the Iron Triangle.
Jan. 6
"I saw some of it, but I don't know that I watched a lot of it. I was saddened by it, of course. I do not know how many of those people would be veterans. Anybody can put on a flag shirt and a hat and carry a flag. I'd have no idea if there was a veteran or not there doing all that, maybe some were. But I'm guessing that it would be a small percentage, if there were any there, that were real soldiers at one time."
Earl Duckett
Both of Earl Duckett's parents were World War II veterans. By the time the recruiter told him there were no slots left in the River Falls reserves, his draft notice was waiting for him. Of his training class of 750, only two of them went to Vietnam. He arrived in Vietnam in the winter of 1970 and served with the 5th Infantry Division out of Quang Tri. 
Jan. 6
"I watched it continuously from about 15 minutes after it started until later that night. I was just sick. I was (long pause) so angry at Trump. We all knew there was a good chance this was going to happen and we did nothing."
"These people think they are patriotic. They're not. They are patriotic to one individual, but they are not patriotic to the country. They tried to overthrow the government. That's not patriotism, that's facism."
"There were military people intermingled in that crowd. There were also those guys that think they're soldiers, wannabees. When they went in there and said, 'Here Nancy, Nancy' -- soldiers don't do that."
Gary Christian
Gary Christian's great-grandfather fought alongside Napoleon and died at Waterloo. His father enlisted in the United States Army when he was 15 yrs old and fought alongside British commando in Africa during WWII. 
Jan. 6
"The only good thing about Jan. 6 I can think about right now is that it hasn't recurred and I don't think it will."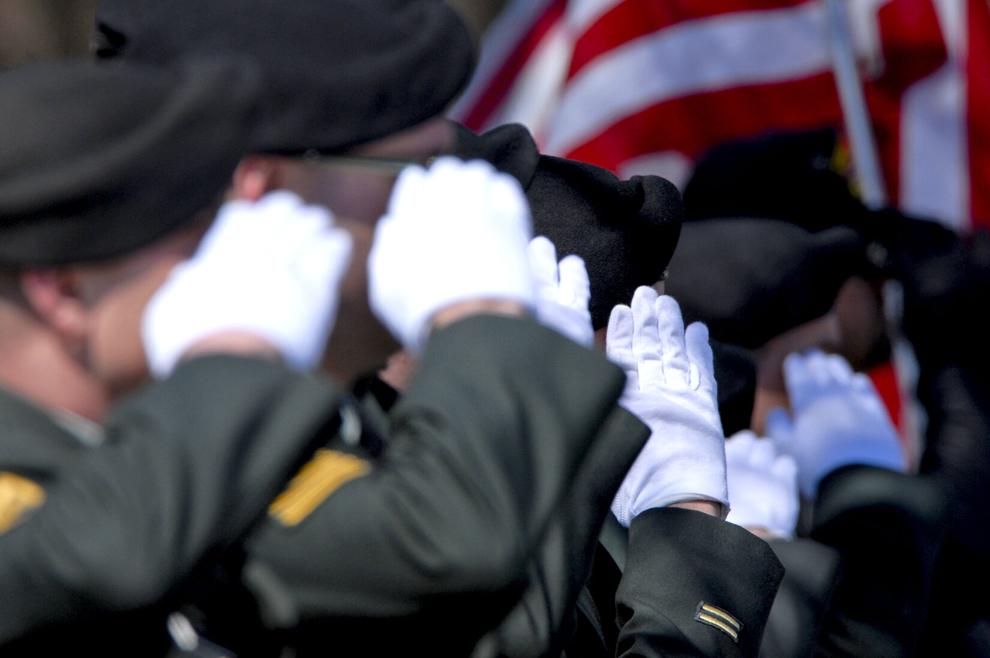 "I think that as far as soldiers, and Marines and sailors and airmen are concerned, I would trust them above almost anybody, I really would. Because when we enlist or are commissioned, we take an oath to defend the Constitution of the United States and to fight for that. And If you really believe that, you're going to continue to recognize and respect that Constitution until you die. Most guys that I know that have been in the military will fight to the death for your right to do and say what you want to do or say."
Gene Arnst
Gene Arnst dropped out of a college music program to enlist in the Army on New Year's Eve 1965. He played a number of instruments in the 1st Cavalry Division Band during his tour in Vietnam until his transfer back to the states in 1967.
Jan. 6
"As far as any veterans or military people who participated in the Jan. 6 riot at the capitol, I'm dumbfounded. It's beyond my understanding why people think the way they do and think they can get away with these kinds of things and attitudes about so-called QAnon and conspiracy theories. It's beyond my comprehension. I try to think more logically."
"My feeling is that anybody with military experience that participated in something like that, the numbers were in the extreme minority."
Naval years
A retired career naval officer, this sailor attended college on an ROTC scholarship before being commissioned into the Navy in 1976. He served during the height of the cold war as a P3 flight officer aboard two amphibious aircraft carriers, as an officer for 2, 2-star admiral staffs for NATO in Europe and 2 NATO tours as part of the Atlantic Fleet staff.
Jan. 6
"I think there is an element out there of wannabees. Some of them are veterans that have in their minds embellished their service, to some degree, for instance saying they were combat vets but never went overseas. I'm not a combat vet. I'm a cold war aviator from beginning to end. I would not for a moment say that was anywhere near what soldiers went through in the rice paddies of Vietnam. There are people who want to coop that."
"I sometimes feel that the non-veteran press is a little too quick to start labeling some guy in khaki pants with a tattoo as a veteran or in the military."
"One of the things that concerns me is, I understand that there is an element of people that feel like they are losing their America, aren't being heard and are feeling powerless and that is what President Trump is tapping into and inciting. Unfortunately the people he is inciting are some wannabes and maybe the odd veteran."
"People should be reminded that the ones they called in to defend the Capitol during the inauguration were 20,000 guardsmen. They are all soldiers."
"I think what's needed to make things work out is to elect credible leadership on both sides of the aisle."
Jerry Simon
Jerry Simon enlisted in the Marine Corp in 1964. He was 18. In 1965 he landed in the port of Da Nang South Vietnam with the 17th Engineer Division of the 1st Marine Battalion. They were greeted by high school bands and crowds of cheering South Vietnamese.
Jan. 6
"I don't know as you would get a group of them (veterans) that would retaliate against the government the way that bunch did. And I'm sure there were a couple of (veterans) mixed in there, but I'm sure they're not representative of most veterans." 
"I really don't think that there was any kind of a majority of soldiers that were in that group. That was an insurrection but it wasn't put on by any military, anybody that had ever served in the military, at least I hope not."
Amy veteran
This member of the Army's 25th Infantry Division enlisted as an 18 years old right out of high school in 1975. He served as a Forward Air Observer for field artillery based out of Wheeler Air Force base in Hawaii.
Jan. 6
"It was a disgrace to veterans and current serving members of the military that they walked around like they were John Wayne, those wannabes. I was embarrassed that they took a military style tactic, assault, whatever you want to call it, to step foot in our capitol and try to stop something protected by the Constitution. If those were soldiers, they took an oath to defend the Constitution. That's not what they were doing. I took that oath of enlistment and it doesn't end the day I quit the military or retired. 
"That's still what I live by. Without our Constitution we have no country."
Roger Olson
Roger Olson enlisted with three buddies right out of Somerset High School in 1957. He served in the Calvary division of the U. S. 4th Army in the Korean War.
Jan. 6
"It really disgusts me. It makes me feel like what people really are when they protest against their government the way they did. I call that a disgrace to the American people. I'd rather see them do it in the proper way instead of being involved in what I'd call a gang." 
"When you go into the military and you sign your name on that paper, that oath is good for the rest of your life. It's not like these namby pamby bastards that profess to be patriotic and have never served in the military and have never served in the U.S. government. Usually these are people who have lived off the government, off the dole and feel they have the right to express their opinion with no price paid. I believe in freedom of speech, don't get me wrong, but it's freedom of speech for everybody."
Steve Marine
Steve Marine briefly thought about going to Canada to avoid the draft in 1968, but he thought better of it after talking with his father, a WWII Navy veteran. Drafted at the age of 21 in 1968, he served as a medic assigned to the 199th Infantry Brigade operating out of Long Binhnorth of Saigon. 
Jan. 6
"I've studied the American Revolution from one end to the other. When I was in grade school, I read every book on it. I just had this inner revolutionary spirit. I've often said this country needs a revolution, but I don't think that was the correct way to do it. There's no way that these extreme groups are ever going to overcome our government. I thought Jan. 6 was over the top. To me those are fanatics that have gone too far to that side. They thought they had a green light to act out, I guess."
"I can't say that I am particularly impressed with the political system in our country and where we seem to be headed and I think that is certainly the responsibility of both sides of the aisle."
"I don't think people should be afraid of soldiers. If anything, we probably need to embrace the guys that are doing some good for the country." 
Todd Smrz
Todd Smrz enlisted with the 82nd Airborne and served for 27 years including three deployments to Iraq starting with Desert Storm in 1990.
Jan 6
"It wasn't military groups at all. There weren't any military groups there. It was yahoos. Soldiers don't act the way those people acted. Guys that have been in the Army for five, six or more years are much more disciplined or they'd be gone already."
"I would say there is zero reason or very close to that when it comes to being afraid of soldiers. If you want to be safe, go to a soldier. Most people join to defend, not to attack. When soldiers get thrown in that group, oh my God, we're the exact opposite of that. Are there extremists? Absolutely, you take any group and there's going to be an extremist somewhere."
Squad leader
Assisted by a letter appealing to a congressman by his father, a WWII veteran, thisformer Infantry squad leader, was able to postpone his entry into the Army until he completed his first semester in college. In January1969, at the age of 22, he married, was drafted on Feb. 25 and was sent to Vietnam on July 25. He served with the 1st Infantry Division, 2nd Battalion Black Lions based out of Lai Khe 60 kilometers north of Saigon.
Jan. 6
"I'm looking at that and saying, 'You're destroying democracy.' I see people breaking windows and coming in to kill our government representatives. And they've got guns drawn and they are pointing them at people on the other side of this window. The first thought I had was, 'Why aren't you shooting? Why are you letting them cross that line?" 
"Because when we were under a ground attack, you shoot everything that moves. That was my reaction. And why there weren't more people killed during that event amazes me. 
Then when you see Vice President Mike Pence going down the straps and there's a guy walking behind him with the nuclear codes and if you touch that guy, that's, you defend him with lethal power, but nobody got close enough to him. 
The fact that there was only one woman killed, that was amazing. The number of police officers that were injured and did not fire on the crowd, their restraint amazed me. 
"The lies continue. Ron Johnson, our illustrious senator, I write to him often and tell him how disappointed I am in him and how he is violating his oath to the Constitution and that he ought to stop doing that. He's out there perpetuating the lie. I consider him a co-conspirator with Donald Trump spreading the lie that the election was stolen from him. That's a lie. 
"Our election was fair, honest and just. There were people who counted those damn ballots three times for no apparent reason and it still came out the same."
***
On Jan 3, 2021, veterans were sworn in as members of the 117th Congress -- 74 in the House and 17 in the Senate. More than two-thirds of the veterans are Republicans.
Opposite of the way 911 galvantized our country in a fight agaisnt international terrorism, the Jan. 6 insurreciton was a visceral confirmation of the bitter division paralyzing our country. 
Veterans said they know that discerning what is true, speaking the truth and having the courage to defend it lies at the heart of healing our division.