It was a picturesque night for the Hudson class of 2022 graduation. 
On Saturday, June 4 between 7-9:30 p.m., Hudson graduated more than 450 students. The stands of the stadium were full and enthusiastic for the future ahead of the newest Hudson High School alumni. 
Superintendent Nick Ouellette, high school Principal Michael Ballard, board of education President Jamie Johnson, high school English teacher Cheryl Militano, valedictorian Elizabeth Yray and senior class President Blake Buchholz took time to address the graduating class. 
Hudson High School Graduation
Though each speaker provided a unique perspective, there were common themes of message. 
Be kind. 
Don't take today for granted. 
Face adversity with courage. 
As the high school band sat face-to-face with the setting sun, Ouellette addressed the class with his shades on.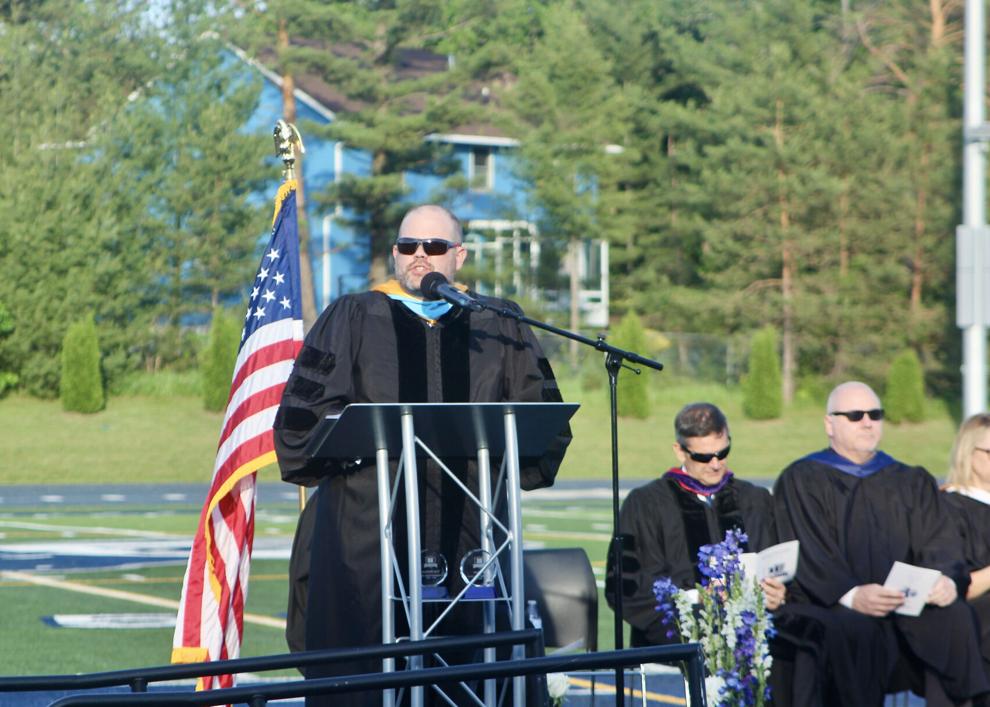 Throughout your life, you'll face challenges, he explained. It's how you respond that matters. He offered a quote that has been shared with him and he often shares with his children: "Tomorrow is promised to no one," so don't hold grudges, have empathy, seek to understand each other and above all, be kind. 
His advice was echoed by Ballard, who took a similar approach in offering advice. Enjoy the little things, slow down and unplug, follow your moral compass and do the right thing, love, forgive and remember what is important. 
Ballard also took a few moments to recognize the district staff and the 2022 distinguished alumni, Terry Peterson and Jim Olson. 
Krysta Glodowski was presented the Senior Staff-sponsored Scholarship Award, an annual recognition for a student who embodies what it means to be a Hudson Raider.
Ballard also took a moment of silence for family and friends that are no longer with us. 
Of those dearly departed was a classmate of the class of 2022, Bailey TeWinkel. 
TeWinkel, 15, passed away unexpectedly in 2019. She was recognized throughout the evening by the class speakers as well as during the presentation of diplomas. 
Both Yray and Buchholz noted TeWinkel and her impactful smile in their speeches.  
It has not been an easy road for the class of 2022. 
From losing a classmate, to high school renovation interruptions to a global pandemic, they were faced with adversity. 
"We figured it out," Yray said about returning to an in-person learning environment so different from the one they left. 
They learned to smile with their eyes, talk through plexiglass and navigate hybrid courses with four students in a classroom at a time. 
Buchholz reminded the class that the path ahead is not a straight one either and one without an answer at the end. How you use what you've learned in your life moving forward will help you, but it's not achievements that will define your life as successful. That's up to the individual. 
"Life is not meant to be lived in perfection," Militano said during her address. "There is no one exact formula for a perfect life." 
She spoke to the class through story tellings and metaphors, some of her favorite ways to convey a message in the classroom. 
For two and a half hours, the audience and the class of 2022 heard thoughtful notes of wisdom, advice and had many laughs recounting the last 12 years of the graduating class' educational career. 
"The days went slow but the years went fast," Yray said. 
And the day they'd been waiting for came and went.
The class of 2022 are officially Hudson High School alumni.