For people who cannot deny the craving to create, who thrive on self-expression and who are courageous and confident enough to trust in their artistic ability to make a living off it, finding the right fit, the right medium is step one. 
Cree Schuh embraced her craving and found her canvas, human skin. 
The youngest of four children, Schuh was drawn to art from the start. She would stay late in middle school to work in the art room and ate up all the art classes she could in high school. 
Next stop, University of Wisconsin-Stout.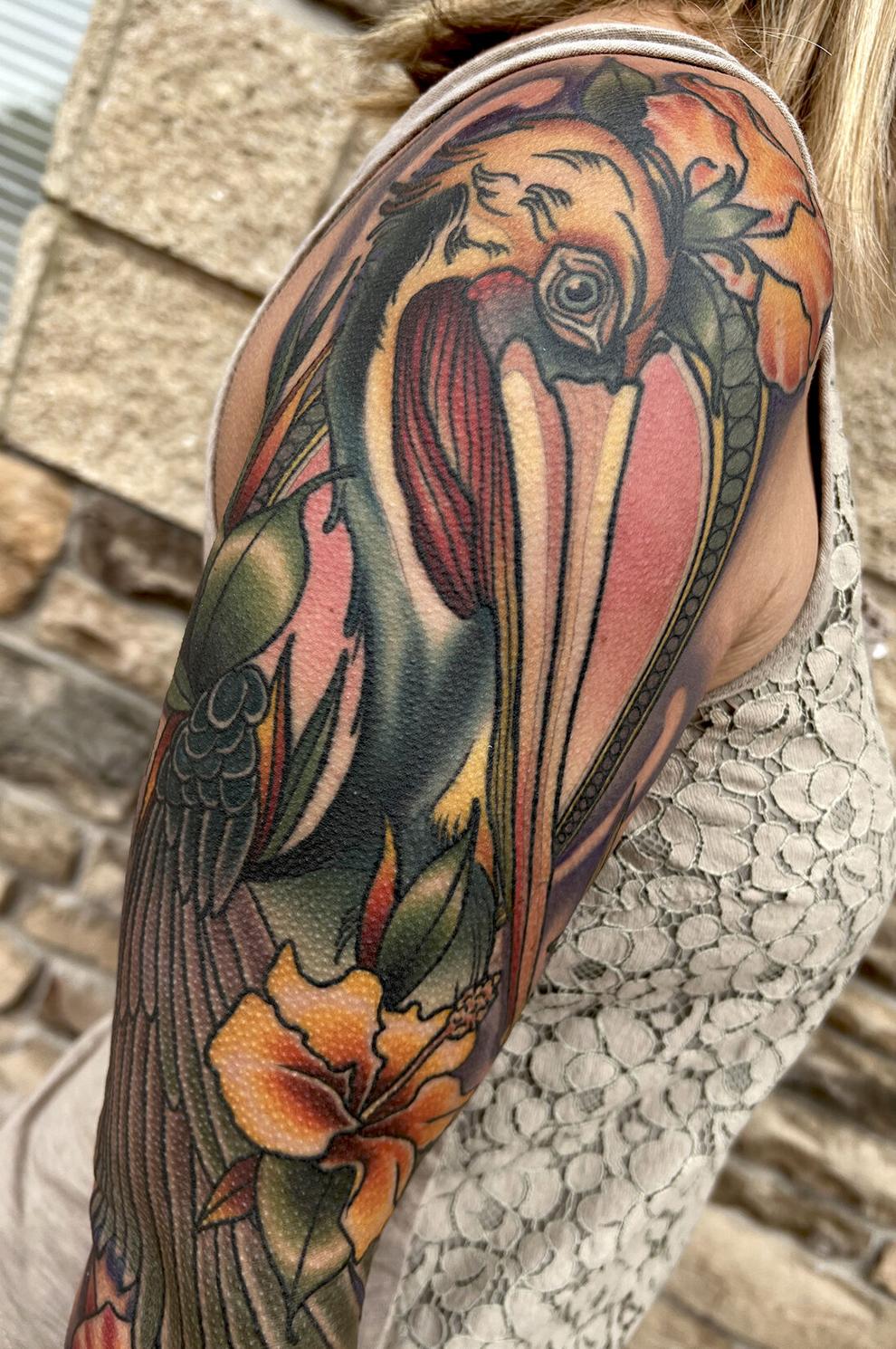 "Freshman year I had that awkward conversation with my mom. When I said I wanted to drop out, she said, 'No, you need a degree, you've got to finish college.'" 
So she earned a degree in a discipline that satisfied her craving for art while adding basic skills in fonts and typography, print and poster design, proportion, color, print and digital production, and art history – graphic design.
Still the prospect of working at a desk in an office or even at home cranking out business cards or wedding invitations was not the challengeshe desired. 
That all changed when her cousin took a look at her portfolio, saw her talent and offered her an apprenticeship in his tattoo business in River Falls. That was the right fit.
"Everyday would be a different day, which I wanted. I didn't want to spend all day at a desk. I wanted to be able to draw all the time, expand my own style and learn new things every day," Schuh said.
After practicing on grapefruits, she did her first tattoo at 19, on herself. 
"That's typical, you do your first tattoo on yourself. It's kind of a good rule of thumb," Schuh said.
The beauty of tattooing, it satisfied the need to create and it paid the rent as well. 
Tattoos used to come with a reputation, often unspoken, the province of sailors and as Cree put it, "women who were not proper," a surprise the morning after too much drinking inspired never before anticipated courage or crazy. 
Not any more. Today tattoos are everywhere from boxers to ballerinas and everywhere in between. From butterflies to boyfriends and roses to rattlesnakes, tattoos are the new cool way to express yourself.
Almost anything you can imagine can be captured in a tattoo from advertising to advocacy.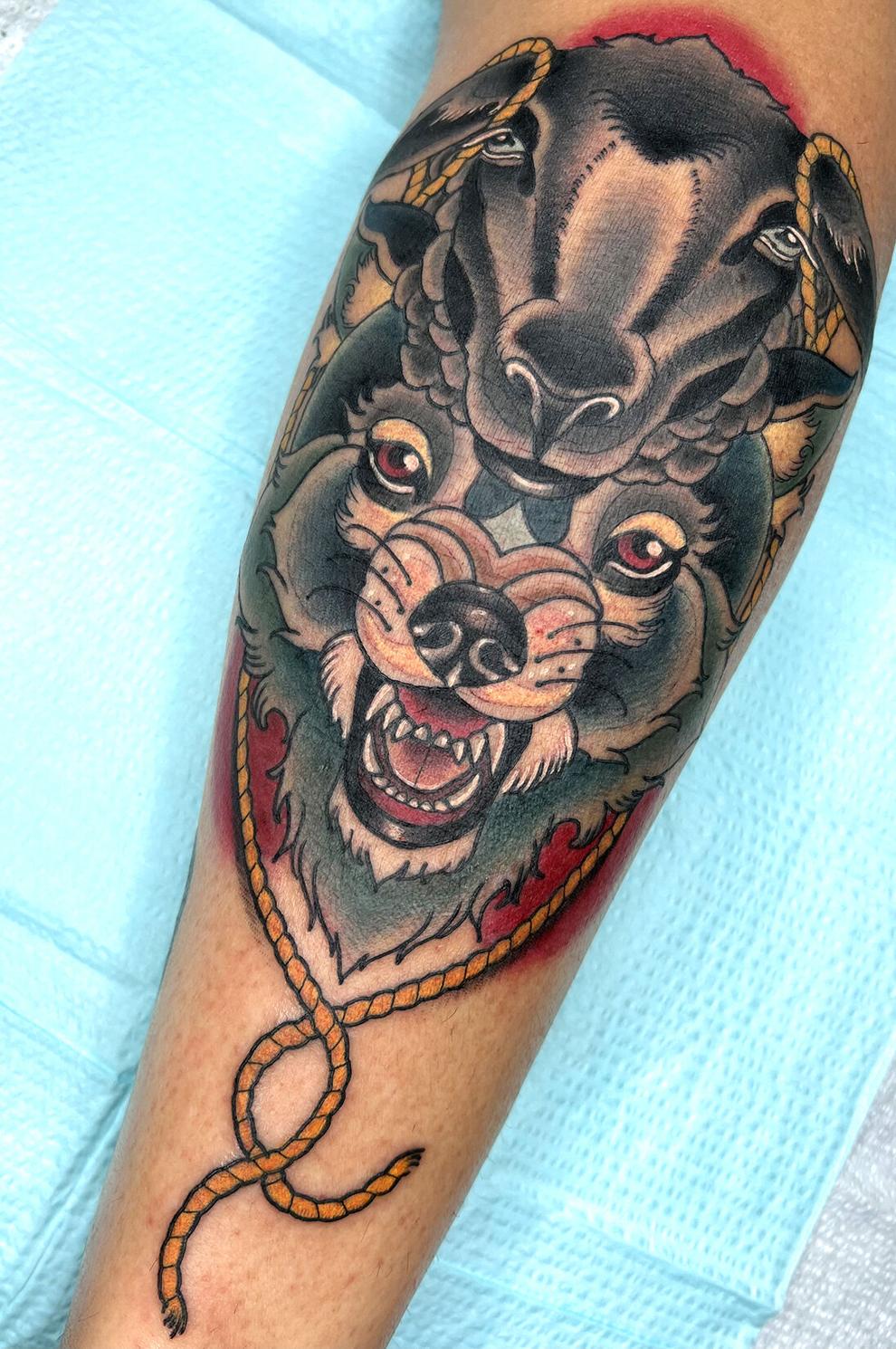 Good news, bad news
And the good news, they are more permanent than the trendiest haircut. The bad news, they are more permanent than the trendiest haircut.
The popularization of tattooing in pop culture, on TV, in the movies, music, sports and social media means people can equip themselves with more than just a casual knowledge of the art, and they have a lot of art for comparison, good and bad.
Along with the embracing of tattoos has come an appreciation and promotion of the art form and the artists behind the art.    
"There's definitely the old school traditional tattoos, but now there's also these works of art that are like, 'Oh my gosh how did someone put that on your skin?' Now people are asking, who did this? Where did you go?" Schuh said.
Schuh spent seven years learning the business, two years as an apprentice and five more working as an independent contractor in someone else's studio. 
"I had seven years at other shops, The Greenwood Tattoo Parlor and then The Vault in River Falls. I observed, got to know the ropes. They treated everyone very independently. You ordered your own supplies, made your own schedule, handled your own emails. We were set up very much as independent contractors," Schuh said.
When she decided to open Reverie Tattoo in 2022, Schuh knew she wanted to work on this side of the river, she didn't want to have to drive too far, and she knew Hudson, River Falls and New Richmond all had established tattoo businesses.
"I saw this place in Roberts was open. I checked it out, did the math and decided I could make it work," Schuh said.
Why Reverie?
Reverie is defined as "a state of being pleasantly lost in one's thoughts; a daydream." It is also 
the title of a painting by Art Nouveau artist and illustrator, Alphonse Mucha, one of Schuh's favorites.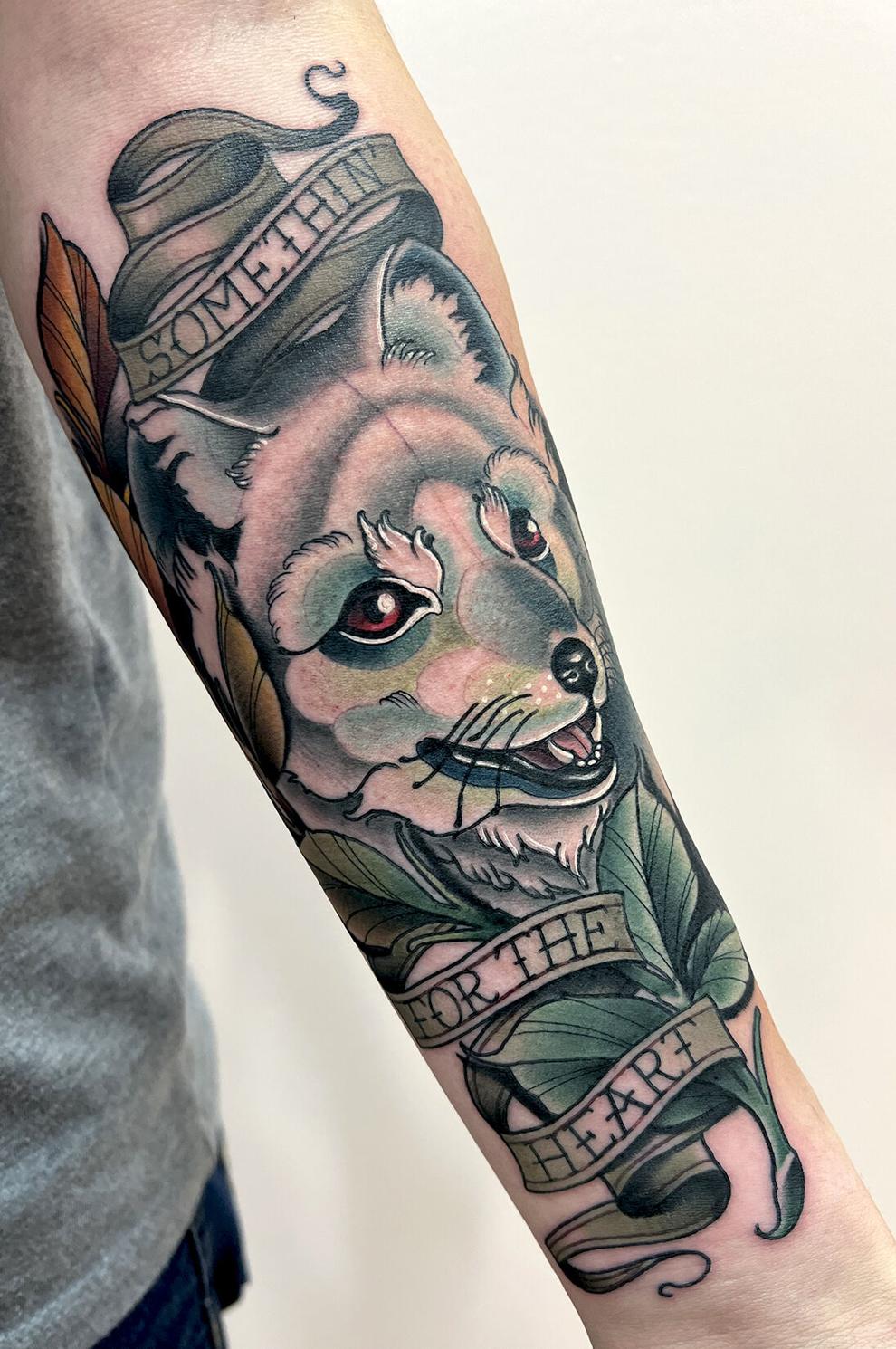 Process
Schuh likes to consult with clients before beginning a tattoo. Clients are encouraged to bring examples of artwork that they like, from photos, magazines, books, Pinterest, wherever.
"I always encourage people to bring reference photos just so I know the style. People will say, 'I want a bird and a flower.' OK, there are a zillion ways to draw a bird and flower. Photos, illustrations help narrow it down and gives us a place to start the conversation. The more the merrier," Schuh said.
Schuh is clear, ultimately it is about her vision, her interpretation of the idea. 
"No plagiarism, you don't want to steal someone else's design. You want to draw your own version of it. It's always going to be different," Schuh said.
Schuh is booked out several months in advance, so her time is valuable. After figuring out the concept with the client, she'll wait to draw her design until a few days before the appointment to ink. 
"If I draw too far in advance, and then they cancel or move their appointment, I'm wasting hours on their design. Typically we'll have the consultation, I'll figure out size, placement, budget, reference photos, style, but they don't see the design until the day of the appointment," Schuh said, "I don't print it out of the printer until they say, 'Ya, I like it."
Schuh recommends that clients take a look at her work before they decide she is right for their ink. 
"I recommend taking a look. I'm not offended. I'm not everyone's style. I'd rather you know that beforehand rather than after," Schuh said.
She recommends being honest with your artist even though it can be uncomfortable.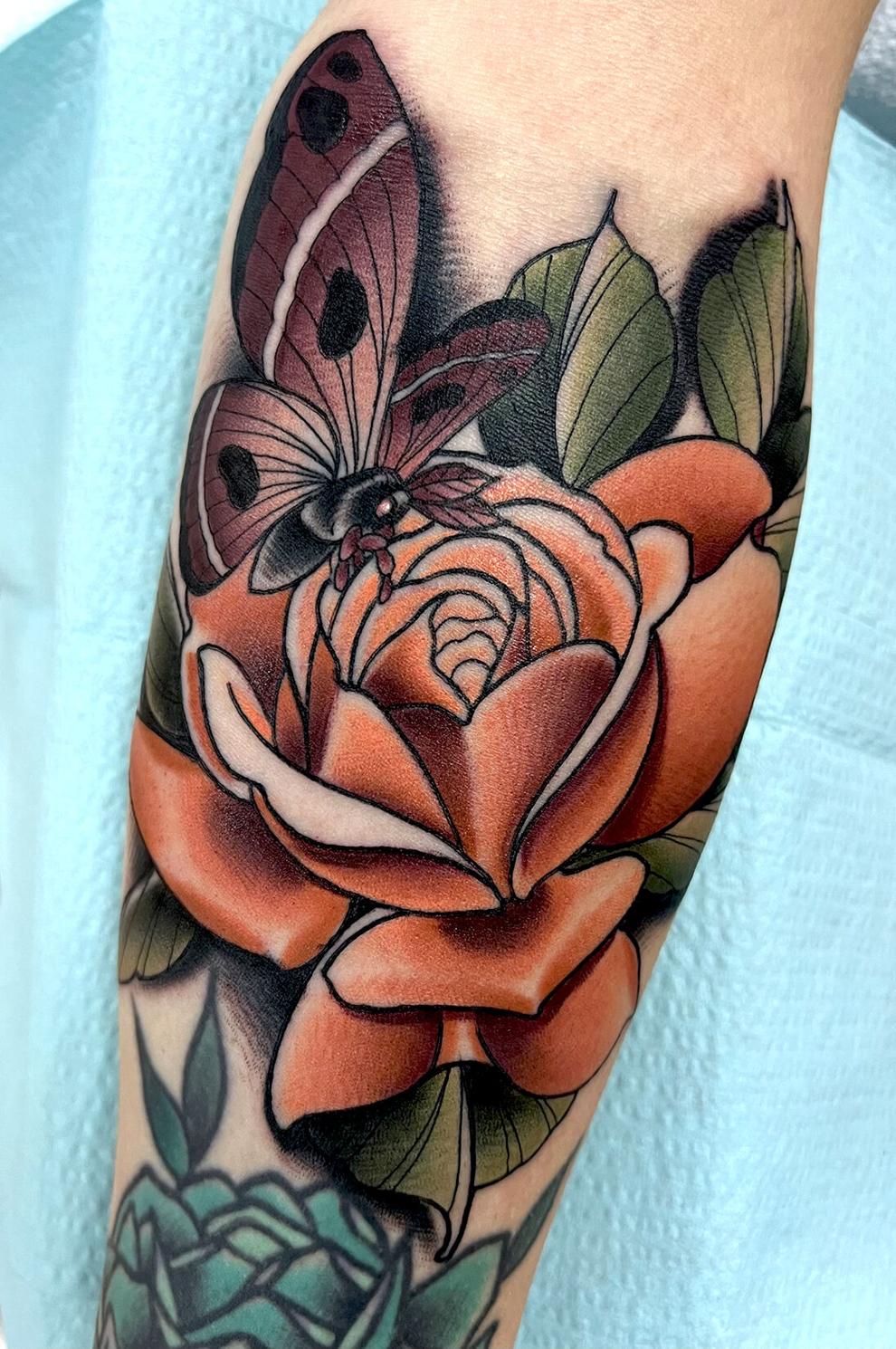 "When you see the initial design, just be honest with the artist. Tell them if you like the design or not. If it looks weird or if you see things you don't like, ask what's going on. We have thick skins, We can take the critique," Schuh said.
She also knows the best result happens when people respect her expertise.
"There are also times as a professional in the industry when I might suggest this is probably the best route to take," Schuh said.
Schuh recognizes that a great tattoo depends on a client being comfortable. She appreciates that the relationship can often be intimate to a degree. 
"Everyone jokes about how tattoo artists are therapists, but people can really open up to you if they're sitting on the table for hours, especially if they're going through that pain and their adrenaline and endorphins go off. You learn to have a sympathetic point of view and learn to listen and to talk through things with people," Schuh said.
Some of the toughest tattoos are portraits of loved ones.
"There are times when you are tattooing a special someone's face and those are the most stressful ones. Because my client knows what that person looks like, it needs to be perfect, I can't screw it up. But the reward, when you get it done and they love it, you get teary and that's a good thing."