A standing-room-only public hearing Tuesday night, Aug. 4, resulted in the tabling of Nature Energy's conditional use permit application to build a manure digester in the Village of Roberts.
Members of the Village's Plan Commission along with representatives from Nature Energy listened for several hours to more than 30 audience members ask questions and campaign for and against the proposed project.
Concerns ranged from odor and impact on property values, facility safety including spills, explosions, hazardous chemicals and first responder training, to truck traffic, noise, water contamination, nutrient management and taxation. Several audience members suggested the matter should be decided directly by a vote by residents.
Comments ranged from, "interesting project but better suited for someone else's backyard," to "is this allowable?" to "buyer beware," to "this could save my farm." 
Proposed project 
Nature Energy, a Denmark based company, has proposed building a manure digesting facility consisting of 27 structures located on a 23-acre parcel in the village's industrial rail park. The facility would use an anaerobic digestion process to produce renewable natural gas from cow manure (provided by farms within a 20-mile radius), turkey litter, food processing by-products and food waste. 
In return for loaning their manure to Nature Energy, the participating farms would receive digestate in the form of fertilizer products tailored to the specific soil profile of their farm.The natural gas would be injected into an existing natural gas pipeline system.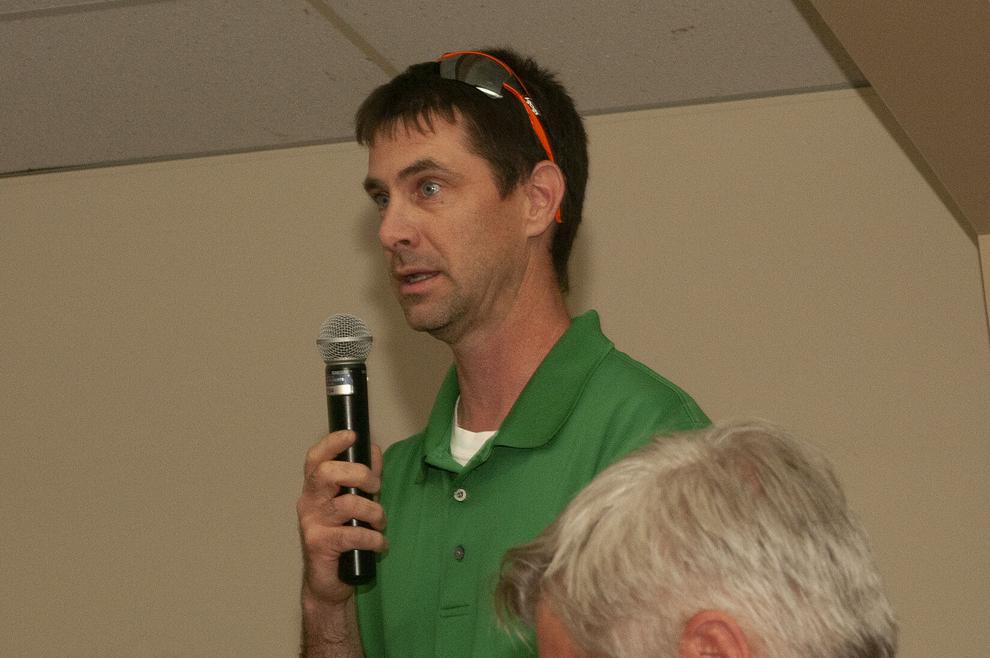 Questions  
Following the last question, Nature Energy attorney Nick Vivian, addressed, in summary, some of the more pressing issues raised during the hearing. 
Is there enough manure within the 20-mile radius?
Vivian confirmed that Nature Energy has talked with farmers, and there are enough willing to participate to make the project viable. He confirmed that Nature Energy would only work with farmers who agree to participate in a nutrient management plan.
Why Roberts? Roberts is located within a reasonable proximity to the needed resources, manure, turkey litter and food waste. The land is zoned appropriately for ag/industrial use by the village's comprehensive plan. The existing transportation corridors, roads provide adequate access. 
"Roberts adds up to be an ideal location," Vivian said.
Negative impact on property values: "This is industrial land slated for industrial use with a rail park and proposed agribusiness that is intended to go there. From the perspective of impact on the value of homes, this is not going to be any different than any other industrial type user that will locate on that particular piece of land," Vivian said.
Waste water discharge: Other than normal use by the employees at the facility, no water will be discharged into the Village's wastewater treatment system. Water used to wash trucks will be recycled through the plant. Storm water and retention pond plans have been submitted to the Village engineer for review.  Any other problematic water usage would have to be specifically permitted.
Odor: "The reason why there is no smell is because we are actually taking out the molecules that you smell as manure," Nature Energy Project Manager Ben Hach explained. "That's what we are turning into natural gas."
NE agreed to provide written responses to all of the questions asked Thursday evening and to share those with the Plan Commission and public as well.
"We will provide written responses to each and every question and we'll open them up on the website at: roberts.nature-energy.com. so you can all see our responses to all of your very good questions," Nature Energy Senior Vice President Clark Pauley said.