An air of celebration filled the New Richmond City Council chambers Monday night, Nov. 14, in anticipation of the awarding of the final Save to Give Challenge checks.
New Richmond was one of two communities across the state selected to participate in the pilot program where residents who signed up took advantage of educational opportunities and other savings measures to consciously change their energy usage habits. 
By doing things like turning off lights, taking shorter showers and using energy saving light bulbs to save energy, residents were able to save money and in the process earn money for one of three local non-profits, Will's Playground, SOAR Center and Five Loaves Food Shelf. Each energy saving action could earn anywhere from $2 to $20. 
Participants utilized the New Richmond Utilities MyAccount system to track their energy usage online during three separate one-month savings periods in January, April and October.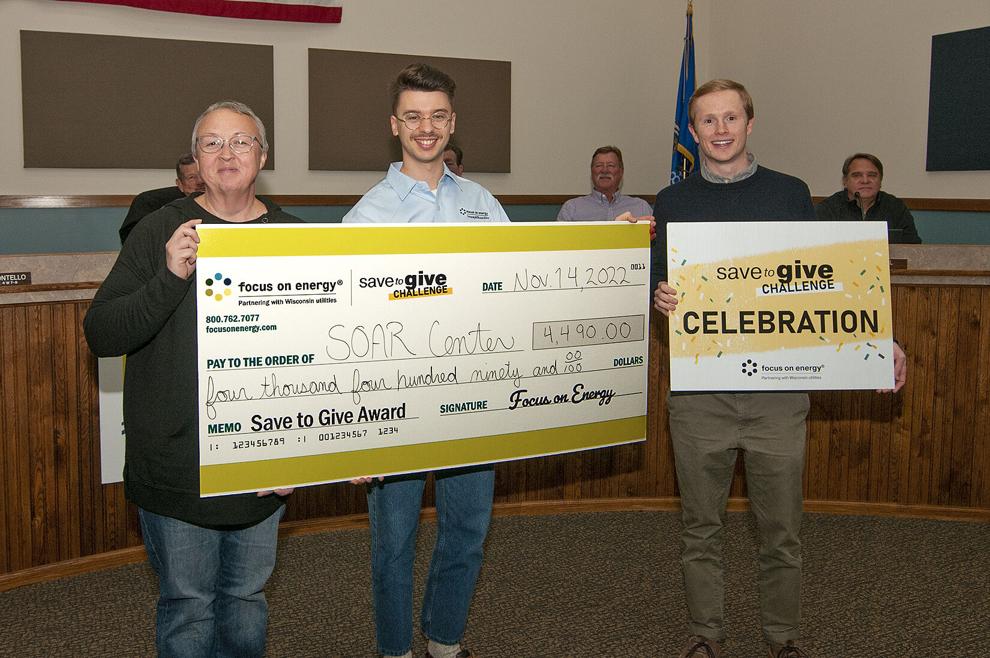 Save to Give representative Matthew Brady recapped the program highlights and tipped his cap to the city for setting a record for participation.  
"Throughout the year we got to see this promise page grow from zero dollars raised and zero participants up to a groundbreaking 394 participants. New Richmeon blew that out of the water compared to any other community in Wisconsin that has done the Save to Give Challenge. So big kudos there," Brady said.
The program raised $14,380 for the three non-profits to which New Richmond Utilities donated an additional $1,580. 
City Administrator Noah Wiedenfled commended residents on their participation and generosity and expressed his hope that the savings habits would continue.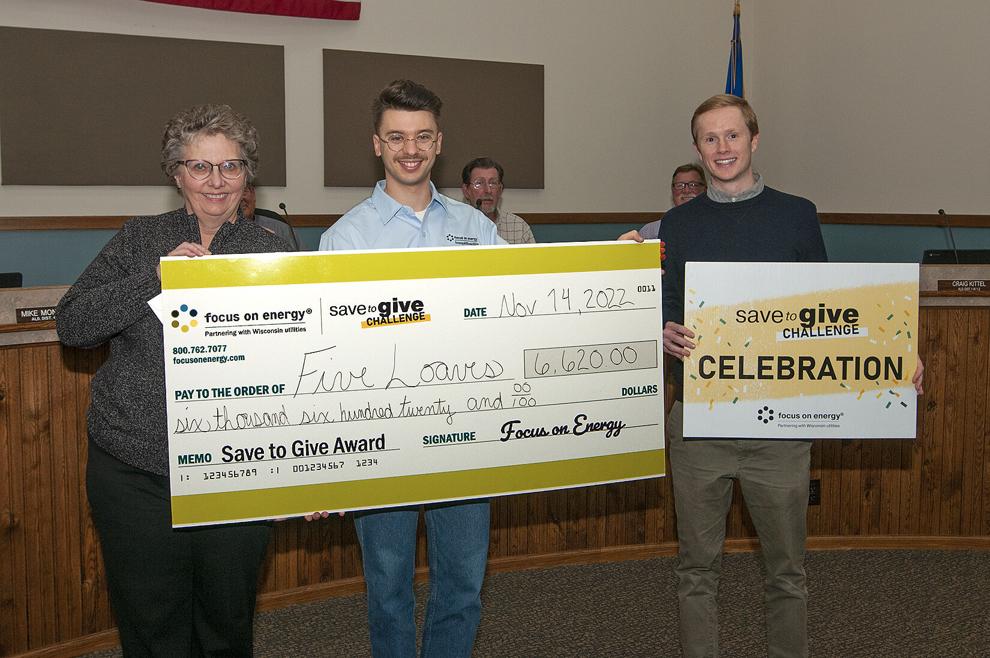 "Residents have learned that simple steps to save energy can really add up when we all do our part. We really appreciate Focus on Energy for selecting New Richmond to participate in this program and we hope that community members will continue to practice these energy saving habits even after the program has ended," Wiedenfled said.
Budget approved
City Finance Director Rae Ann Ailts summarized the highlights of the city's 2023 budget and capital improvement plan during a brief public hearing before council members voted unanimously to adopt a levy of $7,028,255.
The 2023 budget focused on three priorities: 
Ensure sufficient resources are available to provide current service levels to the community. Focus on investment in existing infrastructure through annual maintenance or reconstruction to ensure reliability.  

Continue to prioritize a positive employee culture by supporting and developing policies and initiatives that enhance employee engagement, retention and attraction. 

Plan for future public safety needs to ensure resources are available to serve community growth. 
The $7,028,255 levy represents an increase of $751,660 or 11.98% from 2022. 
The proposed 2023 budget will result in an estimated 2022 city mill rate of $5.86 per $1,000 of assessed value, a reduction of 13 cents per $1,000 of assessed value from 2021. The reduction in mill rate is attributable to the increase in assessed value due to the market growth of the community in 2022.
It is important to note a reduction in mill rate does not mean a reduction in taxes. In growing markets, some properties may see an increase in taxes while others see a reduction based upon the valuation of their property.
Quick hits
Council members approved a bid from MagneGrip in the amount of $90,927 to install an exhaust removal system at the fire department. An exhaust removal system collects vehicle exhaust directly from the tailpipes or overhead exhaust stacks of a fire truck, and removes it from the building. This system improves the air quality and creates a safer work environment for firefighters.

Council members authorized staff to increase the purchase of water meters from Core and Main from 160 to 192 meters for a total of $30,720.