Phipps Fest, rescheduled 
Phipps Fest returns to Hudson's Lakefront Park featuring Yam Haus, a Minneapolis-based band with Hudson connections. After a rain delay, the new date for the event is Saturday, Sept. 17. Enjoy live music outdoors with drinks, food and friends.
Tickets start at $25 for general admission. 
Opening acts, Ber and the Band Catalina, will begin performances around 7:30 p.m. 
If you are a current ticket holder and unable to make the new concert date or would like to request other ticketing options, use the ticket change form at thephipps.org.
In the event of a rain cancellation, all tickets and drink tickets will be refunded. Cancellation will be determined the day of the event and communicated via email.
Wine tasting tour  
Enjoy exclusive tastings from three of the St. Croix Valley's premier wineries with the Hudson Trolley. Visit distinctively different and interesting wineries aboard the trolley. Each winery will tell their unique story and showcase their very favorite wines for our private event. Tastings included in the $85 ticket plus tax and may be substituted for beer if desired. Food available for purchase. This event is restricted to adults 21 and over. 
​Special discount on merchandise at all venues.
Pick a tour date, Saturday, Sept. 17, Oct. 15 and Oct. 22 at 10 a.m., before they're sold out. Purchase tickets at hudsontrolley.com. 
The tours board and conclude at 1004 Third St. in Hudson. 
Sip, snip tour 
The Hudson ​Trolley Sip & Snip tour visits a you-pick flower farm, Two Bees and A Bud. Pick your own bouquet at a beautiful farm, learn flower arranging tips while sipping wine or a nonalcoholic beverage. A stop for a complimentary drink and opportunity to purchase food is the perfect end to this perfect day.
This event is scheduled for ​Sunday, Sept. 18, 11 a.m. to 2 p.m., while tickets last. Cost is $85 for adults, 21 and over, plus tax. Purchase tickets at hudsontrolley.com. Tours board and conclude at 1004 Third St., Hudson. 
The Lion in Winter
Sibling rivalry, adultery, and dungeons – "The Lion in Winter" is a modern day classic centered on two of England's most formidable and human rulers, King Henry II and Queen Eleanor, and their three crown-hungry sons. Locked in a free-for-all of competing ambitions to inherit a kingdom, this tour-de-force critically acclaimed play is epic, brilliantly funny and deeply moving.
Tickets for "The Lion in Winter" at the Phipps Center for the Arts start at $20 and can be purchased at thephipps.org.
Performances are Friday, Sept. 16, 7:30 p.m.; Saturday, Sept. 17, 7 p.m.; Sunday, Sept. 18, 2 p.m.; Friday, Sept. 23, 7:30 p.m.; Saturday, Sept. 24, 2 p.m.; Sunday, Sept. 25, 2 p.m.
Walk to End Alzheimer's
The Alzheimer's Association is inviting western Wisconsin and New Richmond residents to join the fight to end Alzheimer's by participating in the Walk to End Alzheimer's on Saturday, Sept. 17, at New Richmond High School, 650 E. Richmond Way. The event opens at 8:30 a.m. with the opening ceremony at 9:40 a.m. immediately followed by the walk at 10 a.m. 
Program Assistant of Discovery Club Amy Olson will serve as master of ceremonies to welcome individuals, families and members of the community. The walk is chaired by Behavioral Health Care Manager of Bluestone Physician Services Cassandra Johnson and ADRC Social Worker Kim Bauer, BSW.
On walk day, participants honor those affected by Alzheimer's with the poignant Promise Garden ceremony — a mission-focused experience that signifies our solidarity in the fight against the disease.
The colors of the Promise Garden flowers represent people's connection to Alzheimer's — their
personal reasons to end the disease.
We are excited to share that Matt Lepay and Paul Braun, two of the most recognized voices in Wisconsin sports, are returning as honorary co-chairs of the 2022 Walk to End Alzheimer's supporting all Wisconsin walks. These acclaimed broadcasters each have had family members impacted by Alzheimer's and are leading the "Sportscasters Against Alzheimer's" team. Lepay is the current voice of Wisconsin Badgers sports doing play-by-play for Badgers' football and basketball and Braun is the former voice of Badger's men's hockey.
In Wisconsin, there are more than 120,000 people living with the disease and 198,000 serving as caregivers. In St. Croix County alone, more than 1,200 individuals age 65 and older are living with dementia.
To register and receive the latest updates on this year's Walk to End Alzheimer's, visit act.alz.org/Westernwi.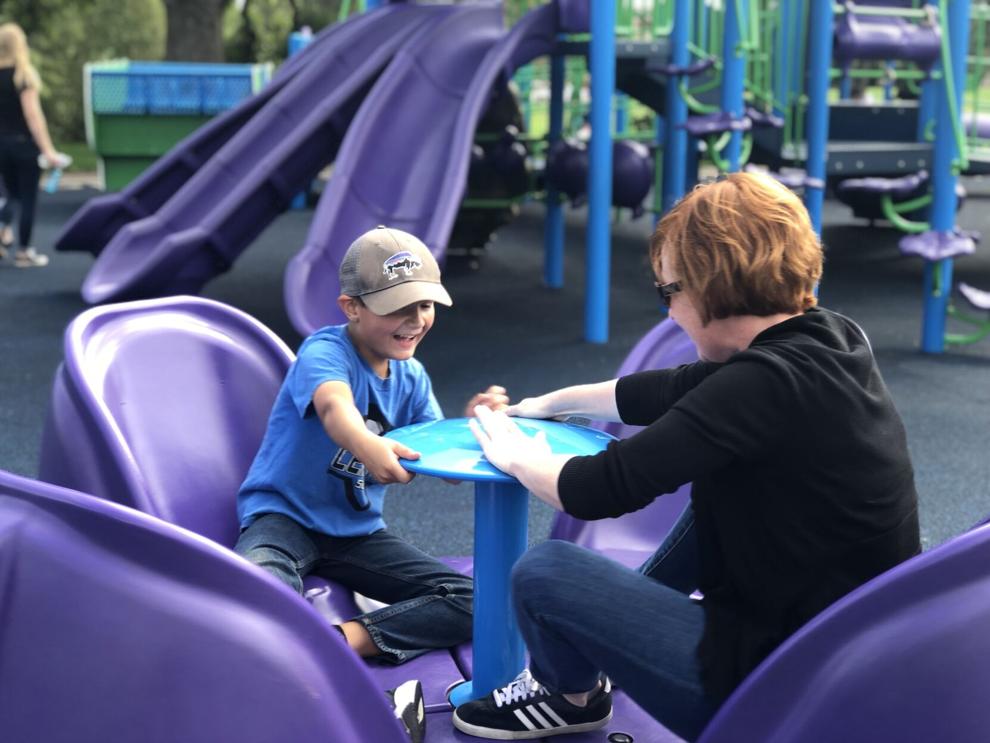 Play date
Hudson Hospital Foundation will host a free family Play Date Saturday, Sept.17, 9 a.m. to noon at Weitkamp Park, 648 O'Neil Road, Hudson. The event will include playing on the park's universal playground, games, healthy snacks and a drawing.
In 2016, Hudson Hospital Foundation raised funds to purchase and build Hudson's first all-inclusive universal playground at Weitkamp Park. Universal playgrounds are built to promote integrated play for all children, including those with special needs. The playgrounds are designed to meet seven guiding principles: fair, included, smart, independent, safe, active and comfortable.
Wine Cave Fest
Enjoy more than 75 amazing wines with other wine lovers at the historic Casanova caves. On Sept. 17, 1-4 p.m., listen to live music while you sip. Tickets, $40 each, can be purchased at Casanova Liquors, 236 Coulee Road, Hudson, or over the phone at 715-386-2545. 
Art on Rustic Road 
Art on Rustic Road will feature 10 artists who will display an array of work including ceramics, paintings, leaded glass, custom furniture and textiles. Enjoy poetry read by local published poet Bill McCarthy and the Americana and Bluegrass music of Doug Chasar and friends Sept. 16-18, 10 a.m. to 5 p.m., at 1148 Troutbrook Road in Hudson. 
Woodland Hills craft fair
Seeking all craftaholics. Woodland Hills Presbyterian Homes and Services, 441 Stageline Road, Hudson, is hosting an art and craft fair on Sept. 17, 10 a.m. to 2 p.m.  
Coco's Heart Hoedown
Join for the first annual Coco's Heart Hoedown on Saturday, Sept. 17, at 6:30 p.m. at its new office in Somerset, 449 County Road VV. 
This event will raise necessary funds to continue Coco's Heart mission of rescuing animals from unfortunate situations, providing much needed high quality veterinary care and educating our community on the importance of rescue. 
Tickets are $150 and include a buffet style BBQ dinner (vegan and gluten free options available), one drink ticket (more drinks tickets for sale for $5 each at event), an auction, featured dogs and content, photography and a live Tim Sigler concert.
Alpaca yoga
Alpaca yoga is being held at Eagle Eye Farm on Sept. 24. Practice yoga while the alpacas meander about. 45 minutes of yoga and 15 minutes of alpaca-time. Includes a bag of alpaca feed. Great way to reduce stress and improve your overall well-being. The cost is $35. Pre- registration is required online. Attendees are responsible for their own mat or beach towel.