HUDSON — From the props to the script to, of course, the acting, the work in Pop Up Players starts with its student participants. 
That's how program leaders Liz Malanaphy and Brian Erdrich want the program to be. The two began the theater group as a way to fill a gap in opportunities for younger students in the area. 
"We both kind of recognized that there are a lot of kids in the community who are interested in theater and do want to give it a try, but there wasn't really anything for younger kids around," Malanaphy said. 
The program, run through Hudson Community Education, has five or six sessions a year that each run about five weeks, ending with a performance. During COVID, performances have transformed into movies that are filmed on the final day. 
Each session starts with a basic theme, and then the kids work together to grow it into a full play or movie. 
"My favorite part is hearing the incredibly creative ideas they come up with," Erdrich said. "They write their own script, and so they can just come up with the most wild, interesting, funny, fun ideas." 
Student Nathan Rudie was looking for something new to do and said he has enjoyed creating the plays with Pop Up Players. 
"We think outside the box and we create every single idea into one thing," he said. 
Student Emma Ostrom helped create the script this year. 
"Last time I just enjoyed being in the play. This time I really enjoyed writing some of the script," Ostrom said.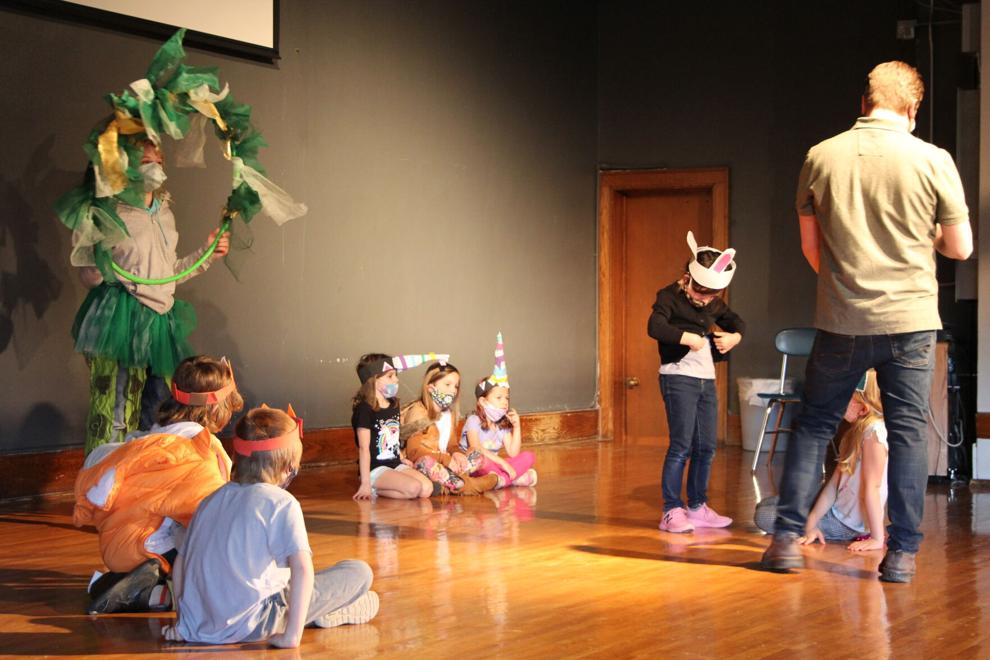 The program doesn't hold auditions, so anyone who wants to try it has the chance. Malanaphy and Erdrich hope the program serves as a way for kids to build confidence. 
"It's such a great opportunity for students to practice being in front of people, gaining that self-confidence, standing up and saying something, saying what it is they want to say," Erdrich said. "I love seeing those students that start out shy and then grow to being very confident and vocal actors today." 
Student Bella Tesmar was shy the first time she participated, but has since grown more confident in the plays. 
"I like to be creative," Tesmar said. "Here I can just like hang out with some of my friends and I can be more crazy than I can at school." 
It's also a chance for students to collaborate, work as a team and celebrate each other, Erdrich said. 
"My favorite part is that these kids kind of have a thought about what they want to be in the play we're doing and they all work together to honor that and make sure that everybody does get a chance to be who they want to be," Malanaphy said. 
Pop Up Players provides opportunities for kids who may not have some of the other sports or mainstream interests, something Malanaphy saw with her own kids. 
"Kids need a  place to feel like they're at home," she said. "I want it to be a home to the kids who are creative and artistic." 
The movie can be viewed at the Hudson PUP Youtube page.