After Hudson beat ninth-ranked Eau Claire North 6-1 Tuesday night, June 8, at home to move a game ahead of the Huskies into first place in the Big Rivers Conference standings, Hudson coach Brent Blegen said his players were more determined than ever to beat North again in their rematch two days later in Eau Claire.
"They wanted to win the conference outright," Blegen said. "That was important to them and I think that was the motivation. They definitely didn't settle on Tuesday night. They were happy that they had at least a share of the conference, but their goal was an outright championship."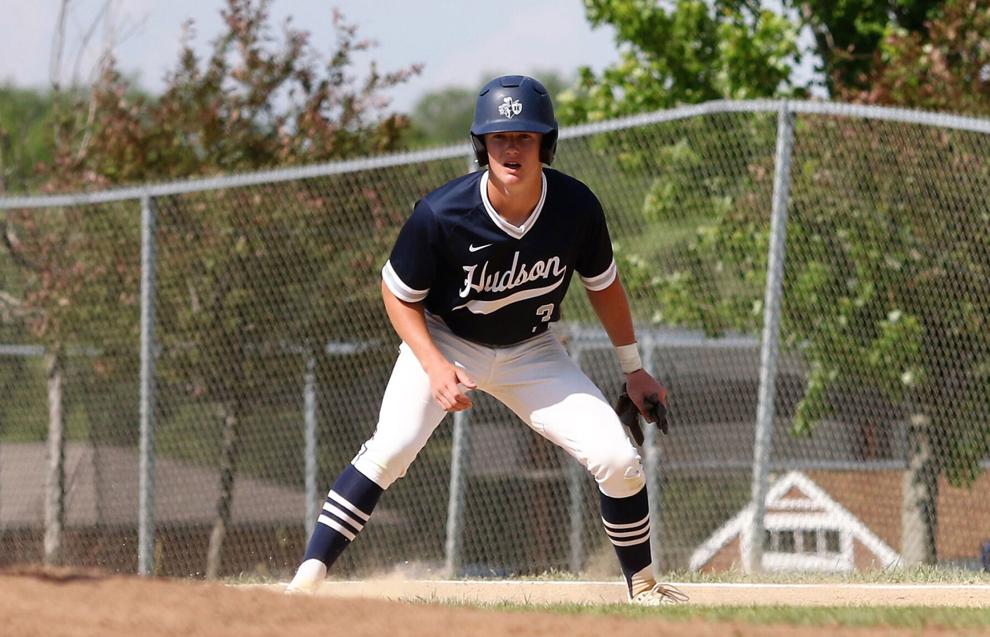 The Raiders achieved that goal with a 12-6 victory Thursday night at Carson Park to finish 10-2 in BRC play, two games ahead of the Huskies, to claim their first Big Rivers Conference championship since 2013 and just the second in program history. They followed that up with a 6-3 nonconference win over Superior Friday, June 11, to finish 14-4 overall.
All that added up to a No. 1 seed for the Raiders in the WIAA Division 1 playoffs and a first-round bye. They'll host the winner of a regional semifinal between No, 4 River Falls and No. 5 Superior Tuesday, June 15 in the regional final Thursday, June 17.
Blegen said all the Raiders wanted all season was an opportunity to play meaningful games at the end.
"I've been telling the kids for close to three weeks; put yourself in a position to play meaningful games at the end," he said. "That's all we can ask for, and then you can't ask for a better scenario. You want to win a conference championship? Here's the number one team to beat. And fortunately we were able to do that two times."
The Raiders scored a pair of runs in the top of the first Thursday in Eau Claire and Owen Anderson cleared the Carson Park fence for a pair of home runs-- a two-run shot in the fourth and a solo blast in the sixth-- to help put the game out of reach.
Hudson had seven extra base hits in the win-- two homers by Anderson, triples by Kyler Hove, Braden DuCharme and Sam Erickson, and doubles by Jake Busson and Matt Midby.
DuCharme and Gabe Walter finished with two hits and two RBI each and Erickson had a pair of hits, one RBI and scored twice while Jake Busson and Owen Weadge drove in a run apiece.
Wedge earned the victory on the mound by working the final 3 ⅓-innings in relief of starter Brody VonBerge. The pair combined to allow three earned runs on 12 hits with four strikeouts and seven walks.
Two nights earlier at Grandview Park, Anderson held the Huskies to one unearned run over 5 ⅔-innings and Weadge shut the door as the Raiders took over sole possession of first place with a 6-1 victory.
Anderson scattered four hits while striking out seven and walking three. Eau Claire North's lone run came after a Raider error, a single and a sacrifice fly in the top of the fourth.
By that time the Raiders had built a 4-0 lead, boosted by a three-run home run by Erickson during a four-run bottom of the second. Hove had an RBI single earlier in the inning.
Hudson added two more runs in the fifth when Erickson scored on a sacrifice fly by Anderson and Walter scored on a wild pitch.
Erickson, Hove and Weadge all had two hits in the win while Weadge allowed just one hit and struck out one in the final inning-and-a-third on the mound.
Friday's 6-3 victory over Superior was the Raiders eight straight heading into the postseason. Blegen described himself as "ridiculously proud" of his players.
"They're an amazing group to be around," he said. "These kids are baseball players, and they love baseball and the chemistry they have with each other. They're focused, they're confident and they're ready to go."