Eli Condon held Hudson to two hits over five innings and Teddy Norman delivered a big two-out single in the bottom of the fifth inning that prove to be the difference as the River Falls Post 121 American Legion baseball team handed Hudson Post 50 its first loss of the season, 4-3, Thursday night, July 8, at First National Bank of River Falls Field.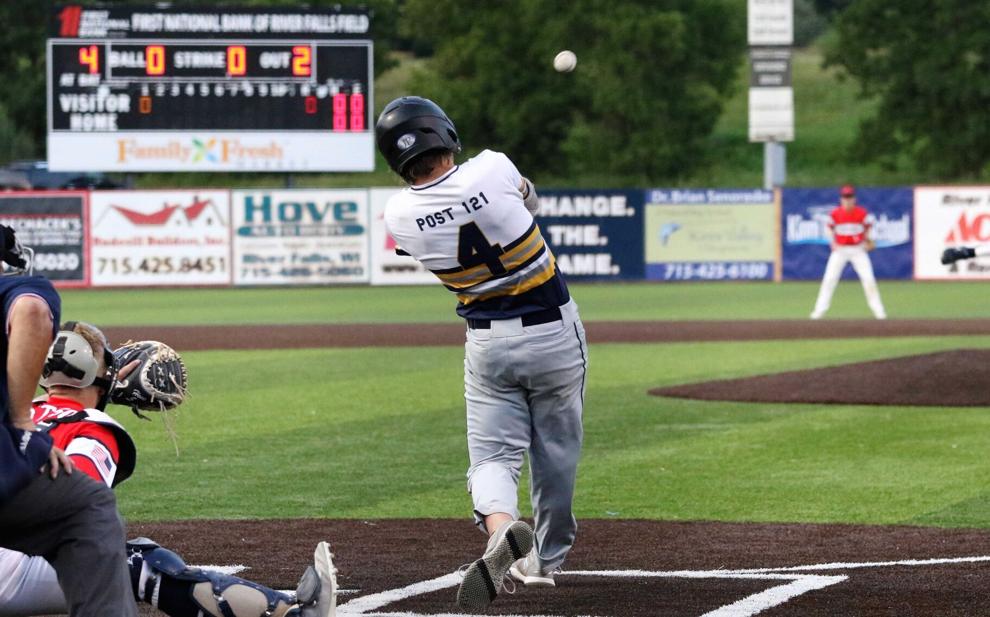 Norman struck out six and walked five in his five innings of work and left after Hudson scored a pair of runs in the top of the fifth to cut the River Falls' lead to 3-2.
Jaden Schwantz drew a two-out walk for River Falls in the bottom of the fifth and moved to second on a base hit by Ragan Pinnow before scoring on Norman's single to left to give Post 121 a two-run lead.
That run proved crucial when Wylie Baumer delivered a two-out RBI single in the top of the seventh but River Falls' third pitcher of the game, Jack Gehl, recorded his second strikeout of the inning to earn the save.
River Falls jumped out to a 3-0 in the bottom of the third courtesy of some small ball. Cole Evavold led off the inning with a single and Condon walked before both moved up on a sac bunt by Michael Krueger. Owen Larson followed with a single to score Evavold and Condon came home on a wild pitch before Larson scored on the back end of a double steal with Schwantz being thrown out at second.
Hudson got a pair of runs back in the top of the fifth when Peyton Lawrence doubled in a run, took third on a wild pitch and scored on a groundout by Jake Busson.
Evavold went 2-for-3 at the plate to lead River Falls while Lawrence, Baumer and Owen Anderson had Hudson's only hits.
Condon got the win on the mound and Schwantz struck out all three batters he faced in the sixth before Gehl allowed one run on one hit in the seventh to pick up the save.
Owen McCabe took the pitching loss for Hudson, allowing three earned runs on three hits with four strikeouts and two walks in three innings of work. Will Haverly pitched two innings of relief, allowing one run on three hits with three strikeouts and two walks before Busson struck out all three batters he faced in the sixth.