Pink definitely brings out the best in the St. Croix Central football team.
With the Panthers wearing pink socks and a large pink panther painted in the middle of the Central field, the Panthers poured it on in the second half Friday, pulling away for a 59-26 victory over Amery. With the win, the Panthers keep their playoff hopes alive, improving to 2-2 in Middle Border Conference games. The Panthers renew their rivalry with Baldwin-Woodville next Friday, on the Blackhawks' new home turf.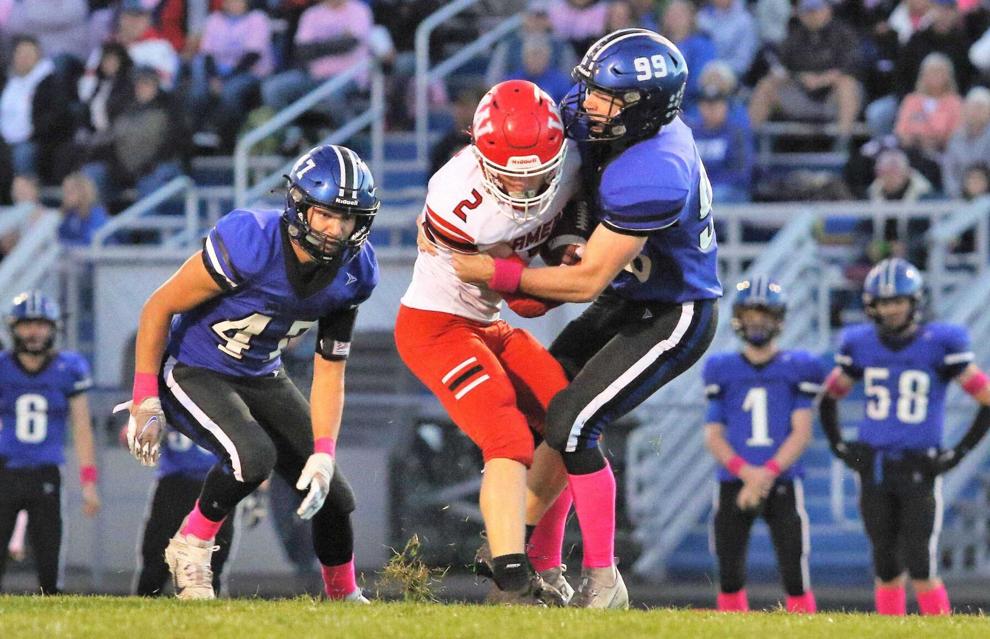 The Panthers were wearing pink for the annual Coaches Versus Cancer game at Central. After this sterling a showing, the Panthers might show up in pink every Friday.
"This is a big fundraiser for us, it's almost like another Homecoming," said Central coach John Tackmann. "It was Senior Night, Parent Night. We were getting the fun and emotion back in the game."
With that energy, the Panthers scored five touchdowns on running plays, scored another two on passes, had one interception return touchdown and their final score came on a punt return. That score came in the final minute of the game and that 60-yard return by sophomore Eli Ponath was one of the most electrifying plays of the season. He carried the punt to the right sideline, bounced off an Amery tackler and completely reversed his field, racing down the left sideline for the score.
Central's offense was based around the best showing by the team's offensive line this season. For much of the game, the Panthers overpowered Amery, with fullback A.J. Holmgren picking up large chunks of yardage up the middle.
The Panthers built a 27-7 lead on two touchdowns by Holmgren, another by Ponath, and a beautiful 46-yard pass over the top of the Amery defense from quarterback Ethan Boettcher to Jadyn Goodwin. Amery scored twice late in the second quarter to cut the margin to 27-20.
"We lost momentum at the end of the second quarter," Tackmann said.
The final outcome hinged on the start of the second half. Central's defense forced a fourth down incompletion. The Panthers immediately drove 60 yards for the score, with Boettcher capping the drive.
The Panthers got rushing touchdowns from Sam Fischer and Teague Holzer in the second half and a 23-yard interception return from Goodwin.