The Hudson boys' soccer team looks primed for another strong season after reaching the state semifinals a year ago.
The Raiders kicked off the 2021 season with a 4-0 home victory over Wausau West Tuesday, Aug. 24 and were leading at Woodbury 2-0 Thursday night when the game was suspended by lightning with three minutes remaining in the first half. They ended the week with a 4-1 win over Appleton North Saturday, Aug. 28, at home.
Hudson coach Steve Sollom said the Raiders have a lot of new faces this year and that was evident in their season opener against Wausau West.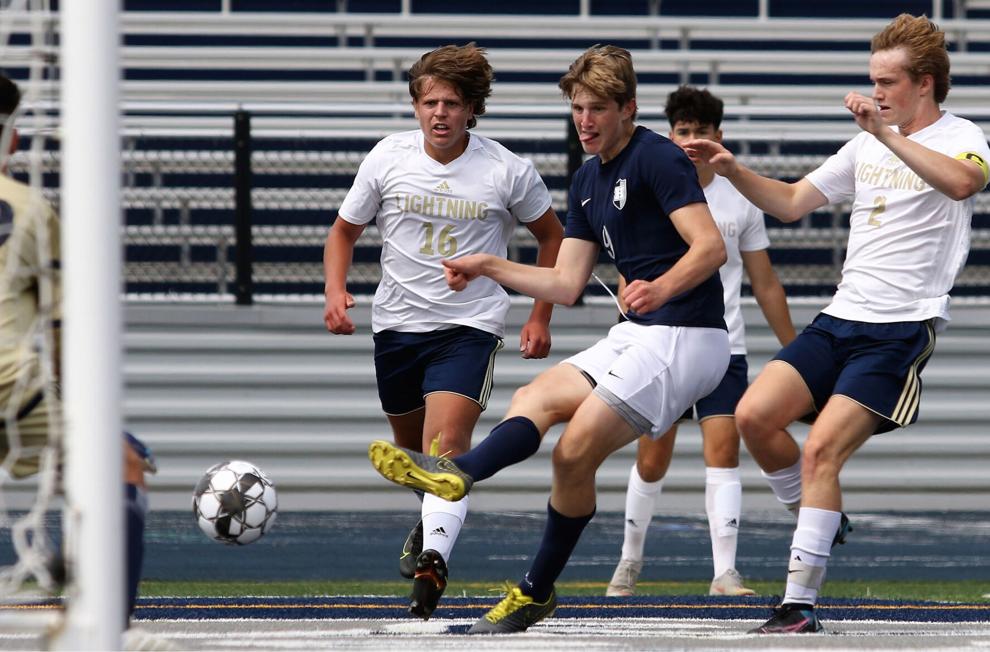 "Lots of learning the first game for everyone, including me," he said. "Moving kids around and looking for the strongest combinations, while also trying to win a game, can be a challenge."
Senior center back Alex Ewig notched the first goal of the season on a nice left-footed volley off a corner kick and senior forward Jack Wasmund followed with a goal from a Connor Sparling pass.
Sollom said the Raiders dominated more than the score showed in the first half, but the second half was more evenly played. Senior forward Noah Bekemeyer ran down a loose ball and beat a Warrior defender for a 3-0 Raider lead, before junior forward Shawn Berger did the same to make the final 4-0.
Sollom said the Raiders played much better in the 42 minutes they got to play at Woodbury Thursday night.
"They have a good squad this year, and at their place is tough," he said.
Hudson got on the board in the third minute when junior midfielder Darren Chukel scored off a quick play on a corner kick that caught the Royals off guard. After senior forward Trevor Nava-Barber just missed a header a minute later from sophomore Aaron Sparling, Wasmund gathered a pass and hit a laser from 20 yards out to make it a 2-0 game before the storms came.
"Woodbury had some chances but we did a nice job of keeping them from easy ones," Sollom said. "With three minutes left in the half, the game was suspended due to lightning. If it got to the half it would have officially counted."
Saturday Nava-Barber scored a pair of goals off assists from Chukel and Bekemeyer had a goal in the Raiders' win over Appleton North.
The Raiders will open Big Rivers Conference play at home against Chippewa Falls Thursday, Sept. 2 before visiting Eau Claire Memorial Tuesday, Sept. 7.
"We will be a work in progress as the season goes on," Sollom said.