Hudson coach Steve Sollom described it as frustrating.
River Falls coach Jacob Langer used the word frenetic.
Whatever it was, Tuesday night's Big Rivers Conference scoreless tie between the Raiders and Wildcats left one team disappointed, and the other feeling pretty good.
"Our goal going into it was to keep it tight, and the boys pulled it together and kept it tight," Langer said. "So that's all I could ask for."
"We just did not play very smart, so that was disappointing," Sollom remarked. "They had a good game plan and they executed it. And we really didn't execute ours very well. So we've got to get better at understanding that."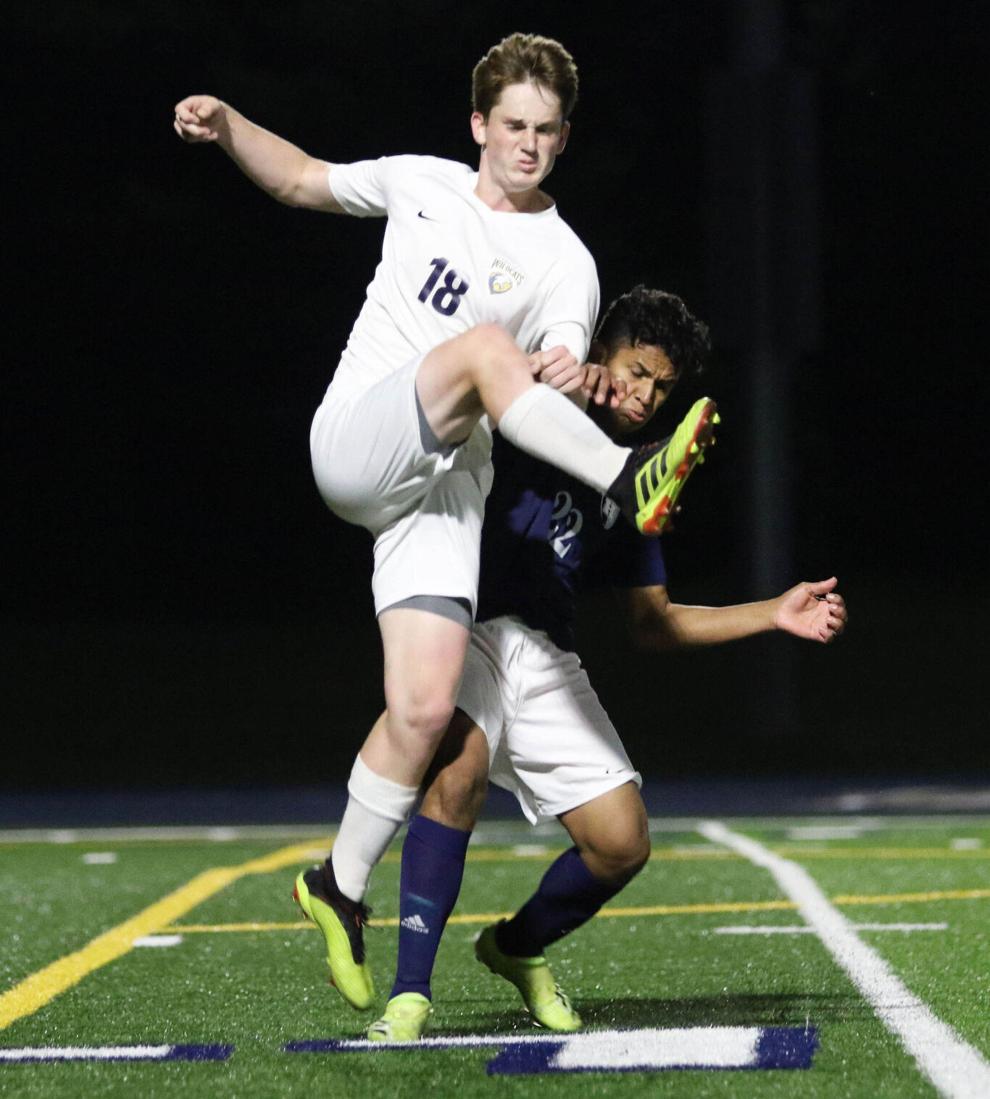 Hudson controlled possession through most of the game and finished with a 14-3 advantage in shots on goal, but had nothing to show for it as River Falls packed in defensively and succeeded in keeping the Raiders off the board.
"It was frustrating, because it was obvious that we were carrying the attack and they were sitting back and just defending and they were happy to do that, and happy to tie," Sollom said. "We didn't have a sense of urgency to say, hey, let's press, let's really put them on their back foot. We just kind of sat back and let them sit back as well. We didn't really force the issue. So that was disappointing."
Langer said the strength of the Wildcats is through the middle and to goalkeeper Remy Espanet, and that strength was on full display Tuesday night.
"Their entire game plan was just to try to whip as many crosses in as possible and be as dangerous as possible that way," he said about the Raiders. So a lot of balls bounced around in midfield. It took us a little time to adjust to that and kind of settle in, but once the second half rolled around and we were able to settle in we really got a feel for what they were doing."
Sollom said the Raiders were crossing balls all night, but could never finish one off.
"They sat back in the middle and defended and they did a good job," he said. "And we kept trying but it was like hitting your head against the wall because we kept doing the same thing again and again, and obviously that didn't work out for us."
The draw leaves Hudson with a record of 5-0-2 overall, but just 1-0-2 and in fourth place in the Big Rivers Conference after last week's 4-4 tie with conference-leading Eau Claire Memorial. The Raiders have another big test Thursday night when they host New Richmond, who is off to a 2-0-1 start (3-1-1 overall) in its first season in the BRC.
River Falls, meanwhile, is now 0-1-2 in the BRC (4-1-2 overall), and will host Rice Lake (2-1-0, 4-3-1) Thursday night.