Hudson sophomore Haley Loewe was hoping for a top ten finish at the WIAA State Cross Country Championships in Wisconsin Rapids Saturday.
She cleared that bar by four spots.
Loewe finished sixth individually in the Division 1 girls' race while leading the Raider girls to a 14th place team finish as the state cross country meet returned to The Ridges Golf Course after being run at Arrowhead High School last year due to COVID-19.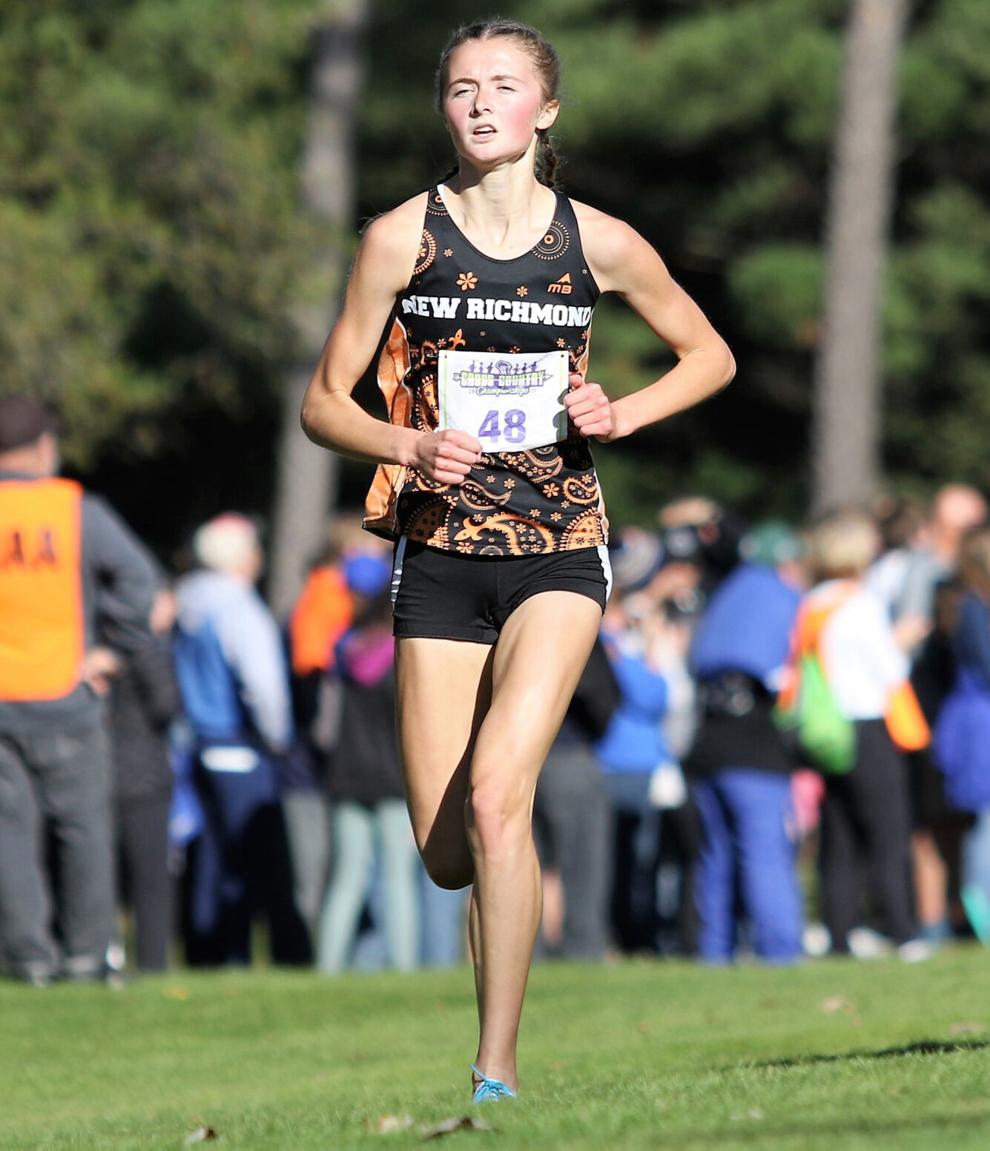 Loewe finished the 5,000 meter race with a time of 18 minutes, 45.8 seconds to finish in sixth place, one spot better than last year. It was her first time running in the traditional state meet format at Wisconsin Rapids, and she said she was able to overcome some early nerves to achieve her goal.
"At the beginning, I got really nervous because there's just so many people," she said. "And I didn't want to start out too fast. So I was trying to maintain my speed and then try to catch up to girls later."
Loewe did just that, moving from around tenth place at the midpoint mark to finish sixth. Lauren Pensegrau of Middleton finished over 30 seconds ahead of the rest of the field to take first with a time of 17:44.7.
Loewe said it was one of the more challenging courses she's run this season.
"It's really hilly and all the hills are really steep," she said. "I just didn't want to get too far behind. So I felt happy with how I tried to plan it out."
Loewe's time of 18:45.8 was good for fifth place in the team competition as the Raiders girls finished 14th in the 20-team field with a score of 344.
Freshman Lyla Vlcek was the second Raider across the finish line in 59th place in 21:11.1 while junior Ryleigh White was 62nd in 21:15.1. Sophomore Ella Carstensen finished 103rd in 22:08.3 and sophomore Rebecca Belany rounded out the Raider scoring in 115th place in 22:29.7, just ahead of junior teammate Ruby Mitchell, who finished 116th in 22:29.7.
Middleton won the girls team title with a score of 61.
Loewe, who was the lone Raider to compete at the 2020 meet at Arrowhead, said being able to run with her teammates at this year's state meet– as well as having the Raider boys' team competing as well, was a great way to end the season.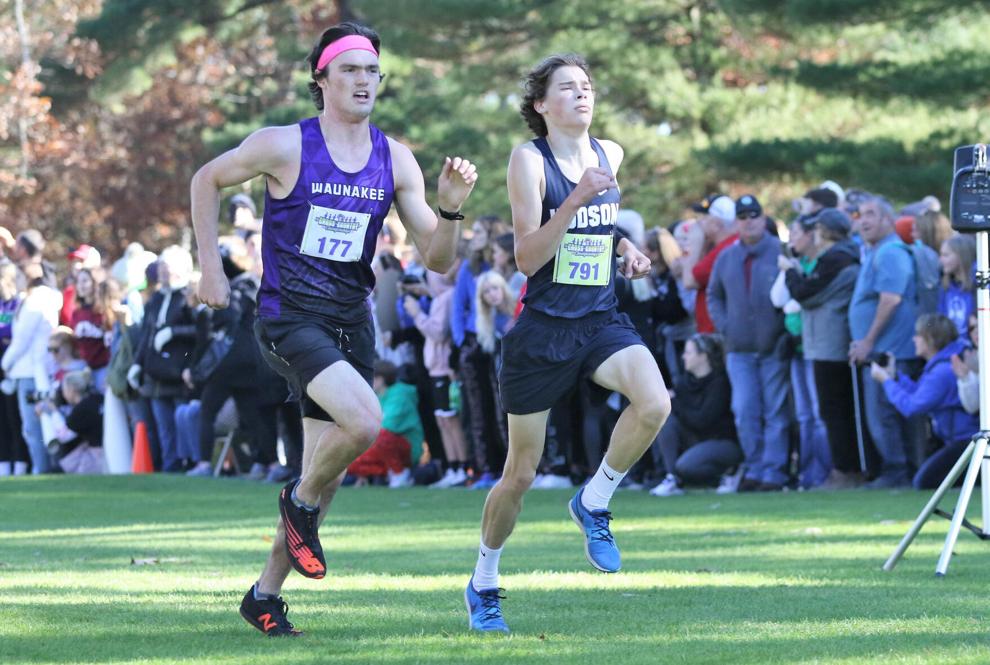 "It is such a fun experience to come here with my team because we're just able to do it together and help each other get through things," she said. "And having the boys here too so nobody has to go through all this alone– yeah, it was nice having a big group."
The Raider boys finished 18th in their race, led by senior Henry Czypruna's 33rd place time of 17:12.9. Sophomore Taggert Ruedebusch was 80th in 17:54.2 and sophomore Addisu Haverly was right behind in 81st in 17:54.4 while sophomore Noah Lawrence placed 91st in 18:02.6 and sophomore Brock Bjerke was 103rd in 18:14.0.
Hudson finished with a score of 388 while Onalaska took the team title with 89.
Czypruna said it felt good to end the season at state after last season was shortened due to Covid.
"It just felt good to have a normal season," he said. "And this was a hard course, a lot harder than what we normally run. But I think we did pretty good, especially after last year."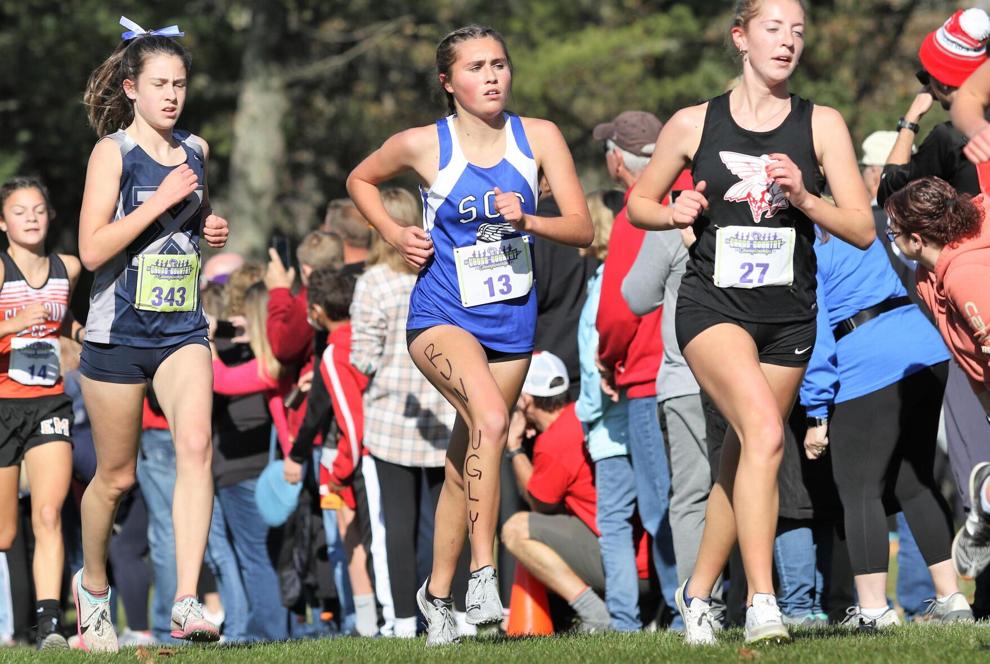 Three other area runners competed as individuals at the state meet, including two who made their state debuts. Freshman Mara Benedict of New Richmond finished 40th in the 186-runner Division 1 girls' field with a time of 20:06.5 while freshman Quin Andrews was 127th in the Division 1 boys' race in 17:55.3. Austin Henderson of Neenah was the Division 1 boys' champ in 15:40.5.
In the Division 2 girls' race, St. Croix Central junior Kaitlyn Carlson finished 36th with a time of 20:33.1. Kayci Martensen of Southwestern/Benton/Cuba City was first in 18:10.0
This year marked the 109th running of the WIAA Boys' Cross Country Championships and the 48th running of the girls meet.