The style of play that was so effective for the New Richmond boys' soccer team throughout its run in the Middle Border Conference looks like it will work well for the Tigers now that they're in the Big Rivers Conference.
The Tigers won their BRC debut on Thursday, defeating Eau Claire North 3-0 on the Tigers' home turf.
While in the MBC, the Tigers used a ball-control style that limited their opponent's scoring opportunities and often left their opposition frustrated. That was just how things played out on Thursday.
It helped that the Tigers already had a lead two minutes into the game. Senior co-captain Jovani Perez-Sanchez supplied that lead. Perez-Sanchez forced a mistake and worked the ball away from a North player, immediately turning it into a goal, 1 minute, 54 seconds into the game.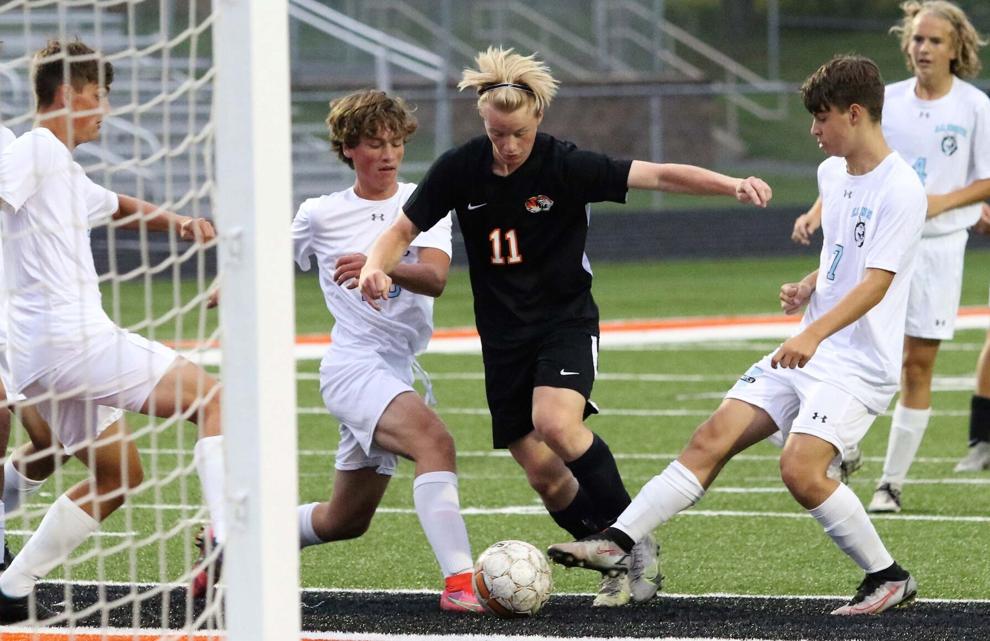 The Tigers controlled the ball for much of the first half, but that was the only goal. The second goal came 20 minutes into the second half when Aidan Westmoreland scored off an assist from Cohan Hare.
"Aidan's had two fantastic games to start the year," said Tiger coach Darian Blattner.
That goal forced the Huskies to play more aggressively and the Tigers were able to get several free kicks and penalty kicks. In the 70th minute, the Tigers got a free kick that struck traffic in front of the goal. It bounced out to senior defender Jack Burmood, who blasted home a shot from 25 yards out.
Blattner said the Tigers wanted to win their BRC debut, but there was another reason this was an important game for the team.
"It was a bigger game because of how Monday played out (a 3-2 loss to Superior). We made no mistakes, that was a big difference," Blattner said.
The Tigers opened their season on Monday, Aug. 30, hosting Superior. It was a physical, back-and-forth game, with Superior scoring the last goal to win 3-2.
Superior scored 15 minutes in before the Tigers matched that goal when Hare scored on a penalty kick.
Superior scored seconds into the second half on a penalty kick. Again, the Tigers answered. This time Charlie Gess scored off a sweet pass from Westmoreland.
Superior scored the final goal after a Tiger foul later in the second half.
Coach Blattner said the Tigers did many things well, but said the flaws were noticeable and correctable.
"We made five mistakes and they cashed in on three of them," Blattner said.
The Tigers have a week between games before playing at River Falls on Thursday, Sept. 9. The Tigers will host Altoona-Fall Creek on Saturday, Sept. 11, in the Tigers' Senior Day game.