The Veenendall sisters are the most successful female golfers in New Richmond High School history.
Their bonds will be tested in college. In college, they will not only be rivals, but their universities will be located just a few blocks apart in Sioux Falls, South Dakota. Maggie Veenendall is a junior at the University of Sioux Falls. Her younger sister, Lanie, has accepted a full-ride scholarship offer to attend Augustana University next fall.
Lanie is coming off the best performance by a New Richmond female golfer at the WIAA State Championships when she tied for fifth place in the Division 1 tournament on Oct. 11-12. Lanie sent shockwaves through the state golf world when she shot a 68 to tie for the lead in the opening round of the WIAA Division 1 state championships on October 11. For the second round at state, Lanie drew one of the largest crowds at the state tournament. It just happened that she was paired with Waunakee junior Izzi Stricker, daughter of Steve Stricker, one of the most successful PGA golfers Wisconsin has ever produced. Lanie shot an 80 on the second day to finish at 148, the best score ever by a Tiger at the girls state tournament.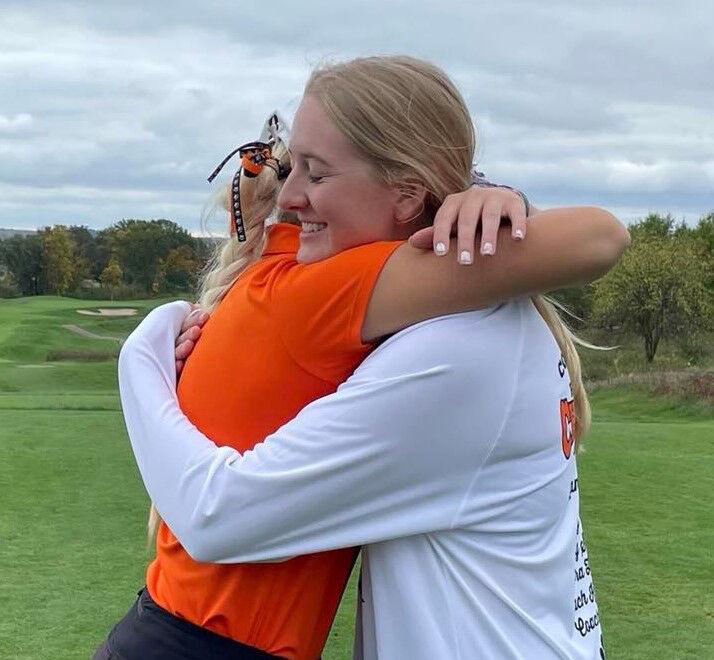 When asked if she had any goals for her senior state tournament, Lanie said she was mainly concentrating on having fun, which is true to her outgoing nature. Then she said modestly, "This sounds bad, but I wanted to do better than Maggie (in the state final results)." And she did. Maggie's best finish at the state tournament was a sixth place effort in 2018.
The Veenendall sisters are extremely close. But when it came to selecting a college, Lanie wanted to carve out an identity of her own. Augustana and USF both have outstanding golf programs. Augustana leads the Northern Sun Intercollegiate Conference after the fall portion of the season, but it is Maggie Veenendall who is the top individual in the NSIC as they head into the spring season. Maggie's 75.6 average per 18 holes leads the NSIC by half a stroke.
Lanie said her choice of Augustana was swayed by several aspects, including the program's strength. "Their golf team is really good. I feel they are one of the top Division 2 teams (in the country)."
Lanie played in more than 20 tournaments last spring and summer. Playing on longer courses helped prepare her for college matches and getting to know a number of college players as opponents in those tournaments gave her a good idea of what to look for in a college program.
This year the New Richmond girls moved to the Big Rivers Conference. Facing larger schools wasn't a problem for the Tigers, who went undefeated through their first BRC season, with Lanie finishing as the top player in the conference. She said she missed playing in the Middle Border Conference, primarily because of the good competition she got from Prescott's Ava Salay and St. Croix Central's Sally Vangsness, who both finished among the top four golfers in Division 2 at the state tournament.
Maggie was always the more intense of the sisters and was always more focused on golf. Lanie is more happy-go-lucky, with more interest in softball than golf. But COVID and a concussion changed that. Lanie suffered a concussion playing softball during her sophomore year. The time away from softball, along with COVID, gave her time to singularly concentrate on her golf game. Her skills improved, and it was at time that she recognized she had the ability level to compete collegiately.
Neal Ziller has coached the Tiger girls program throughout its existence. Lanie and classmate Sydney Nolan this year played in their third state tournament. Only Alex Wheeler has played in four state tournaments for the Tiger program. Lanie and Nolan led the Tigers to shoot a 678 at this year's state tournament, the best team score for the Tigers in a state tournament. That tops the 695 score shot by the Tigers in 2018, when Nolan and both Veenendalls were part of the team.
Ziller is the keeper of the Tiger record book. Whenever he has an elite player go through the program, he wonders if the records are set for good. That was the case when Maggie went through, setting new marks in nearly every Tiger record. But all those records are now changed, as Lanie has set new marks in all eight of the main records kept for the Tiger program. They include marks like best season average (37.79), lowest nine-hole score (33) and lowest 18-hole (68) and 36-hole scores in a state tournament (148).
While Lanie was burning up the BRC, her older sister was being just as successful at the college level. Maggie won her first tournament title when she won the Augustana Open on Oct. 3, which earned her NSIC Player of the Week honors. Maggie said she is thrilled that her sister will be living so closely that they can see each other often. The house where Maggie lives is right next to the Augustana campus. Maggie said there are substantial differences in playing at the college level, compared to high school golf.
"I've grown a lot in how I approach the game," she said, explaining that her swing hasn't changed much, but the mental side of her game has grown significantly.
Augustana and USF have their own home courses, so the Veenendalls won't see each other every day while golfing. But the teams do hold their winter practices at the same facility, and by playing in the same conference, they'll see each other at each match.
Academics is a big part of the success for the Veenendall sisters. Maggie majors in biology at USF, hoping to advance to physical therapy school. Lanie plans to study biology in hopes of attending pharmacy school. Work ethic in this family is clearly not limited to the golf course.