There were plenty of local names on the 2022 All-Big Rivers Conference baseball teams as voted on by the conference coaches last week, led by River Falls junior Kennan Mork as Pitcher of the Year.
Mork was joined on the All-BRC First Team by senior teammate Jeffrey Schurman and Hudson seniors Owen Weadge and Brennan DuCharme. In all, the Raiders had eight players named to all-conference teams and River Falls had six while New Richmond had two.
Big honor for Mork
Mork, a second team All-BRC pick in 2021 as a sophomore, is the first River Falls player ever to earn the BRC Pitcher of the Year Award outright. Joe Stoffel was named the BRC's Co-Pitcher of the Year in 2019.
Mork posted a record of 5-0 with two shutouts and a 1.36 earned run average in eight starts this season. He struck out a conference-high 85 batters in 46 ⅓-innings and walked just 11 while limiting opponents to an average of .161.
"Keenan proved last year's sophomore campaign was no fluke," Wildcat coach Ryan Bishop said. "He has continued to work very hard to get to the level he's at as a high school pitcher. For the second year in a row he gave our team instant confidence every time he stepped on the mound."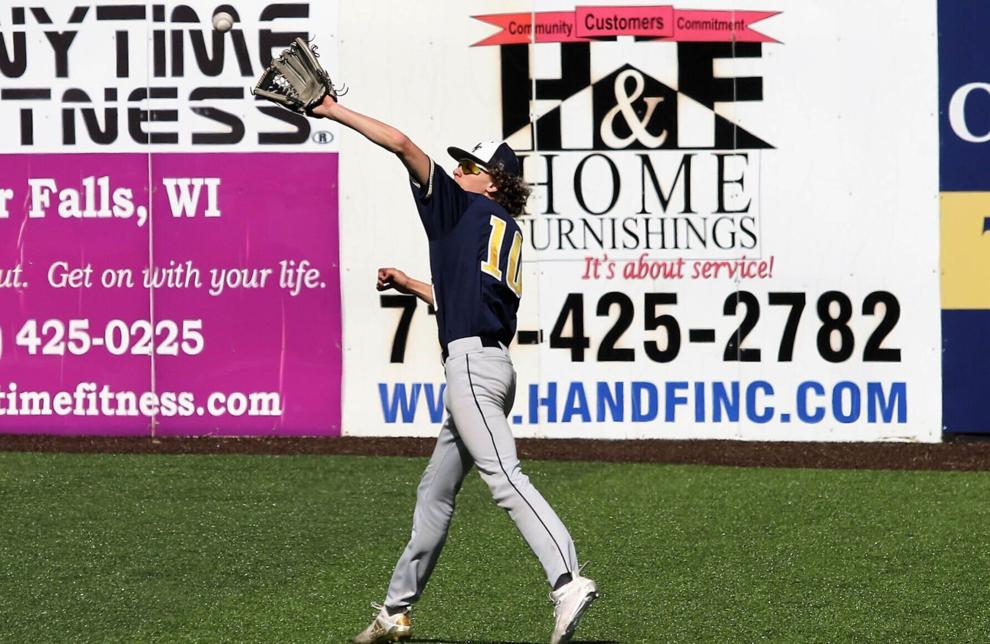 Mork was joined on the All-BRC First Team by senior Jeffrey Schurman. Schurman, a junior varsity player in 2021, not only led the Wildcats in hitting this year with an overall average of .375, but also finished in the top three in the conference in multiple offensive categories, most notably a conference batting average of .414, and on-base percentage of .570.
"Our coaches are so proud of Jeffrey for sticking with the process this past year," Bishop said. "It's not easy to be a junior on JV, but it gave him the opportunity to be an every day player and leader that he wouldn't have gotten on the varsity bench. He made the most of his role last year and it turned into results for him this year. Jeffrey also helped set the example for future players in his situation– that sticking with things and staying positive does pay off in the long run."
Four other Wildcats received honorable mention to the 2022 All-BRC team– seniors Ragan Pinnow and Michael Schurman and juniors Teddy Norman and Eli Condon.
Pinnow was a second team All-BRC pick in 2021 and hit a team-high three home runs as the Wildcats' everyday shortstop this season while Schurman led the Wildcats with 12 stolen bases and hit .308 while tying Norman for the team lead in hits (24) and runs scored (16). Schurman finished his senior season as an all-conference player in football, basketball and baseball.
"Michael is the definition of a true athlete," Bishop said. "Playing three sports is not an easy thing to do nowadays. Excelling as an all-conference athlete in all three is almost unheard of. Michael leaves quite a legacy in Wildcat Nation."
Weadge, DuCharme headline eight Raiders honored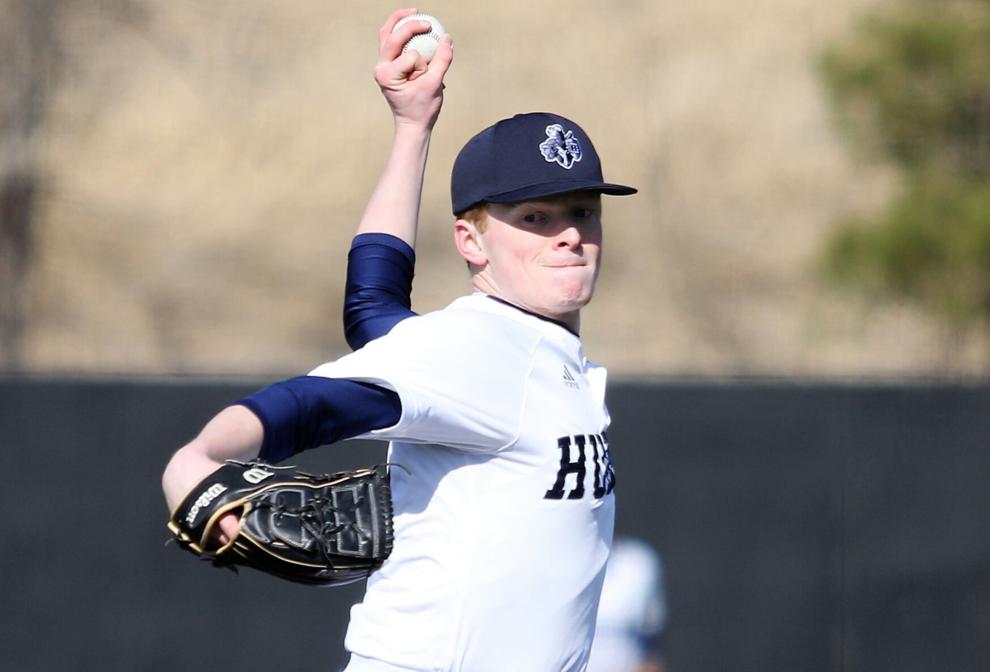 Hudson had one of the best pitching staffs in the BRC this season, with a collective earned runs average of just under 1.00. And the ace of that staff was senior Weadge, who along with DuCharme, headline a list of eight Raiders honored by the conference coaches.
Wedge, who earned All-BRC Second Team honors as an infielder in 2021, pitched a team-high 61.1 innings this season and posted an overall record of 7-2 with a 0.69 earned run average while leading the Raiders in strikeouts with 76.
"Weadge was our horse," Raider coach Brent Blegen said. "After the first week of conference he took the ball every Tuesday. I will put him up against anyone."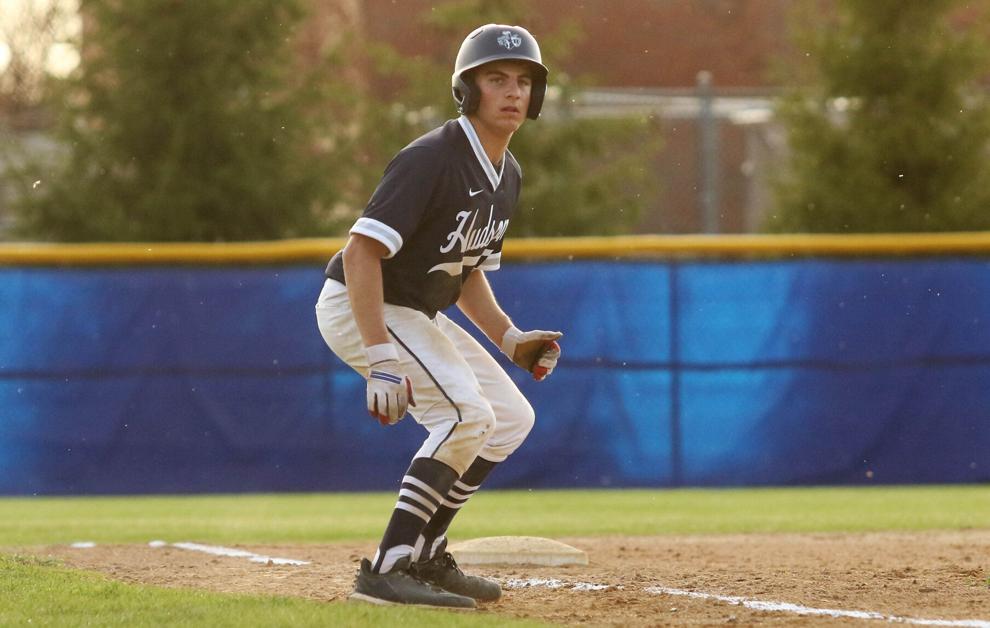 DuCharme earned a spot on the first team as an outfielder while batting .356 with nine RBI and 17 runs scored.
"Brennan DuCharme worked hard in the offseason," Blegen noted. "He's a little grinder and a hard-nosed kid. One of our best players this year."
Senior infielder Wylie Baumer was named to the All-BRC Second Team this season after driving in a team-high 25 runs while hitting .349 with one home run and 18 runs scored.
Earning honorable mention from Hudson were senior infielder Jake Buson, senior catcher Kyler Hove, senior pitcher Logan VonBerge, junior pitcher Ben Berkhof, and sophomore outfielder Hunter Carlson.
VonBerge and Berkhof were key parts of the Raiders pitching rotation. VonBerge went 5-1 with a 0.36 ERA and 55 strikeouts in 39.1 innings pitched, while Berkhof went 4-1 with a 0.58 ERA and 55 strikeouts in 36 innings.
Blegen said the fact that the pair both received honorable mention is a testament to the depth and quality of pitching in the BRC this season.
"It says a lot about the depth of the conference pitching that they're not even second team," he said. "That shows the depth of pitching in our conference. I mean, how is (New Richmond's) Dom LaDuke not a first team pitcher?"
Tigers' LaDuke, Kretovics honored
LaDuke, a New Richmond senior, is one of two New Richmond players honored by the conference coaches with a spot on the All-BRC Second Team while freshman infielder Max Kretovics received honorable mention.
LaDuke was the Tigers' pitching ace this season. He ranked second in the conference in strikeouts with 56. He worked 39 innings in conference games, finishing with a 1.58 earned run average. Among his wins was a decision against BRC champion and WIAA Division 1 state tournament entrant, Eau Claire North.
"He went against every other team's top pitcher. He kept us in every game he threw," said Tiger coach Dan Kretovics.
Offensively, LaDuke was the Tigers' number three hitter all season, batting .256 in BRC games.
Max Kretovics joined the Tiger varsity team after the first two rounds of conference play after starting the season on the junior varsity. He still ended up leading the varsity Tigers in hits and runs batted in. He finished in the top 10 in the conference in batting average, on-base percentage and slugging percentage. He led the Tigers by driving in nine runs with two outs.
Correspondent Dave Newman contributed to this story