Hudson boys' soccer coach Steve Sollom thinks there is always room for improvement, but he was happy with the Raiders 3-0 sectional title-clinching victory over Appleton North Saturday in Marshfield.
"We hadn't been playing particularly well the past couple games, and yesterday was one of our best games of the season," he said Sunday afternoon. "We had played Appleton at the start of the year and won 4-1, but a lot changes over the course of a season."
The victory sends the Raiders to the WIAA State Tournament for the second straight season and 11th time in program history. They'll take a No 3 seed and 16-2-2 record into their Division 1 semifinal match against No. 2 Verona (18-1-1) Thursday, Nov. 5, at 1:30 p.m. at Uihlein Soccer Park in Milwaukee. Top-seeded Marquette (21-1-1) and No. 4 DePere (13-7-2) will meet in the other semifinal with the winners squaring off for the state championship Saturday at 11 a.m.
Sollom said Hudson will have its hands full against a state field that includes the top two Division 1 teams in the state. But he warned not to count the Raiders out.
"We face a very strong Verona team on Thursday," he said. "They've shut out 14 opponents this season and have played a really tough schedule as well. They spent much of the season as the No. 2 ranked team in Division 1, just behind perennial power Marquette. All that being said, we likely would be ranked if we were anywhere near Madison or Milwaukee, and hopefully we can represent Western Wisconsin well."
The Raiders represented this side of the state very well Saturday against Appleton North. After Noah Bekemeyer converted a penalty kick in the 20th minute for the first goal of the game, Bekemeyer took a pass from Brett Hauser, flicked it to himself as he ran past a defender, and banked a low shot off the far corner post to give the Raiders a 2-0 lead at halftime.
Sollom said with a 2-0 lead, the Raiders tried to play sound defensively, without getting into too big of a defensive shell.
"They had more of the possession," he said about the second half play. "But we had a few good counter attacking opportunities."
One of those counter attacks came in the 70th minute, when Trevor Nava-Barber got loose on the wing and crossed a ball that Berger chased down, turned, and hit past the keeper from about 12 yards out.
Sollom said one of the most consistent parts of the Raiders' game during their postseason run has been it's back line play, anchored by seniors Cody Benoy, Drew Loewe, Alex Ewig and Brett Hauser, and sophomore Aaron Sparling in front of senior goalkeeper Lucas Biederman.
"We really didn't give Appleton any good looks the entire game," Sollom said. "Nobody ever plays a perfect game but they were really solid yesterday, and in our 1-0 win over Memorial on Thursday as well."
Sollom called Thursday's sectional semifinal against Eau Claire Memorial, "a typical rivalry game."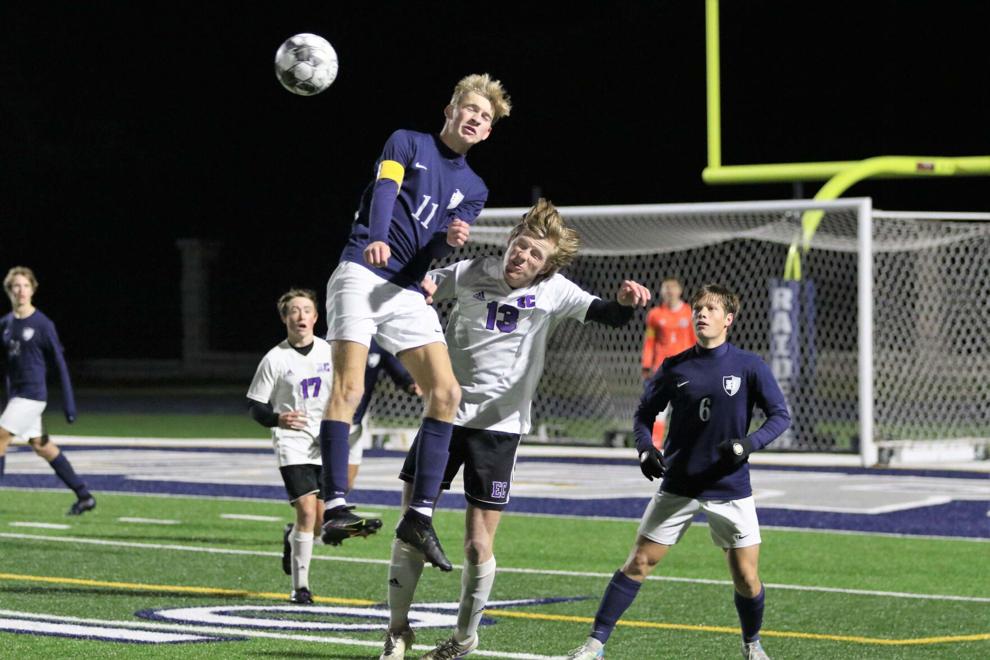 It was the third meeting between the Big Rivers Conference foes this season. The first meeting was a 4-4 tie in Eau Claire while Hudson took a 2-0 decision in the second go-round. This time it was win or go home.
"The game was very defensive with a lot of cleared balls and teams playing ping pong more or less and trying to force the other team into a mistake," Sollom said.
The Raiders scored the lone goal in the first half when Bekemeyer got onto a long ball from Connor Sparling and nudged it past the oncoming Memorial goalkeeper.
Sollom said the Raiders spent the rest of the game trying to hold onto the lead.
"We really didn't have any chances in the second half, and they had a couple," he said. "So I felt like it was just a matter of time until they connected. We made some silly mistakes that could have cost us and got away with them, so hopefully we learn from that going into the section final."
The Old Abes had one shot hit the post and another stopped on a great save by Biederman before time ran out.
"We managed to hold the lone goal lead and ride out the end of the game, but it was not the prettiest game or the best we've played this year," Sollom said.