One day after earning the top seed in the playoffs, the Hudson soccer team moved one game closer to locking up the Big Rivers Conference title with a 2-1 come-from-behind victory over River Falls Thursday night, Oct. 7, in River Falls.
Hudson defeated Eau Claire Memorial 2-1 in the first round of the BRC's round-robin tournament Tuesday night, Oct. 5. Wednesday it was awarded the top seed in its WIAA Division 1 sectional before Thursday night's win put them at 2-0 in the BRC tourney with one game remaining– Tuesday night, Oct. 12, at New Richmond.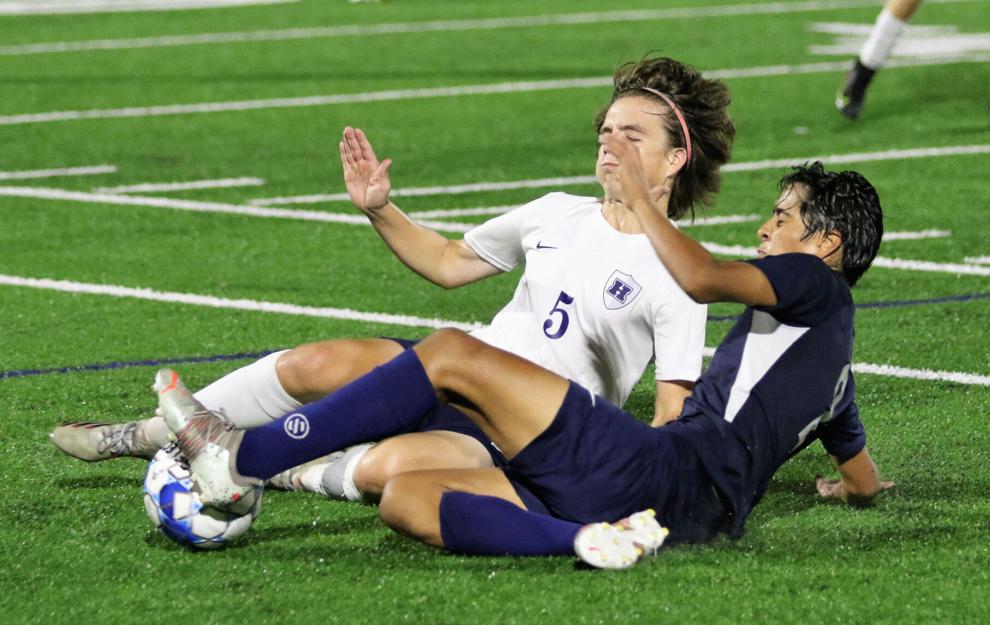 New Richmond tied Eau Claire Memorial Thursday afternoon after defeating River Falls 3-0 two nights earlier. That leaves the Tigers at 1-0-1 in the tourney, Eau Claire Memorial at 0-1-1 and River Falls at 0-2. River Falls will visit Eau Claire Memorial Tuesday, Oct. 12.
River Falls struck first Thursday night against Hudson when Zack Nye put the ball into the far corner on a full run for the only goal of the first half.
It remained a one goal game until the Raiders were awarded a penalty kick with 10 minutes remaining and Darren Chukel converted the tying goal.
Noah Bekemeyer netted the game winner when he took a nifty pass from Chukel on the right side and slipped the ball inside the far post with 4:04 remaining.
Playoff brackets set
Hudson earned the top seed in Division 1 and will open sectional play Tuesday, Oct. 19, at home against No. 8 Eau Claire North.
New Richmond is the top seed in Division 2 while River Falls is No. 3. The Tigers will host No. 8 Sparta Tuesday, Oct. 19 while the Wildcats will face No. 6 Holmen. New Richmond and River Falls will both get a sneak peek at their potential sectional opponents when Holmen and second-seeded Onalaska come noth to play both the Tigers and Wildcats this Saturday, Oct. 9.
In the Division 3 sectional bracket, fourth-seeded Somerset will open the postseason against No. 5 Unity/St. Croix Falls Thursday, Oct. 21, while No. 7 St. Croix Central will travel to No. 2 Shell Lake.