Earning a spot in the tournament for the top four teams in the Big Rivers Conference has become much more of a reality for the New Richmond boys' soccer team.
The Tigers moved to 3-1-2 in the BRC by defeating Chippewa Falls 3-2 on Tuesday and earning a 0-0 tie at Rice Lake Thursday.
As the standings look at the end of this week, Eau Claire Memorial and Hudson appear to have spots locked up in the tournament for the top four BRC teams, which will take place early in October. With this week's results, New Richmond and River Falls are very close to locking up the third and fourth berths in that tournament. Last year was the first time this tournament was held, but this year will be the first time for the tournament after all the BRC teams play a full schedule.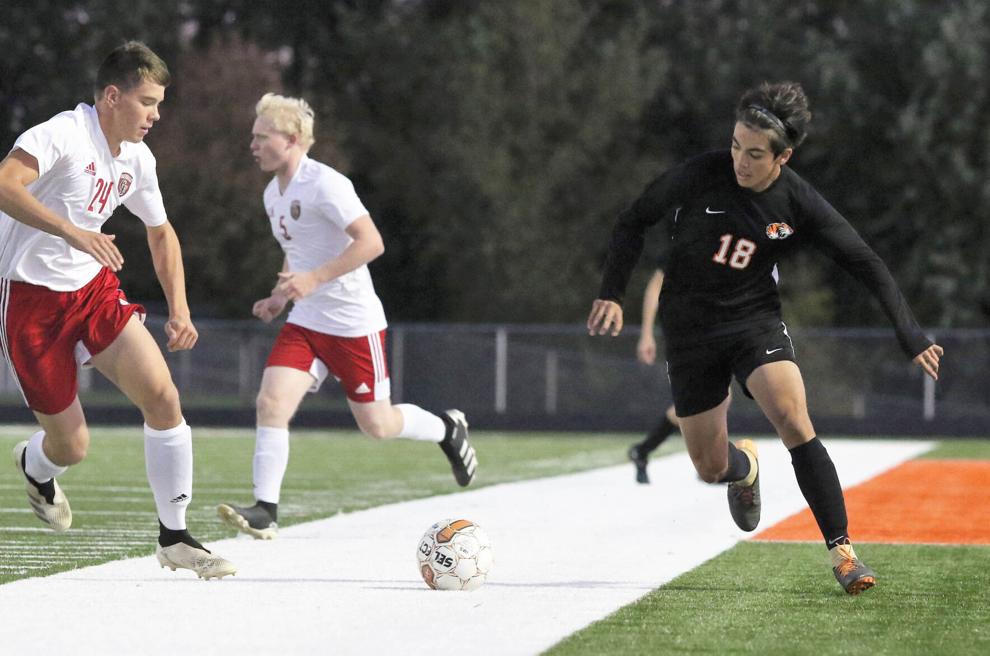 The homefield win over Chippewa Falls on Tuesday featured the Tigers playing well in the first third of the game. The Tigers scored in the 13th minute on a goal from senior Jovani Perez-Sanchez. Riley Heiberg sent a lead pass ahead to Perez-Sanchez, who tucked a shot inside the far post for the goal.
The second goal came 10 minutes later. Len Rios sent a pass to Robert Schleicher, who made a run up the sideline, avoiding a pair of defenders on the way. He cut to the middle and beat the Chippewa Falls keeper with his shot.
Those goals may have caused the Tigers to think they could get comfortable. The Cardinals quickly turned the tables. Chippewa scored twice in the next 15 minutes to tie the game 2-2 by halftime.
"We got maybe a little lazy defensively," said Tiger coach Darian Blattner.
He said the Tigers tend to adjust and play better ball in the second half of games. He said both teams upgraded their play in the second half on Tuesday. It wasn't until Perez-Sanchez scored off a cross with 10 minutes remaining in the game that the Tigers were able to score the deciding goal.
In Thursday's game at Rice Lake, the Tigers struggled through a sluggish first half.
"In the second half, the kids played phenomenally," Blattner said.
The Tigers were able to generate a number of good scoring chances, but the Rice Lake keeper made a number of quality saves to keep the game scoreless.
The BRC regular season for the Tigers ends next Tuesday when they host Eau Claire Memorial. The Tigers will play at Sparta next Thursday. The Tigers' game against Ashland that was scheduled this Saturday has been shifted to Saturday, Oct. 16.