St. Croix Central sophomore Payton Merth thought her season was over after she finished fifth in the 300 meter hurdles at the Division 2 track and field sectional in Rice Lake May 26. But she was given new life when she found out she had earned a spot at state as an extra qualifier.
She made the best of that opportunity, finishing third in her heat in the 300 hurdle preliminaries Friday at the WIAA State Track and Field Championships in La Crosse to qualify for Saturday's finals, where she earned a sixth place spot on the awards podium with a time of 46.82 seconds.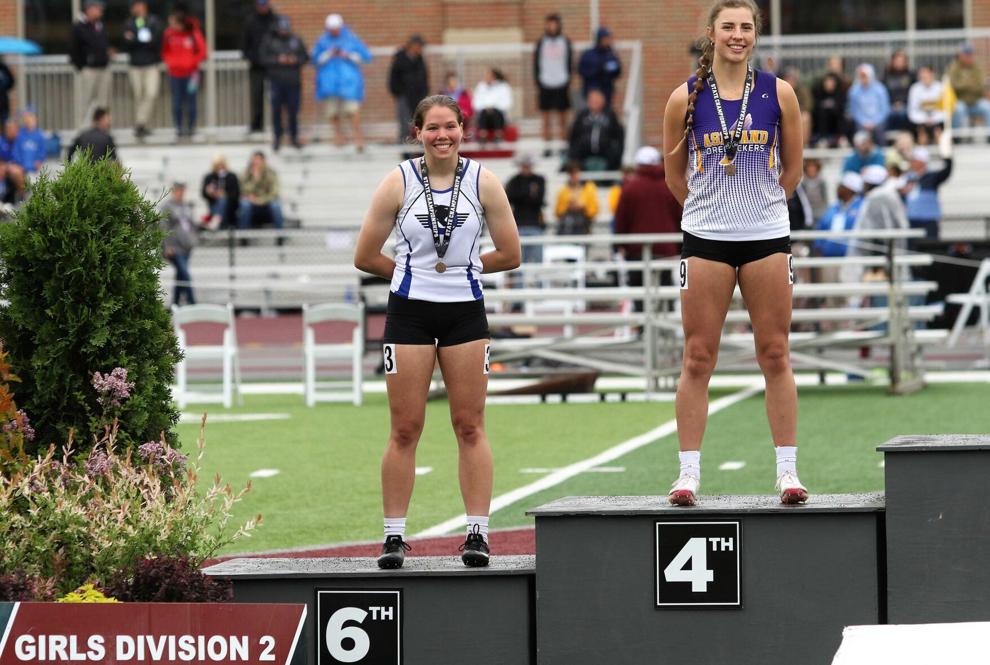 "Definitely a day to remember," she said shortly after receiving her medal. "I wasn't expecting top six when I came in as an extra qualifier, so I'm so happy right now."
Merth's time of 47.86 at Rice Lake was the fifth best in the race, and only the top four automatically qualify for state. But WIAA standards dictate that the top eight competitors in each division, regardless of sectional placing, move on to the state meet, and Merth met that standard by one one-hundredth of a second.
She proved she belonged by cutting her time to 46.89 in Friday's prelims, before earning a spot on the podium alongside two seniors, two juniors and a freshman after Saturday's finals.
It was the first state tournament experience for Merth, and she said nothing could prepare her for the roar of the crowd coming out of the turn in Saturday's finals.
"It's like no other feeling," she said. "You just take in all their energy and feed off of it, and you're like, I gotta go, I gotta go. And everyone else feels the same way. So everyone's just booking it. And at that point in that race, there's not much left in the tank. So it's definitely a big feeling.The crowd definitely helps a lot."
Merth had hopes of qualifying for state as a freshman but came up just short. She said now that she's made it, she's looking forward to getting back.
"It definitely makes me think that I can do this now," she said. "It was really overwhelming right away at first to see this whole big stadium. But then I was like, okay, this is why I'm here. This is why I like running this event."
Merth wasn't the only local Division 2 athlete to bring home a medal. Somerset sophomore Caymen Gebheim made the most of his second appearance at state by placing fourth in Friday's boys discus with a throw of 155-feet, 11-inches.
Gebheim's classmate Conrad Webb made his first appearance at state in the high jump Saturday, where he missed his three opening attempts at 5-10.