The River Falls' girls 4x200 meter relay team of Elise Frisbie, Morgan Prigge, Brooklyn Silloway and Rebecca Randleman knew they had left something on the track in Friday's preliminaries at the WIAA State Track and Field Championships.
They found it in Saturday's finals.
Frisbie, Prigge, Silloway and Randleman moved up five spots from their seeded time in the finals to post a fifth place time of 1 minute, 44.08 seconds and a trip to the awards podium.
The Wildcats barely reached the finals after earning the tenth and final qualifying spot in Friday's preliminaries with a time of 1:44.9. And Frisbie said that was all the motivation they needed to leave everything on the track Saturday.
"Our only goal was to get to the finals," she said. "Then when we did we were like, we don't want to go through that scare again. I think we just knew that we had to put everything on the track today and we'd get there."
The Wildcats' earned the final qualifying spot by just two-hundredths of a second over the team from Wisconsin Lutheran. They're time of 1:44.08 in the final was just a half-second behind fourth place West DePere, while Mukwanago finished first in 1:41.69.
Randleman said the Cats were fired up after barely making the finals on Friday.
"We were pretty stoked," she said. "Because we all knew we can do better and we trust each other and just let it all out there."
"We knew we wanted it," Prigge added. "And we knew we could do it."
The Cats' 4x100 meter relay team of Frisbie, Allie Humburg, Silloway and Randleman also posted the 10th fastest time in Friday's preliminaries before just missing a spot on the podium in Saturday's finals with a time of 49.85 seconds. Randleman also competed in Friday's 100 meter dash prelims and finished 14th overall in 12.65 seconds.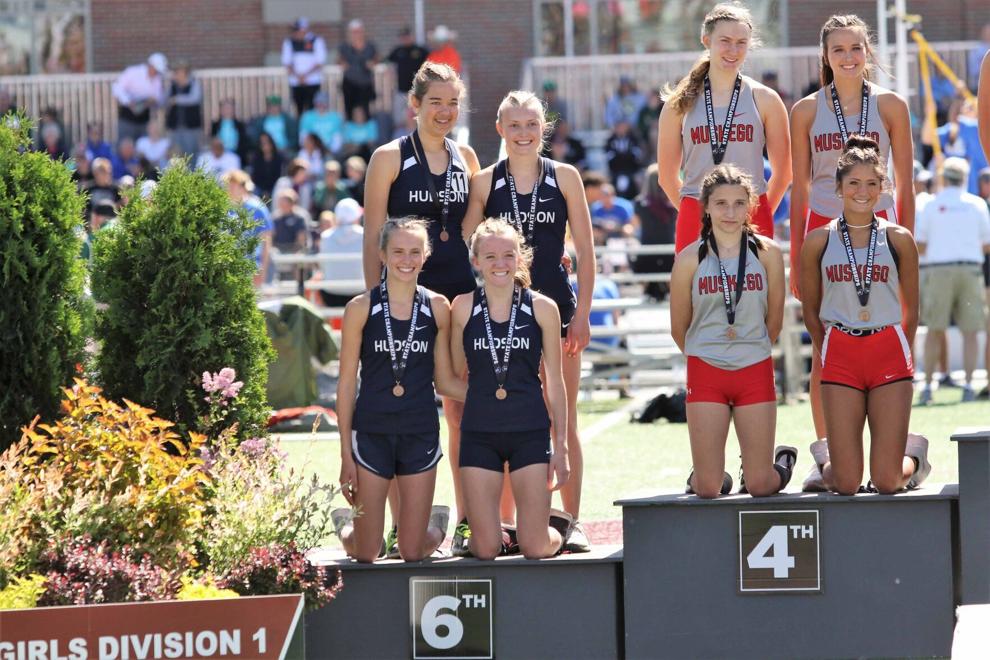 The Wildcat boys 4x200 meter relay team of Samuel Rixmann, Jordan Karras, Isaac Carns and Jacob Gilbertson also just missed a trip to the podium with a seventh place time of 1:29.87 in Saturday's finals. They qualified with the eighth fastest time of 1:30.09 in Friday's preliminaries. Carns went on to place eighth in the 300 hurdle finals Saturday in 40.36 seconds after running a 40.86 in Friday's prelims.
Hudson's girls brought home some hardware of their own when the Raiders' 4x800 meter relay team of Manon Field, Rebecca Belany, Ruby Mitchell and Haley Loewe combined for a sixth place time of 9:42.16 in the first race of the day Friday morning.
Belany made a surge in the final 200 meters of the 800 meter run but came up one spot short of a podium finish with a seventh place time of 2:18.25, while Field finished 21st in the 400 meter dash in 1:02.81. Ella Carstensen also finished 19th in the girls' 300 meter hurdles in 48.6 seconds,
On the boys' side, Hudson's William Coenen just missed medaling in the boys' high jump with a seventh place height of 6-feet, 4-inches, while Henry Czypruna finished 22nd in the 800 meter run in 2:02.57.