New Richmond's Lanie Veenendall dominated the field at the Tigers girls' home invitational Wednesday, Aug. 18 at the New Richmond Golf Course, earning medalist honors with a 3-over-par 75 to lead the Tigers to a first place team finish.
Veenendall finished eight strokes ahead of second place Mahlia Mcane of River Falls, while the Tigers shot 353 as a team, 25 strokes better than second place Hudson. River Falls was third with 393 followed by Chippewa Falls with 420, Eau Claire North with 460, Eau Claire Memorial with 472, Menomonie with 491 and Rice Lake with 511.
Abbie Ritzer contributed a third place score of 86 to New Richmond's team total and Nora Harris had a 94 while Sydney Nolan shot a 98.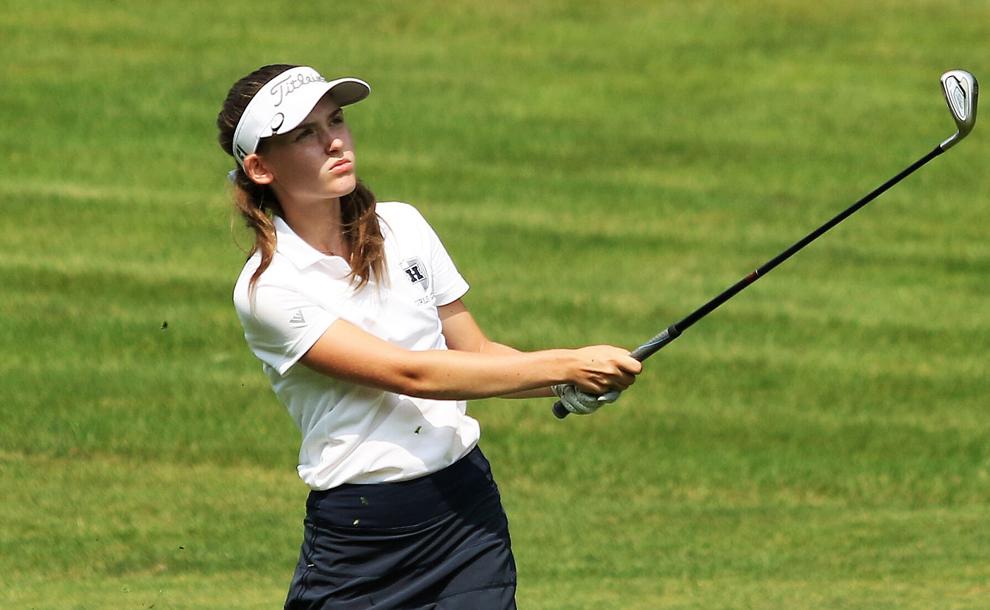 Second place Hudson was led by Lauren Parker with a fourth place score of 89 while Maddy Berg shot a 92, Mimi Miller shot 94 and Olivia Grothaus finished with 103.
In addition to McCane's 84, River Falls got a 95 from Mekinnah Xiong and 107s from Jenna Bergmanis and Alli Lassi.
Two days earlier Veenendall shot an even-par 72 to and Harris carded an 84 to lead the Tigers to the team title at the Husky Invitational, sponsored by Eau Claire North, at Lake Hallie Golf Course in Chippewa Falls.
Ritzer contributed a sixth place round of 88 and Nolan had a 93 as the Tigers finished with a team total of 337. Hudson, led by Parker's fourth place score of 86, Miller's fifth place score of 87 and a seventh place score of 88 by Emma Ostlie, finished second in the team standings with 368.
River Falls, who finished fourth in the 12-team field with 387, was led by Xiong with a third place score of 85.
Hudson second at Old Abe Invite
Hudson put together a score of 362 Tuesday at the Old Abe Invite at Wild Ridge Golf Course in Eau Claire, but it was only good enough for second place behind Tomah's 330. River Falls was fifth with 424.
Parker tied for fourth with an 84 and Miller was sixth with an 87 while Berg shot a 94 and Grothaus had a 97.
Xiong was the only Wildcat in the top 20 with an eighth place score of 92.