Birkmose Park gives a birds eye view of the St. Croix River, but the ground it stands on is just as interesting.
The park is the site of five Native American burial mounds. 
These mounds date back to the Middle or Late Woodland period, sometime between 100 B.C. to 1200 A.D., according to the St. Croix County Historical Society. 
The Middle Woodland period, from 200 B.C. to 300 A.D. saw widespread construction of burial grounds, though they were not numerous, according to the National Parks Service. Communities continued to be small and feature several circular or oval structures.  The Late Woodland Period was a time of cultural changes, with population growth and larger settlements. It saw the introduction of the bow and arrow and maize as an important element of diet. 
The mounds were preserved by Danish immigrant Christian J. Birkmose. He came to Hudson in 1880, establishing a general store and becoming known as the "father of Hudson parks," according to the St. Croix County Historical Society.
Birkmose worked to preserve the mounds, recognizing their significance, and purchased land from several owners at the time. He was able to gift a total of 28 acres to the city of Hudson in 1923.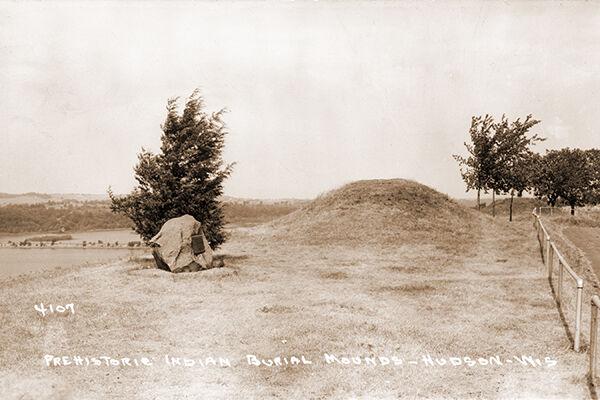 State archeologist Charles Brown visited the burial mounds in 1912. He stated there was no reason to believe the mounds were of any other origin than Sioux, according to the "Wisconsin Archeologist" magazine. 
Though the mounds were mutilated by "hoof of cattle and the digging of relic hunters," they were still deemed worthy of preservation, according to "Wisconsin Archaeologist." Brown chose not to dig into them, according to the "True Republican" newspaper's Oct. 3, 1912 edition. 
The mounds have never been excavated, according to the Archeology Society and the Preservation Department. Excavations on similar mounds show they usually are the burial site for multiple individuals and also often contain artifacts. 
In 1912, Brown found the elevation of the mounds to be as follows: 
No. 1 - 3 feet

No. 2 - 2 ½ feet

No. 3 - 3 ½ feet

No. 4 - 1 ¾ feet

No 5. - 1 ¾ feet
Records indicate the city's park department added dirt to the mounds in the 1980s, according to the St. Croix County Historical Society. 
In 2004, a survey done for the St. Croix County Historical Society found the elevations were:
No. 1 - 3 ½ feet

No. 2 - 1 foot

No 3. - 3.5 feet

No. 4 - 4 feet

No. 5. - 3 feet 
The presence of these burial mounds, and the respect they're due,  is the reason picnics, alcohol and fire are not permitted at the park. The park is listed as a burial site and protected under state statute.