Leave No Trace
The Leave No Trace organization has selected the Community Forest as a 2023 Spotlight site. As outdoor areas all over the country are being impacted by record use, this new initiative from Leave No Trace shines a light on communities rising to meet this challenge with onsite education and stewardship programs. 
From May 18-20, a Subaru/Leave No Trace Traveling Team will be in River Falls with Kinnickinnic River Land Trust and Kinni Corridor Collaborative to deliver Leave No Trace education as well as to partner on increasing awareness and volunteer opportunities for ecological restoration and stewardship projects.
Sites are nominated for the Leave No Trace Spotlight initiative by local land management agencies or community groups. The diverse sites chosen in 2023 span the country, each with unique environmental challenges. The goal of the initiative is to equip each Spotlight area with relevant Leave No Trace tools that address the impacts the site is facing and ultimately, to foster healthy lands and people.
The Community Forest is 40 acres of old-growth forest that provide public access trails connecting to the 70 acre River Falls School Forest and 65 acre River Hills Park and 5 mile Kinnickinnic River trail system in River Falls. This 175-acre urban and wild recreation area is used year round by our residents and visitors to River Falls.
For more information visit lnt.org/event/leave-no-trace-spotlight-kinnickinnic-river-land-trust/.
The River Falls Community Foundation, affiliate of the St. Croix Valley Foundation, provided a grant to fund the expenses for the Thursday and Friday events.
Meet the team
Time: 8-10 a.m.
Date: Thursday, May 18. 
Location: Country Inn, 1525 Commerce Court, River Falls. 
Cost: Free. 
Farmer's Market
Time: 5-8 p.m.
Date: Thursday, May 18. 
Location: Rush River Brewery and Bistro, 990 Antler Court, River Falls. 
Cost: Free. 
Come out to the weekly Farmers Market for fresh, tasty, local food and beverages at Rush River Brewery. 
Visit with Subaru/Leave No Trace Traveling Team, Kinnickinnic River Land Trust, Kinni Corridor Collaborative, Kiap-TU-Wish, Kinni Lodge & Outfitters, and other local organizations that support sustainable and accessible recreation.
Social  
Time: 5-8 p.m.
Date: Friday, May 19. 
Location: The Garage Bikes and Brews 109 West Cedar, River Falls. 
Cost: Free. 
Swing by to learn about the 2023 River Monitoring Program and Leave No Trace Principles when enjoying outdoor recreation. Be sustainable by walking or biking over to The Garage.
Hike and service
Time: 10 a.m. to 2 p.m.
Date: Saturday, May 20. 
Location: The Community Forest parking lot on County Road FF, across from the River Falls Dog Park or Kinnickinnic River Trailhead #11 at River Hills Park.
Cost: Free. 
Meet us at Join friends and family in a self-guided hike along trails on the south side of the Kinnickinnic River, both sides of the Rocky Branch tributary and rolling hills of The Community Forest and River Falls School Forest to see the native plants and animals and your neighbors and friends.
This event Includes a nature scavenger hunt for kids, trash collection and education about Leave No Trace while enjoying outdoor recreation. Kinnickinnic River Land Trust will have gloves and bags available for the trash collection or bring your own 5 gallon bucket to pick up litter and recyclables.
Little Red Robin Hood
Date: Friday, May 19, 7 p.m.; Saturday, May 20, 1 pm. And 4 p.m.; Sunday, May 21, 2 p.m.
Location: Black Box Theater at the Phipps Center for the Arts, 109 Locust St., Hudson. 
Cost: Tickets start at $15 plus fees for youth.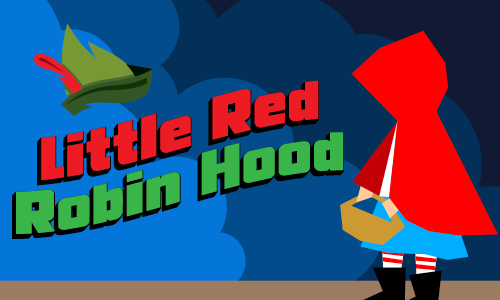 Smart, pretty and kind, Little Red Robin Hood must deal with the Big Bad Sheriff of the Naughty Hams (the Three Little Pigs, that is!), who does the bidding of Prince John, the vain Emperor who is eager to try on his magic new suit being woven by Cinderella's deceitful stepsisters. With Humpty Dumpty, Black Sheep, Rose Red and Simple Simon acting as her Merry Men, Little Red Robin Hood must save all the village grannies of Sherwood Forest, including her own, an old woman who lives in a shoe, Mother Hubbard, and Mother Goose herself.
Best for ages 4 and over.
Young Authors' Day
Time: 5-6:30 p.m.
Date: Friday, May 19. 
Location: Hudson Area Public Library,  700 First St.
Willow River Elementary will be celebrating its 18th annual Young Author Day, welcoming three authors, Jesse Horn, Koda the Fluff (a therapy dog) and Lindsey Moreland, who will inspire young writers to share their stories. 
Students will be learning more from these three throughout the day, talking about "dreaming big" and reading their own stories in small groups.
Matt Hannah at Garage Bikes
Time: 6 p.m.
Date: Saturday, May 20. 
Location: Garage Bikes + Brews
Cost: Free. 
Folk Americana singer-songwriter Matt Hannah will perform at The Garage Bikes + Brews in River Falls on Saturday, May 20. 
Hannah's music has been heard on The Current and radio stations around the country. His sophomore album Dreamland was noted by the Star Tribune and City Pages and called "inspired" by BABYSUE. His third full-length studio album House of Illusion charted on NACC and was lauded as a "standout album" by WVIA Host George Graham. Hannah has performed at music series and festivals throughout the midwest and at many venues including the Cedar Cultural Center in Minneapolis.
Meet a local author
Time: 10 a.m. to noon.
Date: Sunday, May 21. 
Location: Dick's Fresh Market, 1121 South Main St. 
Cost: Free. 
Local Author, Michele Klecker-Sailor, has partnered with JonnyPops and their Kindness is Golden program. She will be at Dick's Fresh Market in River Falls signing copies of "Max and Junk Yard Dog Meet A Rascal," and handing out free JonnyPops. 
Her book, "Max and Junk Yard Dog Meet A Rascal" has been endorsed by Le Roy Butler and his group Butler vs Bullying. 
Books will be available for $10, but no purchase is necessary. 
Pet pictures for Pleasant Pasture
Time: Noon to 4 p.m.
Date: Sunday, May 21. 
Location: 45th Parallel Distillery, 1490 Madison Ave., New Richmond. 
Cost: $35 includes the sitting fee and three edited photos of your choice. 
Honor the love, loyalty and companionship offered by your fur baby with professional portraits to support Pleasant Pasture Animal Sanctuary. 
Professional pet photographer Bettie Scott will capture your beloved's unique personality and quirks. 
Hang out with other pet parents, enjoy refreshments at the 45th Parallel, all for a good cause, because a portion of proceeds support the rescued animals at New Richmond's Pleasant Pasture Animal Sanctuary.